New Age Islam News Bureau
March 27, 2016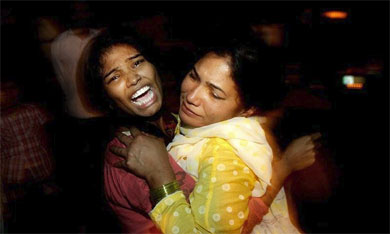 Women comfort each other as they mourn over the death of a family member who was killed in a bomb blast in Pakistan on March 27, 2016.
Also Read: PM Modi Offers Condolences to Kins of Lahore Blast Victims
Zee Media Bureau
Lahore: A powerful bomb blast rocked Pakistan's eastern city of Lahore on Sunday evening, killing at least 70 people and injuring over a 300, ANI quoted Pakistani media as saying.
"Some 65-70 people have been killed, included women and children, and over 250 were injured," an Edhi spokesperson said.
The deafening explosion took place inside a children's park known as Gulshan-i-Iqbal at Iqbal Town here at around 6:30 pm when it was teeming with families, especially women and children, enjoying the Sunday and Easter holiday.
An emergency has been declared at all government hospitals in the city, and a heavy contingent of police has cordoned off the area. Army have also been deployed.
Meanwhile, Pakistani newspaper Dawn quoted Iqbal Town Superintendent of Police Dr Muhammad Iqbal as saying that the explosion was a suicide attack.
Punjab province minister Bilal Yasin had earlier confirmed that at least 51 people died in the blast while nearly 200 were injured.
As per media reports, no terror group has yet claimed the attack.
The park is located in a posh-locality in Lahore, the hometown of Prime Minister Nawaz Sharif. The city is comparatively peaceful in an otherwise violence-wracked Pakistan.
Eyewitnesses said there were scattered body parts in the park, where a large number of families, especially women and children, were present on a Sunday evening. The crowd was "unusually large" because of Easter.
"Still a good number of people are in critical condition," Punjab Emergency Services Rescue 1122 spokesperson Deeba Shahnaz said.
Over 100 injured have been shifted to different hospitals of Lahore, she said. Doctors said the death toll may rise.Most of the injured are women and children, Hussain added.
Pakistan Tehreek-e-Insaaf leader Imran Khan strongly condemned the blast.
"Strongly condemn the terror attack in Lahore in which our innocent citizens including women & children lost their lives," he tweeted.
Awami Muslim League chief and former federal information minister Sheikh Rashid Ahmad slammed Punjab Chief Minister Shahbaz Sharif and asked him where was he and other ministers.
"Donate blood at Jinnah hospital, Sheikh Zaid hospital, Faroq Hospital n Bajwah Hospital Lahore," he urged people.
Pakistan, a nuclear-armed nation of 190 million people, is plagued by a Taliban insurgency, criminal gangs and sectarian violence. Punjab is its biggest and wealthiest province.
Today's incident reminds of December 16, 2014, Peshawar school massacre. Seven gunmen affiliated with the Tehrik-i-Taliban (TTP) had conducted a terrorist attack on the Army Public School in the northwestern Pakistani city of Peshawar and killed 141 people, including 132 schoolchildren, ranging between eight and eighteen years of age.
http://zeenews.india.com/news/south-asia/bomb-blast-outside-gulshan-i-iqbal-park-in-pakistans-lahore-at-least-50-killed-over-100-injured_1869688.html
-----
PM Modi Offers Condolences to Kins of Lahore Blast Victims
March 27, 2016 - 21:42
New Delhi: Prime Minister Narendra Modi condemned the deadly suicide blast in Pakistan`s Lahore that killed around 50 people on Sunday evening.
"Heard about the blast in Lahore. I strongly condemn it. My condolences to families of the deceased & prayers with the injured: PM," Modi tweeted from his PMO India account. IANS
More than 50 people were killed when a suicide bomber blew himself up on Sunday evening near the main gate of the crowded Gulshan-e-Iqbal park in Lahore, media reports said.
Source: http://zeenews.india.com/news/india/pm-modi-offers-condolences-to-kins-of-lahore-blast-victims_1869701.html
URL: http://www.newageislam.com/current-affairs/compiled-by-new-age-islam-news-bureau/suicide-blast-outside-gulshan-i-iqbal-park-in-lahore,-at-least-70-killed,-over-300-hurt;-army-deployed/d/106775