Our love for Fawad
By Charu Gupta
October 30, 2014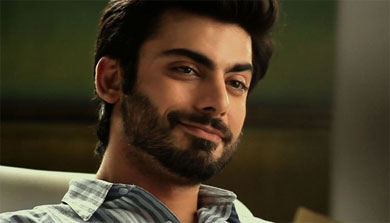 Fawad Khan is identifiably Muslim and Pakistani, and his self is not contained within a Hindu paradigm or world.
Pakistani actor Fawad Khan has become a fascinating icon, the new heartthrob for Indian girls and women. Zindagi, an Indian entertainment television channel launched four months ago, broadcasts serials from Pakistan. Khan has emerged as its central idiom — besides having looks to die for and undeniable charm; he portrays a sensitive and mature lover and husband in the serials Zindagi Gulzar Hai and Humsafar. Recently, he made his Bollywood debut in Khoobsurat. Describing the movie, Shobhaa De says: "So, who is the real 'Khoobsurat' in the movie… Any guesses? You've got it! It's a slim, bearded bloke from across the border… He's as yummy as those irresistible Lahori kebabs, and Desi ladies want him."
Khan's religious and national identity is not hidden or muted; it is explicit and out there. But Indian women, most of them Hindu, are totally unconcerned with that. While the "love jihad" hysterics are crying themselves hoarse, Indian girls do not care if Khan is a Muslim or
a Pakistani. Instead, they dream of having someone like him in their lives to love. This reveals a religious and national liminality that can stump the hysteria over the constructed bogey of love jihad. The representation of Fawad Khan and the construction of love jihad are part of fictive imaginations, though in very different ways. They undercut each other, reflecting women's desires on the one hand and Hindu male fears on the other. One contests power, the other attempts to reinstate it.
The love jihad campaign exposes how Hindu women are central symbols of the Hindutva body politic. Hindutva's cry for segregation denies free movement to Hindu women, using the threat of physical, emotional and religious harm to women's bodies as weapons of social control. Women are thus told that inter-religious marriages are undesirable for their own good. Hindu women who indulge in inter-religious romances or marriages are depicted as dangerous to the construct of the Hindu nation. But their love for Khan is one of the many vehicles by which such constructed "dangers" are displaced. Through their dreams of and desires for him, women discursively bridge the conventional physical and psychological distance between Hindu/ Muslim and Indian/ Pakistani. These women signify a religious and sexual mobility. In their own way, such women are not only refusing their "proper" sexual and religious roles, they are apathetic to the delusional constructions of the "evil" Muslim male. As Janaki Nair states, "Indian women have taken control of their lives at a much faster pace than expected", and they are "no longer passive bearers of caste, religious, ethnic or other meaning — but the makers of meaning".
This phenomenon of Fawad Khan highlights additional dimensions. His imagery pitches the sensitive Muslim against the "monstrous" Muslim. Khan as a Muslim male idol defies stereotypes of Muslim men or any negative-positive binaries. His allure not only undermines the hysteria against the "violent" Muslim, his portrayal as a hero and perfect husband material resists the myth of the Muslim as the rapist. That image is replaced here with a perceptive, almost vulnerable, Muslim male. While discourses of religious "othering" and hatred have persisted and gained a new lease of life with the political ascent of the Hindu right, our love for Khan is an instance that shows that such divisions have also become muddier and more fluid as a section of Indian women discard binary categories and fixed identities.
The juxtaposition of the phenomenon of Khan's popularity with the love jihad campaign announces, through its ambivalent convergences and divergences between religion and gender, that the insisted-upon superiority of Hindu men is itself an elaborate ruse, a masquerade that keeps passing itself off as truth. The construct of Khan also challenges certain other kinds of masculinities. His image is far removed from an overtly muscle-wielding macho hero, who shows off his biceps, six, eight and 10 packs, and bare chest as markers of manhood. In contrast, says De, "Fawad comes to us nicely packaged (compact chap, no abs, no biceps), and unambiguously adult". It can be argued that the leading Bollywood stars — the three Khans — are also Muslims. However, Fawad Khan is identifiably Muslim and Pakistani, and his self is not contained within a Hindu paradigm or world. As Daniel Gold writes, the three Khans of Bollywood are often integrated much more comfortably in the imaginations of Indian film-goers as they not only mostly play romantic Hindu characters on screen, but also assert a markedly Indian identity.
Many of the complexities of gender, religion and nation are brought forth in this implicit battle between rabble-rousing jihad against love and our love for Fawad Khan. A politics that imposes sexual prescriptions and designates which partners are appropriate and legitimate is no longer tenable. Certain aspects of popular culture, our everyday practices and, above all, love, have yet again dismantled the wild allegations of the love jihad campaign. Such markers and spaces need to be taken seriously for what they tell us about Indian women and our society. The dynamics of heterogeneities are knocking on our doors, whereby processes of exclusion — and by implication inclusion — that define homogenous identities have developed many cracks and fissures. The links between sex and segregation, between control of women and Hindu supremacy are being subverted in our everyday lives and actions by many women themselves. Fawad Khan's popularity with Indian women, just like inter-religious marriages, symbolises religious and national boundary crossings, transgressions of sexual taboos and flirtations with moral castigation, imperilling the Hindutva order and threatening constructed religious and cultural "purities".
Charu Gupta teaches in the department of history, University of Delhi
Source: http://indianexpress.com/article/opinion/columns/our-love-for-fawad/2/
URL: http://www.newageislam.com/current-affairs/charu-gupta/the-love-jihad-campaign-exposes-how-hindu-women-are-central-symbols-of-the-hindutva/d/99787