By Ashok Malik
May 18, 2014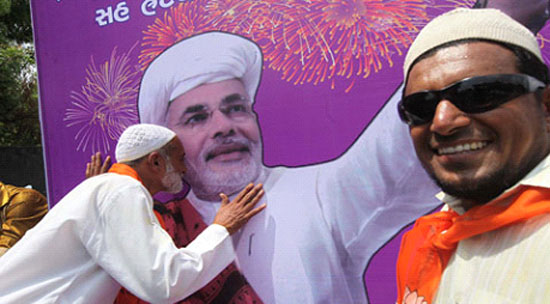 Narendra Modi approaches Muslims from a position of relative strength. He has won a national election and attained a parliamentary majority without their votes.
On the evening of May 16, in his first major speech following the BJP's victory in the 2014 Lok Sabha election, Narendra Modi spoke in Ahmedabad with his trademark mix of passion, humour, pungency and emotion. He referred to the role of the government and how it could not distinguish between those who had voted for it and those who hadn't, and how it stood for and owed a responsibility to everyone and to every citizen.
In the aftermath of this address some analysts said Mr Modi was trying to end the invective of the campaign and reach out to political opponents and doubters. He was attempting to be more inclusive. In particular, some saw in his words a message of reassurance to India's Muslims.
The question of where Muslims stand after an election in which their vote has clearly not been relevant is an important one. One of six Indians is a Muslim; the community constitutes our largest religious minority. Everything that affects India's Muslims must affect India and vice-versa; at least that is the ideal.
As Prime Minister, Mr Modi will represent all Indians, including Muslims. As Prime Minister, and particularly in the context of the gulf and the gap between him and the community — a gulf and a gap perpetuated by an unremitting propaganda offensive by certain political parties, activists and sections of the media — it is appropriate for Mr Modi to address India's Muslims, directly or indirectly.
However, it is not as if Mr Modi needs to reach out to Muslims in some clumsy manner and reduce his "attempt to become inclusive" — to use an expression heard after the Ahmedabad speech — to a caricature. What Mr Modi offers is genuine hope that the social contract between the Indian state, the Indian political class and India's Muslims will be recast in an appropriate, meaningful and beneficial manner. He offers hope that the tokenism and scaremongering of the past is finally behind us. Above all, he offers hope that he will be a Prime Minister who will see India's Muslims for what they are — equal citizens, nothing more and nothing less.
To understand that, a bit of context and background is called for. Why has the Muslim been the big loser of 2014? In 2009, the Congress won an impressive number of seats in at least five large states where there are substantial Muslim populations, either in absolute numbers or as a percentage of the electorate. The five states were Andhra Pradesh, Assam, West Bengal (where the party was then partnering the Trinamool Congress), Maharashtra and Uttar Pradesh.
In 2014, the party has lost heavily in each of these states. In Andhra Pradesh's Telangana region, the Muslim vote has gone to the Telangana Rashtra Samiti. In West Bengal, the Congress has won seats in two strongly-Muslim districts, Maldah and Murshidabad, but elsewhere the Muslim consolidation was behind the Trinamool Congress.
In Assam, the All-India United Democratic Front, driven by Muslim identity politics, won three seats and finished joint second along with the Congress. In Uttar Pradesh, the Congress has been decimated (literally; it is down to a 10th of its previous strength). In Maharashtra, the BJP-Shiv Sena alliance won 42 of 48 seats and the Congress only two.
What do these figures establish? They tell us that the Muslim voter has deserted the Congress or, in pockets, been the only significant voter group to remain with the Congress even as all others have fled. The results in Uttar Pradesh have been explained in terms of a so-called "communalised atmosphere" that presumes, incorrectly, that the Muzaffarnagar riots led to Hindu-Muslim hostility across the state. Even if this be taken to be true, how does one explain what happened in Maharashtra or Telangana?
The point is in several key states of India, the Muslim voter of 2014 felt cheated. He felt cheated not by the BJP or Mr Modi but by the Congress, and in the case of Uttar Pradesh by the SP as well. The Muslim voter was upset for one of two reasons. First, the Congress did not deliver public goods and services and the modicum of good governance that every Indian had a right to expect from the UPA government. This cause of anger was common to Muslims and non-Muslims alike.
The second reason for the Muslim to be upset was more denominational in nature: the Congress had made Muslim-specific promises and promoted and pandered to grievance without establishing the cause for that grievance or offering a solution to the perceived grievance. In a sense, the Congress — and the so-called secular parties — had nurtured and projected an India of Muslim distinctiveness, separateness and political exceptionalism.
Mr Modi's challenge would be to address the first reason without resorting to the gimmickry of the second. It would be to deliver on his campaign promise that he aspires to a happy picture of Muslim boys and girls who would have the "Quran in one hand and a laptop in the other". He could work towards achieving this by expanding educational opportunities across the board and ending a culture of shortages in classroom seats — rather than seeking out imams to pay special allowances to or offering minority-specific scholarships that ultimately divide the cake rather than expand it.
Most of all, Mr Modi needs to reach out to Muslims as citizens — culturally distinct, as so many groups and communities and identities in India are — but legally and politically equal. This may sound a cliché, but the fact is post-Independence Indian governments haven't really done this, either out of misplaced benevolence or with electoral calculations in mind.
Mr Modi approaches Muslims from a position of relative strength (if that is the word). He has won a national election and attained a parliamentary majority without their votes, and with Muslim voters — for whatever reason, justified or otherwise, misinformed or deliberate — having stayed away from the Modi narrative and to that end reinforced an insularity from those Hindu neighbours who bought into the Modi appeal.
This distance is not going be bridged in a hurry. As an intelligent politician, Mr Modi can aim for maybe 20 per cent of the Muslim vote in 2019, and even that may seem a forlorn hope. Yet, for it to happen, he has to assure Muslims of a place under the growing BJP umbrella — as equal citizens, not as a showpiece that matters only on voting day.
Ashok Malik can be contacted at malikashok@gmail.com
Source: http://www.asianage.com/columnists/modi-and-muslims-660
URL: http://www.newageislam.com/current-affairs/ashok-malik/modi-and-muslims/d/87112