By Antara Dev Sen
Feb 15, 2014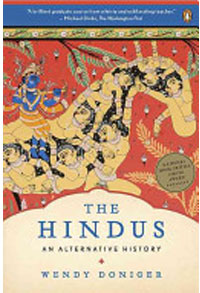 We helped shrink the space for dissent by shrugging and moving on. We played safe. We hushed up new ideas in art or scholarship by talking about 'respecting' religious sentiments.
Excuse me? You want to teach us about Hinduism? Are you not aware that we are the owners, makers and protectors of Hinduism since the beginning of time? Let me assure you, madam that we actually know whatever there is to know about Hinduism. And that as hallmarked Hindus, we zealously guard our religion from fakes and troublemakers like you. How dare you, an alien Mlechchha woman — a lowly non-Brahmin, non-Hindu, non-male, non-resident — try to poison us with your non-knowledge?
Oh sorry, said Penguin, and took flight. Thankfully, it was not really a flightless bird. It was a grand old publishing house that had recently merged with another and become a mammoth publishing conglomerate that could largely control what the world reads, thinks and talks about. And faced with the wrath of a self-styled octogenarian protector of Hindus and his little known Shiksha Bachao Andolan (Save Education Movement), the mammoth turned chicken. Sure, they whispered in abject fear, they would withdraw Wendy Doniger's scholarly work The Hindus: An Alternative History from the Indian market, recall all copies and destroy them.
But relax, affronted reader, Penguin is not the villain. It is just scared and spineless. A huge big guy that can waddle towards the cashbox, but cannot stand up for free speech or freedom of scholarship. A Penguin that seems to have grown disturbingly gigantic and infirm since it stood up with splendid resolve against rabid fundamentalists for Salman Rushdie's The Satanic Verses exactly 25 years ago.
No no, says Penguin in a statement defending its decision to give in to Hindutva threats. It's all about respecting the laws of the land, "however intolerant and restrictive those laws may be." It talks of the "moral responsibility to protect our employees against threats and harassment" and puts the blame squarely on the Indian Penal Code. Earlier, Doniger herself had called the IPC "the true villain of the piece". Penguin says the IPC, "and in particular Section 295A of that code, will make it increasingly difficult for any Indian publisher to uphold international standards of free expression without deliberately placing itself outside the law". And this, Penguin pointed out, was "of great significance not just for the protection of creative freedoms in India but also for the defence of fundamental human rights."
Agreed. It is necessary to respect the laws of the land and protect employees. Perhaps Penguin should withdraw every book that mentions homosexuality from about 80 countries across the world where homosexuality is illegal, including India.
Also, Section 295A targets "deliberate and malicious acts (which include speech, writings or signs) intended to outrage religious feelings of any class by insulting its religion or religious beliefs". In an age of identity politics and hurt sentiments, this has been used frequently by politically motivated people to stifle free speech. But back in 1957 the Supreme Court had ruled that only when there is a "deliberate and malicious intention of outraging religious feelings" is it an offence under this law. Higher courts in India have consistently ruled in favour of freedom of speech and have protected books and people hauled to court under this law.
So it is not clear why Doniger's book needed to be withdrawn when the court battle was just midway. What is clear however is that we have all helped in generating Penguin's fear? For decades we have allowed our secular democracy to be intimidated by majoritarian muscle. We watched as Hindutva goons got away with crimes that non-Hindus would hang for. We watched as political crimes against minorities were ignored by the state or were justified in court. We looked away as political parties kept the door open to smuggle in their own identity politics and sectarian violence. We helped shrink the space for dissent by shrugging and moving on. We played safe. We hushed up new ideas in art or scholarship by talking about "respecting" religious sentiments. We let crimes in the name of religion go unpunished. We created a self-serving civil society where only a very small minority would protest or ask questions. And now we are shocked that there is no space for an alternative history of Hindus in our once majestic land of pluralism and free thought!
Take a look at Section 295A, the "true villain". It is usually the offended Hindu that uses this law (which punishes with a fine and imprisonment up to three years) as a feeble replacement for the blasphemy law that India does not have. It has been used to attack the works of M.F. Husain, Taslima Nasreen and academic James Laine, to attack actress Jaimala for entering the Sabarimala temple that keeps women out, to arrest youngsters who made comments on social media that the Shiv Sena did not like. This law is a pesky tool for harassment. It has featured in practically every case of hurt Hindu sentiments and Hindutva Hungama, and in big political controversies from the Ram Sethu to the Ram Janmabhoomi.
The true villain is not so much Section 295A itself — which may be, like a number of old and decrepit Indian laws, fit to be trashed — but the general atmosphere of Hindutva muscle-flexing that weakens our freedom of speech. For decades we have been sacrificing secular rights to religious appeasement. And scientific organisations like the Archaeological Survey of India are made to play along. When it said that the Ram Sethu was not manmade, but naturally formed, enormous outrage forced the ASI to change its view in the Supreme Court. Meanwhile, the law minister declared that Ram was a historical figure.
Then there was the Ayodhya judgment that decided that the land where the Babri Masjid once stood was precisely where Lord Ram was born. And while the courts are busy dividing the land between Hindus and Muslims, there is still no justice for the demolition of the Babri Masjid. The Liberhan Commission took 17 years to probe the public crime broadcast on live television. It held 68 people guilty, including Hindutva honchos most of whom are still in public life, some as members of Parliament. But no one has been punished.
Finally, now that Narendra Modi, widely believed to be the architect of the 2002 mass murder of Muslims in Gujarat, is being furiously projected as the next Prime Minister — there is reason to be very concerned about the future of justice and Constitutional guarantees in our secular democracy. We have prepared the ground perfectly for Penguin's genuflection to Hindutva forces.
Antara Dev Sen is editor, The Little Magazine. She can be contacted at sen@littlemag.com
Source: http://www.asianage.com/columnists/intolerant-india-899
URL: http://www.newageislam.com/current-affairs/antara-dev-sen/intolerant-india--the-controversy-over-penguin-s-withdrawal-of-wendy-doniger%E2%80%99s-scholarly-work--the-hindus--an-alternative-history-/d/35765