By An Indian Express Editorial
April 1, 2015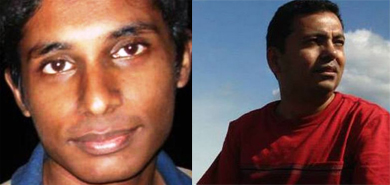 Washiqur Rahman Babu, Bangladesh young blogger and Avijit Roy, the Bangladeshi-American blogger
I am Avijit", wrote Dhaka student Wasiqur Rahman Babu on his Facebook page after the murder of Bangladeshi-American writer Avijit Roy in February, "words cannot be killed". Babu's killing, on Sunday, has made clear the darkening threat that Bangladesh's Islamists pose to the country's intelligentsia. Executed in a savage attack on Monday, which the police say was likely carried out by the al-Qaeda affiliated Ansarullah Bangla Team (ABT), the killing was just the latest in a long, grim series. The ABT's death squads first executed Ahmed Rajib Haider, among the architects of the anti-Islamist Shahbag protests, in February 2013. This was followed by the killing of Rajshahi University social scientist Shaiful Islam Lilon and Daffodil University student Ashraful Alam.
The men were all linked to Facebook pages and blogs where young progressives in Bangladesh have grouped together to take on the country's religious right-wing — fearlessly critiquing religion, social norms and politics. For Islamists, this has proved to be an intolerable threat. In each case, the victims were slaughtered with meat-knives, their heads and necks slashed in a manner mimicking the ritual executions conducted by the Islamic State. In Facebook posts, the ABT has promised there will be more blood spilt: of atheists, and those it considers apostates.
For the country, this is a moment of truth. The political struggle underpinning the killings is, in many ways, as significant as the one that unfolded in 1971. Prime Minister Sheikh Hasina's government, pushed by secularists to ensure the trial of independence war criminals, has ended up posing an existential threat to Islamists — coddled by successive governments since the assassination of her father, Sheikh Mujibur Rahman, in 1975. In the wake of the assassination, General Ziaur Rahman's government initiated a process of Islamisation. The Jamaat-e-Islami, the spearhead of Pakistani rule, was reborn as an empire, controlling welfare organisations, charities, hospitals and educational institutions rivalling those of the state. The secularist tide Hasina is riding threatens to undermine the Jamaat project. Though the government has come down hard on political Islamists, making it near-impossible for them to mobilise politically, the jihadists have carried forward their agenda by spilling blood. The Bangladesh government has acted, with commendable resolve, to take on terrorists. India must back this struggle, with all the means at its disposal.
Source: http://indianexpress.com/article/opinion/editorials/secular-martyrs/
URL: http://newageislam.com/current-affairs/indian-express-editorials/secular-martyrs--in-bangladesh,-battle-against-islamists-is-taking-a-decisive-turn/d/102204