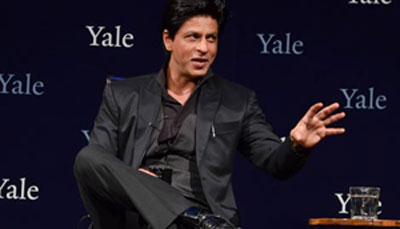 Can We, Please, Just Leave Him Alone?
By Amit Baruah
2013/02/04
Shahrukh Khan is an icon. In India, Pakistan, Bangladesh, Iran, Indonesia, Malaysia and the rest of the world – he's an artist that does the job of crossing borders effortlessly. But he happens to be born an Indian and, by all accounts, at peace with his multiple identities.
So, when Lashkar-e-Taiba boss, Hafiz Saeed, whose new fondness for Hindi / Urdu cinema and actors has come as a bit of surprise to me, takes up cudgels for Shahrukh, and offers him security in Pakistan, one must question his motives.
On January 27, Saeed tweeted:
Shah Rukh Khan Should come to Pakistan if he is being persecuted for his faith; Islam. We will welcome him with an open heart…
Saeed's blind hatred for everything Indian could help place his remarks in context, but what about Pakistan's Interior Minister Rehman Malik, whose professed aim is to improve relations between Delhi and Islamabad?
On January 29, Malik said at a reception hosted by Indian High Commissioner Sharat Sabharwal in Islamabad that the government of India should provide security to Shahrukh:
He (Shah Rukh) is born Indian and he would like to remain Indian, but I will request the government of India (to) please provide him security. I would like to request all Indian brothers and sisters and all those who are talking in a negative way about Shah Rukh, they should know he is a movie star.
But, no one was talking in a negative way. It was an article that Shahrukh wrote to which Saeed and later Rehman Malik appeared to be responding to. There weren't any active threats or protests happening against Shah Rukh the Actor, or questions raised about his religious identity at this point of time.
And, then jumped in Indian Home Secretary R.K. Singh and Information Minister Manish Tewari to declare that India was quite capable of looking after the security of its own citizens:
We are quite capable of looking after security of our own citizens…let him [Malik] worry about [the] security of his own [citizens, said Singh].
It was "irksome" to clarify a "non-existent" issue: Shahrukh himself went on to say:
I would like to tell all those who are offering me unsolicited advice that we in India are extremely safe and happy. We have an amazing democratic, free and secular way of life.
He also said:
I think some of the people have not even read it [the article] and are reacting to comments of people, who in turn have also not read it. I implore everyone here to read the article and convey through your respective mediums of communications all the good things that it expresses to youngsters and my fellow Indians.
To me, it seems to be a case of Hafiz Saeed wanting to create more trouble for Shahrukh Khan (and Indian Muslims), Rehman Malik joining the band without bothering to read what Shahrukh wrote and the Indian establishment responding in a very Indian-government way to what was being said in Islamabad.
Whether Saeed can be directly linked to the 26/11 Mumbai terror attacks or not on the basis of evidence, the fact that he is the ideological fountainhead of "Jihadi terror" in Pakistan cannot be disputed.
And, by continuing to play footsie with Saeed, the Pakistani establishment continues to raise questions about its intentions in dealing with mentors of terror like the Lashkar boss.
By appearing on the same side as Hafiz Saeed, Rehman Malik didn't do Shahrukh Khan or Pakistan any favours. Whatever problems Indian Muslims face, "help" from Mr. Malik isn't going to add to their security.
He probably knows that. But he should also know that succumbing to the demands of byte-and-camera journalism can do enormous damage to even larger-than-life personalities like Shahrukh Khan.
One can only wonder if Mr. Malik would be equally concerned about the "security" of a John Abraham or Hrithik Roshan.
Let's not cast Shahrukh in this long-running India-Pakistan film entitled Tragedy and Farce.
Agreed?
Amit Baruah is an independent, Delhi-based journalist. He is the author of Dateline Islamabad and reported for The Hindu newspaper from Pakistan.
Source: http://dawn.com/2013/02/04/can-we-please-just-leave-him-alone/
URL: http://newageislam.com/current-affairs/amit-baruah/let's-not-cast-shahrukh-in-this-long-running-india-pakistan-film-entitled-tragedy-and-farce/d/10290