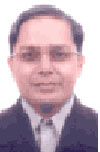 Ajit Kumar Singh
By Ajit Kumar Singh and Mrinal Kanta Das
December 15, 2014
The National Investigation Agency (NIA), investigating the October 2, 2014, Burdwan (Burdwan District, West Bengal, WB) blast case, arrested Sahanur Alom aka Doctor, one of the prime accused, on December 5, 2014, from Larkuchi village under the Mukalmua Police Station limits in the Nalbari District of Assam. Earlier, on November 11, another prime accused, Amjad Ali Sheikh aka Kajal was arrested from the Birbhum District of WB. Two other prime accused, S.K. Rahmatlla aka Sajid aka Burhan SK, and Habibur Rahman Sheikh aka Sheikh, were arrested on November 8 (from the Airport area of North 24-Parganas District) and October 15 (from Bolpur town in Birbhum District), respectively.
These four arrestees were among the 12 absconding accused in the case, against whom the NIA, on October 31, had declared cash rewards, ranging between INR 0.3 million to one million, for information leading to their arrest. Eight of absconders remain at large.
However, the total number of arrests in the case, from the date of the incident, stands at 10. In addition to the four prime accused, NIA arrested two suspects, Khaleed alias Khalid Mohammed and Zia-ul-Haque on November 17 (from Hyderabad, the joint capital of Andhra Pradesh and Telangana), and on November 7 (from Malda District in WB), respectively. The NIA also has custody of three accused, who were arrested by WB Police from the incident site. Another accused, identified as Hashem Moulla aka Badre Alam, arrested by the WB Police from Burdwan during raids subsequent to the blast, is also in the custody of the NIA.
NIA took over the investigation of the blast case on October 10, 2014.
An accidental explosion took place in a rented two-storey house at Khagragarh under the Burdwan Police Station on October 2, 2014. Two persons were killed and another sustained injuries in the blast. As reports of alleged linkages to the explosion of a member of the ruling party in the State, the Trinamool Congress, started to emerge, attempts were made to hush up the incident, with the local Police dismissing it as a one-off accidental blast. Under increasing media and political pressure, however, the investigation was handed over the NIA, and a thorough investigation opened a Pandora's Box.
To begin with, the dead were, identified as Shakil Ahmed and Suvon Mandal aka Subhan, both active members of the Jama'at ul Mujahideen Bangladesh (JMB). Abdul Hakim aka Hassan who was arrested from the incident site in an injured condition, was also found to be a JMB member. All three were found to be natives of Bangladesh. JMB, operating within Bangladesh, had suffered major reverses in the offensive launched against it in the aftermath of the August 17, 2005, serial blasts. JMB had carried out 459 explosions in 63 Districts (out of a total of 64 Districts in Bangladesh) killing three people and injuring at least 100. JMB has almost been made non-operative under the Premiership of Sheikh Hasina Wajed, the current Prime Minister of Bangladesh. The organisation was in the process of regrouping through modules set up inside India, and had even planned to assassinate Prime Minister Hasina.
While it was matter of grave concern that a foreign terrorist outfit was attempting to establish a base inside India, the module's alleged linkages with earlier incidents of subversion across India, and with the larger Islamist terror network in the country, were even more alarming.
Reports indicate that Students Islamic Movement of India (SIMI) terrorists, who had escaped from the Jatana area of Bijnor District in Uttar Pradesh on September 12, 2014, following an accidental blast (no casualties were reported), had close linkages with members of the Burdwan module. These SIMI cadres had earlier escaped from Khandawa Jail in Madhya Pradesh. Significantly, an unnamed officer involved in investigating the Burdwan blast disclosed, "There are also evidences (sic) to suggest that INR 6.50 Lakh [650,000] recovered from the heist rooms (sic) of the terrorists in Bijnor belonged to the same SBI [State Bank of India] branch of Karimnagar [Karimnagar District of Telangana]. The investigating agencies had also recovered a part of the same money after Burdwan blast." 'Robbers' had looted an SBI branch in Karimnagar on February 1, 2014, and had decamped with INR 4.6 million. Reports also indicate that the blast inside a stationary train at Chennai Railway station on May 1, 2014, in which a girl was killed, was engineered by terrorists who were also closely associated with the Burdwan module. Uncanny similarities were found in the improvised explosive devices (IEDs) that exploded in Burdwan, and inside the train. Similarities have also been found between the devices in the Burdwan blast and the explosion at Masjid Bari Lane of the Garden Reach area in Kolkata on April 8, 2012. At least two persons were killed and another nine were injured in Masjid Bari Lane explosion, which was never investigated thoroughly, as the local Police once again dismissed the incident as a one-off accidental blast. It now emerges that Shakil Ahmed, one of the dead in the Burdwan blast, was in the Garden Reach area, working as a tailor, during those days.
The Burdwan module also had disturbing connections with other major terror outfits. Khaleed, arrested from Hyderabad on November 17, reportedly admitted to have undergone training conducted by Tehreek-e-Azadi-Arakan, operating in the Arakan area of Myanmar, along with trainers from Tehreek-e-Taliban Pakistan (TTP).
Meanwhile, investigators disclose that nearly 58 terror modules have bases in nine districts of West Bengal, including Burdwan, Birbhum, Nadia, Murshidabad, Jalpaiguri, Cooch Behar, Howrah, South 24-Parganas, and North 24-Parganas. Several of the madrasas (seminaries) across West Bengal and Assam are allegedly being used to propagate jihadi views. Simulia madrasa, on the outskirts of Burdwan town and Mukhimnagar madrasa in Mukhimnagar village of Murshidabad District, have been identified as major centres of such activities. At least 165 to 190 radicalized Bangladeshis have managed to sneak into India over the past few months, to join these modules.
JMB was planning to establish an 'Islamic state' in Bangladesh through armed struggle. The projected 'Islamic state' was intended to incorporate the West Bengal Districts of Murshidabad, Nadia, and Malda.
What was initially considered as a one-off accidental blast has turned out to be a major national security threat, with cross border connotations. This has occurred at a time when India is facing a larger challenge of containing the spread of Islamist radicalisation and the rising attraction among some fringe elements towards the global jihad. Crucially, at a time when Bangladesh has acted with extraordinary determination and effectiveness against jihadi formations on its soil, opportunistic politics in India appeared to have created safe havens on Indian soil for both domestic and Bangladeshi terrorist organisations. One such network has now been accidentally exposed - despite the WB Government's attempted cover-up - but others may yet survive, even flourish, under India's perverse politics of communal opportunism.
Ajit Kumar Singh is a Research Fellow and Mrinal Kanta Das is a Research Assistant, Institute for Conflict Management
Source: South Asia Intelligence Review
URL: http://www.newageislam.com/current-affairs/ajit-kumar-singh-and-mrinal-kanta-das/india--burdwan-blast--deceit-exposed/d/100493