By Adila Matra and Ashlin Mathew
March 14, 2015
The book store owned by Nizamudhin Dehlavi in Old Delhi is one of the few shops that also has a publishing house which has published works of some famous Urdu poets.
Amid the clamour of kebab vendors, lassi carts, blaring horns and the call for prayer fighting to keep up in Old Delhi, you suddenly hear a query, "Bhai Saab, Kabir Ke Shayari Honge", followed by an immediate answer: "Kabir Ke Dohe Hote Hai, Shayari Nahi." When you turn around, you find Nizamudhin Dehlavi stroking his beard and scanning a cupboard - probably one that is as old as the shop (1939). Meet the owner of Kutub Khana Anjuman-e-Taraqqi-e-Urdu, one of the few existing Urdu bookshops in the Urdu Bazaar.
"My father started the bookstore and we also have a publishing house where books by Munawar Rana, Majid Deobandi and Nawaz Deobandi have been published. The language, albeit forgotten in daily lives, has a strong fan-following, especially among researchers from Japan, Canada and the USA, who are interested in picking up Urdu books on Mir, Amir Khusrau, Ghalib or even calligraphy. Sadly, Indians fare low on the list," says Dehlavi, who is of the opinion that while Urdu literature has been widely acknowledged, its essence is lost in translation.
Urdu's Strength
While Urdu's script resembles that of Arabic and Farsi, a lot of words are similar to Hindi. That remains its core strength. "Urdu has some inner fortitude that has led to it being around. It lives because the language can be understood and is similar to Hindi. The script has more or less ceased to be readable, but the popularity of its literature has not dimmed," says M. Sayeed Alam, Urdu playwright and director and the head of theatre group Pierrot Troupe, known for its popular production Ghalib in New Delhi.
But the fact that the Urdu script is not read enough is one of the reasons for the language to stay mainly among academics. But Khwaja Mohammed Ekramudhin, Director of National Council for Promotion of Urdu Language, says digital space has more or less solved that problem.
"We have introduced more than 13 Urdu fonts both for computers and smart phones. This is to familiarise laymen with the script, so that there is an interest," he says. Also, online poetry sites and Twitter have Shayari is transliterated in Hindi and English, along with the original Urdu script.
"Internet has helped re-popularise the script, but that again is a short-cut. In the longer term, it won't help. Even when I do plays in Urdu, I have to type it in English. If this has happened to Urdu, it will happen to Hindi too," adds Alam.
Alam wants the language and the script to be a part of the government curriculum to be taught in schools. "I don't subscribe to the view that to make Urdu popular, it should be written in Devnagiri and Roman scripts. What people don't realise is that if Urdu suffers so does Hindi. They are essentially the same. You cannot utter Urdu without using Hindi verbs. Just like how 'Emaandari' has no Hindi parallel, 'thyohaar' doesn't have an Urdu parallel. The literature might be different. The mellifluous language is loved by all, but its beauty is being lost," adds Alam.
Ghalib Works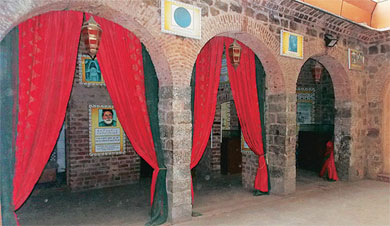 The event aims at promoting the works of noted poets like Ghalib.
Doing Justice
We have all read English translations of the works of Amir Khusro, Mir Taqi Mir and Qateel Shifai. But do these renditions do justice to the beautiful language? "It is difficult to translate the original metaphors and thoughts. They aren't straight stories, so I would always encourage reading the original," says Saraf. But Ali Madeeh Hashmi, a researcher from Lahore who has been translating works poets like Faiz Ahmed Faiz, says: "Translation helps Urdu writers get international exposure outside the subcontinent."
Even Hindi movie buffs fail to notice that Urdu had been the mainstay of Bollywood movies till the 1990s.
"There was a time Hindi cinema did much for Urdu. Now there's a cultural void in Bollywood. The condition of Urdu is a paradox; there is an interest but no way to read. But how can we ask them to change the script? There are many for whom Urdu is the mother tongue. It would be like depriving them of their homeland," noted Bollywood lyricist Javed Akhtar said.
An Urdu Weekend to Remember
One can never get enough of Ghazals and Shayari - especially when Delhi cannot decide between the beautiful spring and the Beimaan rains. Maybe it is time to huddle in a hall and listen to Ghalib and Khusrau or Khanum and Parvin. Jashn-e-Rakhta, the two-day Urdu Festival at IIC this weekend, offers a much-needed dose of romanticism and idealism for Delhi.
The festival, organised by Rekhta Foundation in collaboration with IIC, will see more than 60 personalities speak and act. Javed Akhtar, Rekha Bhardwaj, Gopi Chand Narang, Zia Mohyeddin, Rakshanda Jalil, Ashok Vajpayee, Musaffar Ali, Nida Fazri, Nandita Das and Purshottam Agarwal are just a few names in the list of poets from India, Pakistan, UK and Canada, who will bring alive Urdu's lyrical beauty and resonate its eloquence with live performances, panel discussions and interactive sessions.
"This is a celebration of a language that is versatile and diverse - Qawwali, Dastangoi, Mushaira - the language has given birth to a lot of art forms," says Sanjiv Saraf, the founder of the festival. "The whole point of such an event is to increase access to the language and its forms. Our website Rekhta.org has an online library museum which has over 15,000 visitors a day. The interest prompted us to organise the festival for the first time and it will be an annual event from now on," he adds.
Apart from debates on topics such as 'Changing Face of Mushaira' and 'Word of Woman in Urdu Literature', the festival will have performances by Rekha Bhardwaj, Vidya Shah and Danish Hussain. "The 18th century was the golden age of Urdu. What we don't realise is that Rektha is a synonym for Ghazals. In today's world it's become a joke. Even shayari has taken a hit. After the Babri Masjid demolition, communalism has crept into these verses. This festival will help its cause," says Munawar Rana, the 2014 Sahitya Akademi Award winner.
Source: http://indiatoday.intoday.in/story/urdu-nizamudhin-dehlavi-urdu-bazaar-munawar-rana-majid-deobandi-nawaz-deobandi-amir-khusrau-ghalib/1/423777.html
URL: http://www.newageislam.com/current-affairs/adila-matra-and-ashlin-mathew/publication-house,-book-stores-in-old-delhi-doing-their-bit-to-preserve-urdu/d/101960