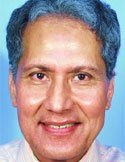 By Adil Zareef and Fazal Maula Zahid
Swat Valley - once known for its mesmerizing natural beauty has only recently become the victim of militancy. Given its rich Gandhara heritage, its variegated history and colourful folklore it was once a tourist haven. Located in the north of Khyber Pakhtunkhwa province, it's about 250 km from Islamabad.
The economy is dominated by agriculture. More than 75% of the population has rural background, directly dependent on farming. Landless farmers are also an important category. These "Gujjars" traditionally keep animals like buffaloes and cows livelihood. Women play an important, but often overlooked, role in agriculture in both crop and animal production. Out of the total population of 2 million, the livelihood patterns of 1.5 million are dependent on direct farm or farm-related livelihoods. The land normally under cultivation is about 0.1 million hectares or roughly 0.25 million acres and more clearly 2 million kanals, out of which about 50% is rain-fed.
The 2010 floods devastated over 40,000 acres of fertile land around Swat valley, bordering Kalam valley towards the Malakand agency. Considering a population around 2 million and the productive land around 2 million kanals, the average land holding of under-cultivation land is less than one kanal/ per person. These farming systems require a high level of management practices and approach to technological advancement.
Agriculture Statistics of Swat Valley (2007-08)
| | | |
| --- | --- | --- |
| 1 | Total Reported Area (Hectares | 506528 |
| 2 | Cultivated Area (Hectares) | 98529 |
| 3= 4+5+6 | Uncultivated Area (Hectares) | 407999 |
| 4 | Culturable Waste (Hectares) | 84049 |
| 5 | Forest Area (Hectares) | 136705 |
| 6 | Not Available For Cultivation (Hectares) | 187245 |
| 7 | Total Irrigated Area (Kharif+Rabi) (Hectares) | 92361 |
| 8 | Total Un irrigated Area (Kharif+Rabi) (Hectares) | 93598 |
In these circumstances, the traditional Swat farmers are praiseworthy for their hard work, sustaining their families on a small piece of land, that receive meagre or no water, and almost no agri inputs, yet turning it highly productive through indigenous enterprise. The farming system in Swat is certainly a model for the rest of Pakistan, having a blend of both the traditional and non-traditional cropping patterns, in fruits, cereals, vegetables, non-timber forest products (NTFP), medicinal herbs, honey, silk and nursery production and so on. It emerged, in a short span of time, as a hub of a variety of fruit growing orchards, off season's vegetables and cereal crops with an excellent production, value addition and supply chains.
The farmers in Swat not only grow crops and vegetables but they also rear and keep livestock and poultry. The main crops of the valley are wheat, maize, onion and rice while livestock includes cows, buffaloes, sheep, goats and domestic poultry birds. Amongst horticultural crops, the valley is famous for apple, persimmon, peach, pear, apricot, plum and citrus etc. Because of its quality and flavour, maize grain cultivated in Swat has an edge in market in Pakistan.
While the Swati rice commonly known as 'Begamai' is renowned for quality as far as Karachi. Market players, industrialists, transporters and multinational firms established their effective networks in the valley and earn millions of rupees in each fruit season. It attracts skilled labourers of down districts and the Punjab to work in the fruit growing areas of Swat. It employs 56 % of the local labour force throughout the year.
Until recently, Swat was a centre of oil seed soybean cultivation and the preferred choice of the orchard farmers till the government removed subsidies and its production dropped. This multi-utility crop has many positive benefits. Soybean seeds variety of upper Swat was exported for plantation to other parts of the country.
Honey from Swat is a famous product across the globe for its unique flavour. Its distinctiveness has ranked it higher both in price and demand. Farmer delegations from across the country once visited Swat to learn the agriculture practices here. Similarly, many experts from the globe worked here and appreciated the role of the local farmers in the development of agriculture and its by-products.
The region that is spread in 100 aeronautical miles is almost, a summary of the universe. It is the food reservoir, not only for 2 million of its populace, billions of other living species of diverse kinds of plants, wildlife, birds, bees, microorganisms. Rare and precious natural resources are now under severe threat, owing to unsustainable development. Fertile green land is being converted into roads, homes, townships schemes and so on.
The above facts reveal that such precious but limited resource requires proper land use planning. It not only benefits the locals, but also the whole country. Swat forests and mountains play the role of water reservoir for the downstream districts. Irrigation of the Pakistani plains depends upon the Swat River, replenished with yearly snow on the hilltops. The snow patterns depend on the dense forests and the biodiversity of this enchanting snow valley which are declining in recent years.
Proposed military cantonments in fertile lands of Kabal, Khwaza Khela and Barikot shall irreversibly impact this traditional food basket, which not only sustains the livelihoods of local population, besides, contributes to food security of down country, earning huge foreign exchange for national exchequer.
"Climate Change" threatens the fertility and food production owing to changing crop production patterns globally. Pakistan, according to experts, is destined for "desertification" by both man-made and climatic patterns by 2025. The proposed plan also violates all national, regional and global conventions on biodiversity and United Nations Declaration on the Rights of Indigenous Peoples.
Consequently, building cantonments threaten to convert the traditional "green growth" into "brown growth" considering its long term negative impact on ecology and economy. The Khaki development model needs to be challenged by environmental and agriculture experts, policy makers who appreciate the importance of fragile ecosystem for sustainable "green growth."
Adil Zareef is a member of the Sarhad Conservation Network and Fazal Maula Zahid is an agriculture expert presently working in the ministry of national food security
URL: http://www.newageislam.com/current-affairs/adil-zareef-and-fazal-maula-zahid/transformation-of-green-growth-into-khaki-growth-in-swat-valley/d/76831