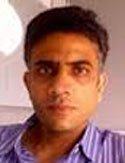 By Aakar Patel
Apr 14, 2013
Let's look at the myth of Narendra Modi as a development candidate. There is no problem with the idea of him being projected as a candidate, or even as THE candidate, for development. This is because it is a good and positive approach in what is generally a country where politics is done on the basis of identity, not policy or governance. However, is the claim true?
Many in the BJP — Smriti Irani is one — have said that nobody else in India has ever campaigned on development alone. Mr Modi is the only man not to divide the electorate by talking of identity issues.
Let us assume that this is the case, and that Manmohan Singh and Sonia Gandhi, others in parties like the CPI (M), and Jawaharlal Nehru and Atal Behari Vajpayee before them, demanded votes purely on the basis of caste and religion.
But even if we were to accept that this were so, it must be recognised that development is only a part of Mr Modi's appeal and attraction.
In Gujarat, as elsewhere, the BJP is essentially a caste-based party. Its primary vote bank is the peasant Patel, whom the rebel Keshubhai tried unsuccessfully to break in the last elections.
To illustrate this, let's look at the numbers. Four out of nine ministers in Mr Modi's previous Cabinet and three out of seven in his current one are Patels. This is vote bank politics, not development politics, because in choosing his ministers, Mr Modi looks at their caste.
And so it's wrong to say that the Gujarat BJP, including Mr Modi, spurns caste politics. The second aspect of identity politics is the politics of religion.
It is difficult to be convinced that Mr Modi's appeal to a segment of the Gujarati population is not because of his tough and uncompromising Hindutva. Let's look at examples here.
When his minister Maya Kodnani was convicted for the killing of 95 Gujarati Muslims last year, Mr Modi did not condemn her. Actually when most Gujaratis knew of her involvement in the massacre at Naroda Patiya, Mr Modi first gave her a ticket to contest and then made her minister.
She has been sentenced to 28 years in jail for her actions, but he has avoided taking questions about her crimes. When his deputy home minister Amit Shah was jailed after being charged in a case where a Muslim man and his wife were wrongly killed, Mr Modi backed him. In fact, he had him elevated a few weeks ago to the post of general secretary in the BJP.
The signal that Mr Modi has consistently sent out is that he is going to be tough on Muslims, and if his team makes an error, and even if they are convicted of crimes against Muslims, he will not back off from supporting them and he will not condemn them.
He doesn't disown them, and doesn't distance himself from their awful actions because this is an achievement that has brought him the admiration of many in the Gujarati middle class. Mr Modi doesn't need to advertise this side to his divisive politics because the media does it for him. He says that he is unfairly accused, but the facts are quite clear, as we can see.
We can continue to talk about him as a development candidate, but the reality of his politics does not validate that claim.
Aakar Patel is a writer and columnist
Source; http://www.asianage.com/columnists/reality-modi-s-politics-717
URL: http://www.newageislam.com/current-affairs/aakar-patel/the-reality-of-modi's-politics/d/11135