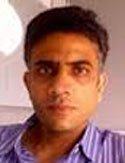 By Aakar Patel
November 2, 2013
Growing up in Surat, I often heard a comment on Vallabhbhai Patel from my uncles and other relatives. It was repeated by Narendra Modi at a rally last week. He said: "Every Indian still regrets that Patel did not become the first prime minister. Had he been the first prime minister, the country's destiny would have been different."
How Patel, who died in 1950, could have changed independent India's destiny in three years was not explained by Modi. And what Patel would have done to do this was also not clear to the impartial observer. Did Modi mean that Indians would not have been so poor and backward had Patel led us instead of Nehru? Was that the meaning of "changed India's destiny"? But Vallabhbhai Patel had no background of economic achievement or even understanding. Like the other great leaders of the time, his background was in law and his job was that of home minister.
No, what Modi was reaching for, of course, was the 'unity and integrity of India'. In the ossified RSS mind, this is still under threat from Muslims and it is they whom Patel would have fixed and put in their place had he been prime minister.
This is what Modi meant, but is it true? Let's look at it. But first, as I have said, Modi's is not a serious view and Patel's lifespan and background should make that clear. Declaring that Patel should have been prime minister instead of Nehru is the sort of thing said loosely in drawing room conversation, and something prime ministerial candidates should avoid.
In his book Sardar Patel and Indian Muslims, Rafiq Zakaria shows how Patel was actually secular and tolerant. His message to Hindus in the Constituent Assembly was: "It is for us who happen to be in a majority to think about what the minorities feel and imagine how we would feel if we were treated in the manner in which they are treated."
Patel was no bigot and certainly not the anti-Muslim (though my uncles will be horrified to be told this) figure that those who lionise him for this reason seem to believe. He was instrumental, according to Zakaria, in giving Indian Muslims the right to proselytise and convert Hindus to Islam. This is what separates India from the states surrounding it and makes it civilised. Patel was also instrumental in giving minorities the right to run their own institutions. This is not the sort of work we imagine when we think of the no-nonsense Vallabhbhai. It is true, of course, that Patel looked on Muslim motives with suspicion after Partition. But he was able to put himself above his emotions. In fact, against the wishes of Dr Ambedkar, he gave Muslim leaders in the Constituent Assembly the opportunity to themselves take back their demand for separate electorates in India. This is something the Sikhs had demanded assuming, wrongly as Patel knew, that Muslims would also want it. This great gesture from Patel absolved Muslims from the charge of continued separatism.
Gandhi said this of Patel: "I know the Sardar … His method and manner of approach to the Hindu-Muslim question, as also to several other questions, is different from mine and Pandit Nehru's. But it is a travesty of truth to describe it as anti-Muslim. The Sardar's heart is expansive enough to accommodate all."
When Hindus and Muslims rioted, yet again, in Ahmedabad in 1941, Patel was in jail. This is what he told Gujaratis on his release: "The wounds that were inflicted on me, deep down within me, when I heard of what took place during the riots in this city, have still not healed. If even 10 had been bold enough to stand up to the miscreants, this would not have happened. In future, do not ever run away. Put up the defence. Face your enemy with a superior force: Gandhiji's path of non-violence."
How different Sardar Patel's response is from that of Modi, who still defends his ministers, convicted of participating in a riot, 60 years later. The grand tribute Modi thinks he pays to him, Patel himself would not have appreciated.
Soource: http://tribune.com.pk/story/626271/sardar-patel-separating-the-man-from-the-myth/
URL: http://newageislam.com/current-affairs/aakar-patel/sardar-patel--separating-the-man-from-the-myth/d/14274