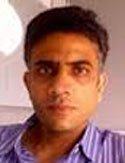 By Aakar Patel
August 31, 2013
Among various religious groups of India, Muslims have the lowest living standard with an average per person, per day expenditure of Rs32.66, The Times of India has reported, quoting a government survey. For Hindus, the figure is Rs37.50, for Christians Rs51.43 and for Sikhs Rs55.30. According to the study by the National Sample Survey Organisation, the average monthly expenditure for Hindus and Christians were Rs1, 125 and Rs1, 543. In India's rural areas, Muslim and Hindu expenditure per month was about the same (Rs833 and Rs888). The survey said that average monthly per capita consumption at an all-India level was Rs901 in villages and Rs1, 773 in cities.
In urban areas, Muslims' average was also the lowest at Rs1, 272 followed by Hindus at Rs1,797. A day before, the paper reported, quoting the same government survey that unemployment among Muslims is going down. "The unemployment rate for the community declined from 2.3 per cent in 2004-05 to 1.9 per cent in 2009-10 in rural areas and from 4.1 per cent to 3.2 per cent in urban areas. However, a vast majority of Muslims in both rural and urban areas are not part of the organised workforce compared to other religious groups."
In contrast, Hindus had an unemployment rate of 1.5 per cent in rural areas during the five-year period, while it fell from 4.4 per cent to 3.4 per cent in urban India. According to data released by the survey, Muslims are mainly engaged in self-employment and as rural labour.
In Indian cities and towns, Muslims are at the bottom of the ladder in the 'regular wage/salaried' category. Among the major religious groups, members in 30.4 per cent of Muslim households are in regular jobs, followed by Sikhs (35.7 per cent) and Hindus (41 per cent). In contrast, the proportion of households with the major source of earning as self-employment was the highest for Muslims (46 per cent) in urban areas.
In villages, Muslims (41 per cent) are the largest group employed as rural labour, with another 46.3 per cent in the self-employed category. Majority of households of all religious groups, other than Muslims, belong to the self-employed in the agriculture category, the survey found. In rural areas, the proportion of households depending on self-employment was the highest among Sikhs (48 per cent).
In a Firstpost piece, Rakesh Basant, professor of economics at IIM, Ahmedabad, and former member of the Sachar committee, which analysed the conditions of Indian Muslims, attributed poor education levels to large self-employment rates in the community. He said that lack of educational opportunity was responsible: "There are not many good schools in Muslim neighbourhoods and that of many marginalised communities. This is a problem in supply side. Participation in education goes up when supply of educational institutions is addressed."
The website said, "At 46 per cent, Muslims form the biggest chunk of population in urban areas with self-employment as the main source of earning. In contrast, only 30.4 per cent Muslims form the urban work force, the lowest in the salaried category among the various communities."
According to Professor Abusaleh Shariff of the Centre for Research and Debates in Development Policy, New Delhi, one reason for this was "the bias against the community which stops it from perceiving salaried jobs as a source of earning". "They do not get jobs as per qualifications, both due of market imperfections and also due to bias in the system. Even in rural areas, they do not even get employment under the NREGA," said Shariff.
In my opinion, there are two other reasons that have kept Muslim participation in white-collar jobs low. First is caste. A large proportion of Muslims are converts from artisanal and tradesmen communities (like weavers and butchers). These traditional groups among backward castes, whether Muslim or Hindu, have always been poorly educated, whether for lack of access to good schools or an environment at home. The other reason is that the Holy Prophet Muhammad (peace be upon him) was a businessman as well, and so, many Muslims are attracted to running a trade. In this case, there is a deliberate rejection of employment.
It cannot be denied that there is prejudice against Muslims in India. But that by itself is not the reason the community is behind other groups so far as white-collar employment goes.
Aakar Patel is a columnist. He is also a former editor of the Mumbai-based English newspaper Mid Day and the Gujarati paper Divya Bhaskar
Source: http://tribune.com.pk/story/597968/muslims-and-white-collar-jobs-in-india/
URL: http://www.newageislam.com/current-affairs/aakar-patel/muslims-and-white-collar-jobs-in-india/d/13313