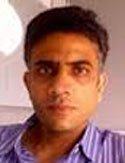 By Aakar Patel
March 9, 2013
This week, I was on a couple of television shows where something unusual struck me.
The shows were about Narendra Modi being denied the chance to speak at the Wharton India Economic Forum over a satellite link.
The Desi students of Wharton had called him to speak to them about development. Some others from the campus in Pennsylvania objected and got a petition signed by 300 people. This put paid to Modi's talk. The people opposing Modi were led by three professors, Toorjo Ghose, Ania Loomba and Suvir Kaul. In their note they said two things that were relevant. First, that "In February 2012, the Supreme Court again criticised the Modi government for harassing activists fighting for justice with trumped up charges".
This is current and not to do with the riots. It shows, depressingly, how Modi chooses to keep the riots alive. In fact, one of Gujarat's finest police officers, Rahul Sharma, is facing action next week for going after the killers. The other thing the professors referred to was the Indian National Human Rights Commission report, which states there was "a comprehensive failure on the part of the state government to control the persistent violation of rights of life, liberty, equality and dignity of the people of the state". Both of these are things that will follow Modi wherever he goes abroad, whether now or as prime minister. Something for him to think about and possibly correct.
Personally, I think it silly that Modi should not have been allowed to speak. It is an old Indian habit to bully people into silence rather than to debate them.
However, what surprised me was that the division here was between the professors, who were upset with Modi, and the students, who were excited by him. Young Indians abroad seem to love Modi while older Indians are more circumspect. This is similar to Delhi's Shri Ram College, where students were also greatly taken in by Modi.
When Wharton's invitation to Modi was withdrawn, the Indian students put out a note saying: "The student organising body was extremely impressed with Mr Modi's credentials, governance ideologies and leadership, which was the primary reason for his invitation." They explained their reason for cancelling the talk by saying they did not want controversy: "Therefore, we as a team, would like to apologise for being a catalyst may (sic) have put Mr Modi and the Wharton school administration in an (sic) difficult position." So, it seems to me that Wharton is producing the wrong type of Indian abroad. It is worrying that they should have, without a single reference to the objections raised by their professors, put out this defiant note after their capitulation.
Previously, this same student body had invited, for some reason, Varun Gandhi. I saw this reported in The Hindu. You will remember him as the man who promised his Hindu constituents that he would amputate the limbs of those they saw as enemies. What wisdom he could have given the students is not easy to figure out. In fact, it is disturbing. The other thing that struck me over the same issue is how different our entertainment industry is from Hollywood, which is the liberal citadel of the United States. Unfortunately in India, the Bollywood artist is opportunistic and not driven by any great liberalism.
Almost any television debate one is on, the BJP or the RSS is assured to have some figure from the entertainment business defending it. Most often it is Smriti Irani, who demanded Modi's resignation in theatrical manner just after the riots but then saw the light and is now his supporter. Other film stars on the BJP's side or endorsing Modi are Dharmendra, Hema Malini, Amitabh Bachchan and Shatrughan Sinha. This is not to say there aren't any in Congress or elsewhere, but we don't have Hollywood's revulsion for politics based on nationalism and religion. This week, I had the unpleasant experience of being on a panel with actress Kiron Kher, who I did not know was a fan of Modi, screaming at one of the soft-spoken professors who moved the anti-Modi petition. Shouldn't Bollywood, with its pretend liberalism, at least pretend to be against Hindu fundamentalists? Strange that it isn't.
And, how interesting to learn in the same week that our students and our actors are becoming creatures of the Right!
Aakar Patel is a director with Hill Road Media
Source: http://tribune.com.pk/story/518370/modis-followers/
URL: http://newageislam.com/current-affairs/aakar-patel/modi's-followers/d/10738