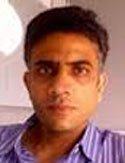 By Aakar Patel
March 3, 2013
The Rashtriya Swayamsevak Sangh, my friend the Marathi editor Kumar Ketkar says, is a group of people that has always craved the "approval of intelligent Indians."
This is because their crude bigotry is unappealing to those able to look at the world objectively. This same sentiment later entered politics with the pulling down of the Babri Masjid and the killing of thousands of Indians who died because of LK Advani's insistent belligerence. The BJP sought approval from fellow politicians, but found it, and still finds it, difficult to attract allies and support as easily as Congress.
And so whenever approval has come to them, they have advertised it.
With Narendra Modi, it is slightly different. He holds himself in such high esteem that the praise of others is not needed. His own will suffice.
A few months ago, Rajdeep Sardesai asked Modi: "Why do you have only your pictures on all the Gujarat government websites? Why do your photographs appear so frequently?"
Modi did not reply to this. He chose to remain silent, because he believes his praise of himself is justified, and that Rajdeep was being what Bollywood calls shana. Actually, to know how highly Modi thinks of himself, we need only go to his official website, www.narendramodi.in.
All the statements under quote marks here are reproduced from Modi's site. Modi was a child prodigy, according to himself, who is now so brilliant he can remember the names of lakhs of people. Here's more:
l "Endowed with excellent organizational capability and a rich insight into human psychology, he was elected as the student leader of Akhil Bhartiya Vidyarthi Parishad and played a prominent role in various socio-political movements in Gujarat."
l "Right from his boyhood days he was confronted with many odds and obstacles, but he transformed challenges into opportunities by sheer strength of character and courage. Particularly when he joined college and University for higher education, his path was beset with hard struggle and painful toil. But in the battle of life he has been always a fighter, a true soldier."
l "The ascent of the BJP to power at New Delhi in 1998 has been attributed to these two highly successful events (Advani's Rath Yatras), substantially handled by Shri Modi."
l "His outstanding memory of addressing lacs of people, even common men, by their first name has made him the darling of the masses."
l "The voyager continues to walk tirelessly, leaving behind his footprints on the sands of time, transforming milestones into milestones, step by step."
l "...a master strategist, who was enriched by national and international exposure and experience, decided to take the bull by its horns."
l "If one looks for the ideas and ideals of leadership, here is a classic role model showing how the youth, endowed with strength of character, courage, dedication and vision at once flowers into creative leadership. It is not quite common to see, in public life, a man with such profound spirit of service and fixity of purpose; loved so well by the people whom he loves so deeply. He has, in not so long span of time, emerged as the man of destiny."
The Gujarat chief minister's most devoted admirer can only be his number 2 fan, because Narendra Modi's number 1 fan will always be Narendra Modi. There is no end to the praise he gives himself. A few years ago, I picked out these from the site: "great dreamer"; "remarkable ability"; "hard taskmaster"; "strict disciplinarian"; "amazing"; "realist"; "idealist"; "clarity of vision, sense of purpose, diligent perseverance".
Is he embarrassed by this worship of himself on his own site?
Of course not. He loves it. Be prepared for more if he comes to Delhi!
Source: http://www.dnaindia.com/analysis/column_meet-narendra-modi-s-no-1-fan-himself_1806729
URL: http://newageislam.com/current-affairs/aakar-patel/meet-modi-s-no-1-fan--himself/d/10673