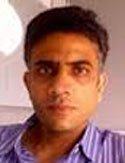 By Aakar Patel
March 31, 2013
First, we banned Pakistanis from the Indian Premier League (too soft on terror). Now, we have banned the Lankans (too tough on terror). This upsets some of us who think the decision was wrong. I'm writing this mainly for them. There is no point in feeling emotional about this sort of irrational behaviour unless you see it as episodic. It isn't, of course, and anybody who observes India function can see this. It's endemic and representative of the tribal society that India as a whole is. By tribal I mean one that cannot examine individuals without the prejudice of a collective label.
We have no problem with punishing the entire race of Lankans for the actions of their government. And the truth is that we are consistent in this behaviour. For many years now, we have used the same approach with Pakistani musicians and cricketers. This has not been noticed because there is a consensus against Pakistan in our middle class. Our arbitrary you-cannot-play-here order to professionals was fine, as long as it targeted Pakistani players. The Lankan matter has made more people sit up but, as I said, this is not a new thing. When this is so, we necessarily open ourselves up to scrutiny on the charge that we are racists who believe in collective punishment. Who among us can deny we are not, faced with this sort of evidence?
Writing about the latest provocation, leading to the decision to keep the Lankan players out of Chennai, The Hindu said in its editorial:
"For a person entrusted with the task of ensuring law and order, Ms Jayalalithaa, in her letter to Prime Minister Manmohan Singh, appeared too eager to surrender her responsibilities. Far from extending assurances on the law and order front, she voiced her apprehension that the participation of Sri Lankan players 'will aggravate an already surcharged atmosphere and further offend the sentiments of the people' of Tamil Nadu. To drop the Sri Lankan players on this ground is to blatantly discriminate on the basis of nationality and ethnic identity."
True, of course, but what the paper should have considered was whether what Jayalalithaa was claiming was also true. I think it is. Tamilians would have gone violent if the Lankans had been allowed. In the same way that the Shiv Sena and its voters behave when there is talk of Pakistanis playing at the Wankhede Stadium.
Like some Pavlovian creature, the Indian crowd can always be set off on the right cue. The other thing to observe is how we find nothing wrong in behaving like schoolyard bullies, and at the same time, spout clichés about cricket being a gentleman's game. It's nothing of the sort in India. It's like a circus in Rome: vicious and nationalistic. Why are we so petty and mean? The answer is because we can be. We kick around smaller nations that are our neighbours because we can; there's no other reason. Meanwhile, really offensive things in cricket rarely bother us because they are done by members of our own tribe.
The Tamilian head of the BCCI owns one of the teams his body governs. He can bend the auction rules to suit his team but this is fine. And who will object? Two of the most respected cricketers in the world, Sunil Gavaskar and Ravi Shastri, are paid Rs30 lakh every month to parrot the BCCI propaganda on television. A third commentator, Harsha Bhogle, also put his hand up but couldn't conclude the sale because of some problem with the contract, according to The Economic Times.
We have no problem with any of this and it continues. The parties involved have accepted the facts but even after being thoroughly exposed, they say there is no conflict of interest. I would say they are right because conflicts of interest arise only in cultures with a set of principles and morals, which I don't think we have. I have long ceased to be surprised by the simian antics of the Indian mob. To a writer, this mob isn't even interesting anymore. It is actually quite predictable whether it gathers in Chennai or in Mumbai or in Jhumri Telaiyya. Indians are the same everywhere, and mostly, we are insufferable.
Aakar Patel is a columnist. He is also a former editor of the Mumbai-based English newspaper Mid Day and the Gujarati paper Divya Bhaskar
Source: http://tribune.com.pk/story/528756/indias-vicious-racism/
URL: http://www.newageislam.com/current-affairs/aakar-patel/confusion-galore--is-india-too-soft-on-terror-or-too-tough-on-terror?/d/10975