A Warsi News Report
22nd July 2013
Prominent organization of Indian Sunni Muslims, Raza Academy has written a protest letter to Saudi King Abdullah to change its government's behaviour towards Sunni pilgrims who pays respect at Roza-e-Rasool Sallallaahu Alaihi Wasallam (Holy grave of Prophet Hazrat Muhammad) in Medina. Raza Academy in its protest letter has attracted King Abdullah's attention towards a regular feature in which religious Mutawwa Police of Saudi Arabia harasses Muslim pilgrims at Holy places in and around Masjid-e-Nabwi and Makkah Shareef.
It should be rembered that Mutawwa Police is regulated by Salafi ideology in Saudi Arabia which considers it to Bid'ah and Shirk means against Islam to pay tribute and respect at Holy graves of Jannat ul Baqi and Jannat ul Moalla as well as at Roza-e-Rasool Sallallaahu Alaihi Wasallam. Thousands of pilgrims regularly complain these harassment by Mutawwa Police in Saudi Arabia but Kingdom shows no attention towards it. This Police is very controversial Police which works on unreasonable and illogical laws and rules made by Wahabi -Salafi Board.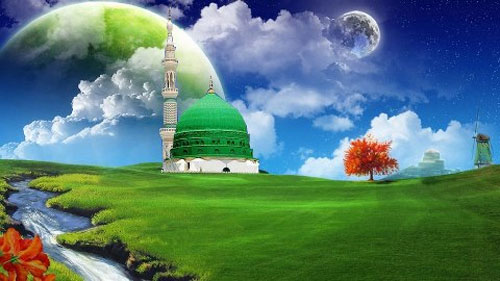 Gumbad e Khizra
Raza Academy has attracted attention of Saudi King towards an incident where two Muslims of India were harassed and detained by this Police on false and flimsy grounds. According to letter they were just paying tributes at holy places and Mutawwa argued with them and arrested them without any reason. Raza Academy has demanded immediate release of both of these Muslims.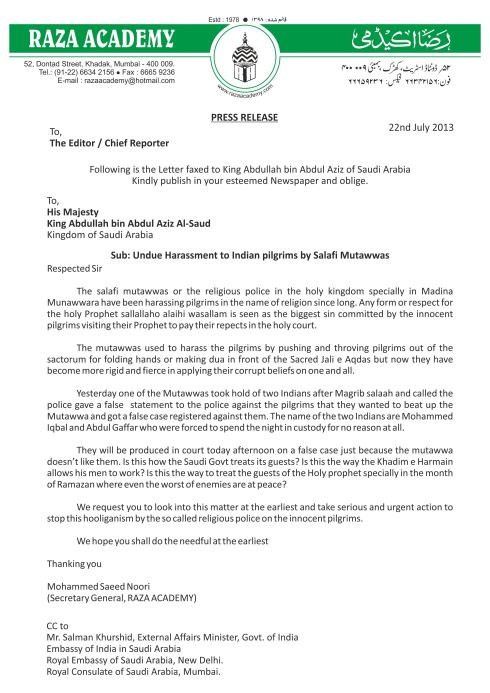 Press-Release
The copy of the letter has been sent to Saudi Embassy in New Delhi, Mumbai and to Indian government for necessary action.
Source: http://warsinews.com/two-muslims-detained-by-saudi-governmentindian-muslim-organizations-protested/
URL: http://www.newageislam.com/current-affairs/a-warsi-news-report/two-muslims-detained-by-saudi-government--indian-muslim-organizations-protested/d/12747