A Request for Help
Hello All
Pardon my blond letter but the time is short.
Please write a short note to the addresses Poorva has furnished you.
Here is a copy of mine short letter.
This is regarding the charges your police department has brought on the three PETA volunteers who were on their way to the Royal Market carrying Happy Eid signs with a recommendation to try Vegan food, How can that be seen as offending the religious sentiment for which these unarmed girls are charged?
We all have seen the videos and by this time the entire world has seen them. Obviously, the perpetrators are the people in the mob who came to the spot in thousands and started attacking the girls before these girls even were able to put any signs on.
In fact, there are hundreds and thousands Muslims around the world (including my own family) that are vegan, vegetarian, or semi vegetarian, and that does not rob them of their Islamic faith. There are plenty of instances in the scripture where Vegetarian food is even preferred. Sufis the esoteric branch of Islam, for example, are nearly 100% vegetarians
I am convinced that by giving into these hooligans you will not only be strengthening their violent character but also weakening the power of your own office. And also will further deteriorate the already degrading image of Muslims around the world, as Muslims as a whole bunch of violent and irrational people.
You have the footage at your hand, and you should be able to catch the hooligans and charge them for disturbing the peace.
I am from Patna, Bihar, and now live in California and have been with PETA since the 1980s when the organization was formed. PeTA for its peaceful approach for problem solving commands lot respect from all echelons of the society.
I request you to drop the charges against these girls and instead bring the charges on those who really disturbed the peace by exploiting the public emotion by bringing religion into the equation.
From: PoorvaJ@petaindia.org
To: ESAR01@aol.com
Sent: 9/29/2014 9:30:56 A.M. Pacific Daylight Time
Subj: request for help:
Dear Syed,
I hope you're well.
Thank you so much for your support of Benazir and her two other female colleagues who were recently attacked by a pre-planned mob of mostly hundreds of men on 22nd September 2014 at 12 noon at Royal Market in Bhopal. I have been so caught up in working on their case; I haven't had a moment to get back to you on the blog article we were working on together. I will do that soon. I am writing to seek your urgent help and support again before the first hearing of the case 1st October 2014.
Seven minutes worth of the attack can be seen in this video. Shockingly, instead of police taking action against their attackers, First Information Reports (FIRs) were filed by the police against these women for so-called "offending religious feelings", traumatizing them further.
As widely covered in the media and as shown in the video and photographs and as learned from the victims, the violent crowd threw stones at the women, threatened them with being stripped and raped, molested them, hit them including with shoes, beat and slapped them, pushed them, and called for their murder. The pre-planning of this attack was evident as members of the mob were organised, carried printed placards with threatening language against PETA as evidenced in the enclosed photographs which of course cannot be spontaneously developed, and awaited the women's arrival along with members of the media.
The women were attacked before their awareness program could even begin and were rescued by the police who warned them that their staying in or ever returning to Bhopal could lead to their being murdered. We commend the police for rescuing the women but are obviously horrified that no action has been taken against the offenders, but instead against the victims, under the pressure from the criminal mob.
As we are working to urge the police to drop the charge before it gets to court on 1st October, we request your urgent support if possible through a letter to the Chief Minister of Madhya Pradesh, Honorable Shivraj Singh Chauhan and to the Director General of Police, Shri Nandan Dube and Superintendent of Police, Shri Arvind Saxena to urge them to let these young ladies go without being charged and to instead, take action against those who attacked them. It would be so useful if you could inform them that it is not the actions of these compassionate women that would be offensive to the Muslim community, but rather the actions of men who attack women. Please inform them if you can that vegan foods are Halal, and that it is not a crime to suggest that people may wish to try healthy vegan foods or to give fruits, vegetables, breads or pulses to the poor and animals as one way of celebrating Eid should people choose to take the suggestion since many Muslims choose to celebrate Eid in such ways.
We are hoping for the police to take immediate steps to quash the FIRs filed on these young women following false accusations or to at least ensure facts of their innocence are submitted before the court in the very first hearing. As mentioned, we also hope they will take action against those who attacked these women.
The officials' addresses are given below for your convenience:
Chief Minister Shivraj Singh Chauhan
Vallabh Bhavan
Bhopal
Madhya Pradesh 462004
contact@shivrajsinghchouhan.net
Shri Nandan Dube
Director General of Police
Police Headquarters
Jehangirbad
Bhopal- 462008
Madhya Pradesh
dgpmp@mppolice.gov.in
Shri. Arvind Saxena
Superintendent of Police
Bhopal North (Old City)
Old Secretariat, Bhopal, Madhya Pradesh 462001
sp_bhopal@mppolice.gov.in
Any assistance you can provide would be much appreciated. I would kindly request that you share a copy of any letters you write to officials with me for my records.
Kindest regards,
Poorva
-------
Photographs of Attack on PETA India's Female Staff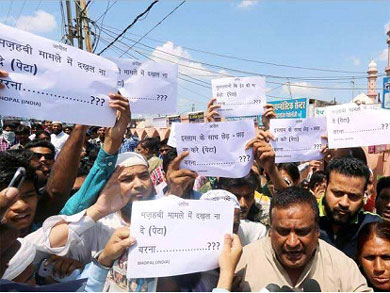 Printed Placards Threatening PETA Show The Attack Was Pre-Planned And Not Spontaneous. The Man In The Skin-Coloured Kurta, In The Yellow-Lined Track Suit, And The Woman In The Right Corner Were Among The Main Attackers.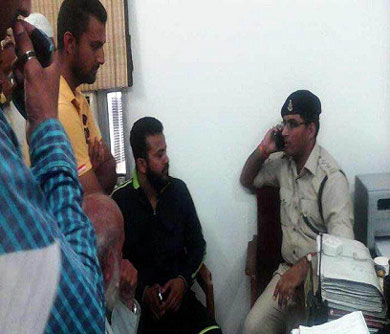 A Main Attacker Who Is Also Seen In The First Photograph Above Presents Himself At The Police Station. Instead Of His Being Arrested On The Spot, An FIR Is Lodged Against The Victims.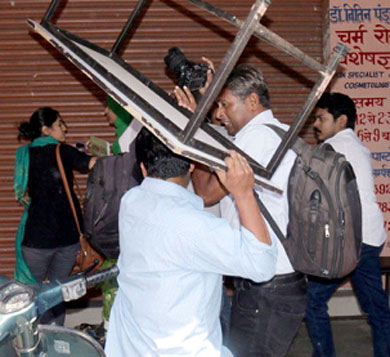 Man Throwing Table At Victims.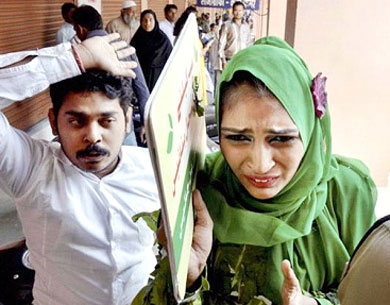 Man Raising Hand To Victim.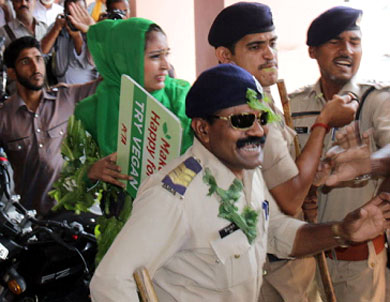 Man Hitting Victim.
Souting Attacker Seen In Background.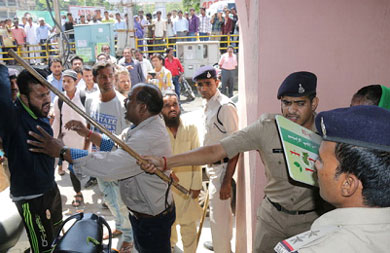 Main Attacker Wearing Yellow Striped Tracksuit And Other Attackers Seen.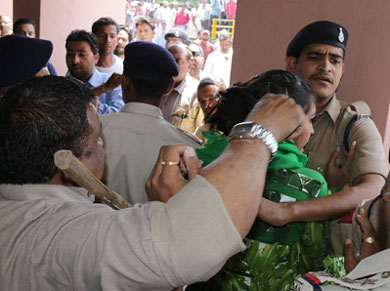 Several Faces Of Attackers Seen.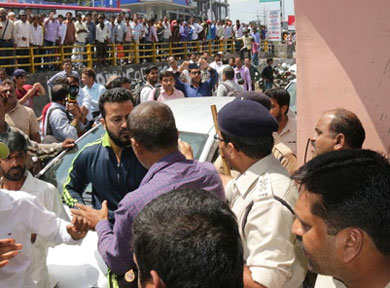 Main Attacker Seen.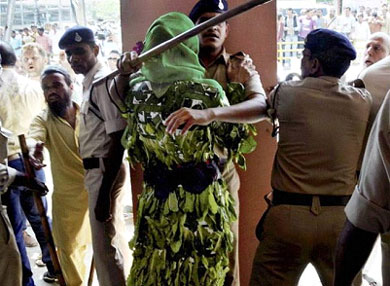 Faces Of Attackers Seen.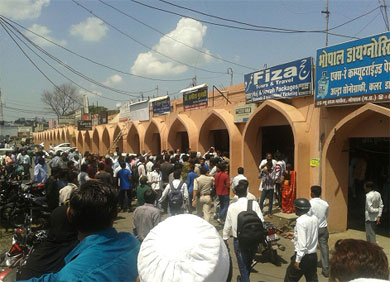 Location Of Attack Visible.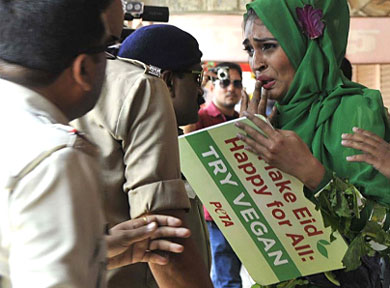 Victim Is Distraught And Hurt. Placard Planned to Be Used in PETA India's Awareness Program Which Was Not Permitted To Begin Was Friendly, Non-Insulting, Non-Offensive, Non-Forceful And Non-Malicious.
URL: http://www.newageislam.com/current-affairs/a-report/how-can-carrying-happy-eid-signs,-with-a-recommendation-to-try-vegan-food,-be-seen-as-offending-the-religious-sentiment-of-muslims,-for-which-these-unarmed-girls-are-charged?/d/99317