By Ziya us Salam
May 20, 2016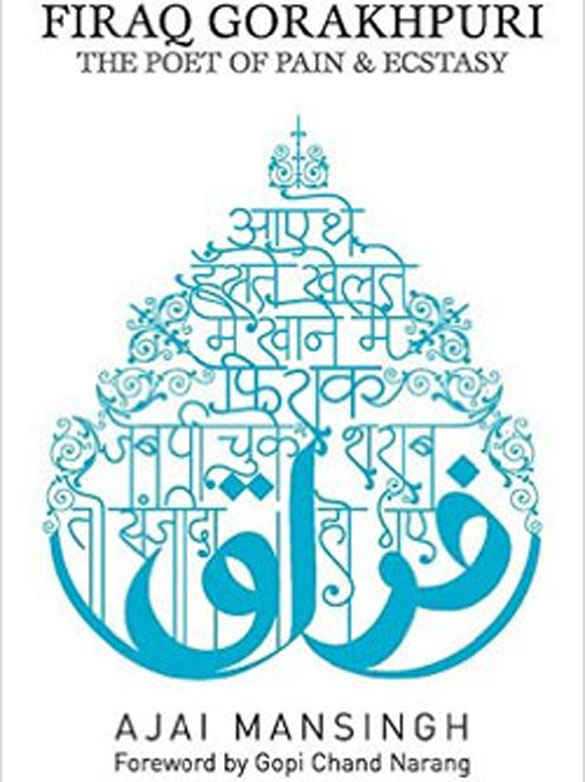 "Firaq Gorakhpuri: The Poet of Pain and Ecstasy" reveals how the poet's loveless marriage found its way into his melancholic poetry
I have been a silent admirer of Firaq Gorakhpuri. For years I have heard about him from my colleagues, many of them much senior to me. For years too some former students of the Allahabad University have sung tales about his poetry, his ways. Last year, for the first time in my life, I set foot in Gorakhpur, and carried with me, the curiosity of an eager tourist. Short of asking the man on the street about Firaq's house, I did all I could to find Banwarpur, his birthplace. As I passed from one end of the city to another and beyond, my eyes looked around for Banwarpur signage. No luck. I learnt better about Kapilavastu, Shrvasti, Kushi Nagar. Banwarpur is all that eluded me. I came back with my relatives and friends, just as I had gone. Not a dust of Firaq's corridors on my finger tips, not a tale to carry to the youngsters at home.
My gratification though was only delayed, not denied. A few weeks after I came back to Delhi, Roli Books came up with Ajai Mansingh's biography of Firaq. Called "Firaq Gorakhpuri: The Poet of Pain and Ecstasy", the book grabbed my attention. Initially though I was guilty of picking up the book for wrong reasons. In my eagerness to read Firaq, I picked up the book for his poetry!
As I stood at the Roli Books' counter at the World Book Fair in New Delhi, I flipped through the pages of the book, found only a few bits of poetry here and there which forced me to go to the cover again. Yes, the book was about Firaq, not by Firaq. The bits I read conveyed enough for me to be interested in the book, poetry or no poetry. Am I glad!
Here is how it goes: Mansingh makes it clear at the beginning that it is not a hagiography masquerading as a biography. He says it not in so many words but by simply recalling that Firaq had a tendency to fish for sympathy, and that Ali Sardar Jafri, of all the people, had made a documentary which was far from an accurate representation of facts in Firaq's life, which in the last few decades, bordered on morally bankrupt. Hence the idea for the book came in 1991. Then arose the problems of distance in time and space; Mansingh was in Canada and Jamaica, and had to wait until retirement to devote time to the book.
Surely Not a Book Conceived or Delivered In a Hurry
Then comes an attempt to clear the picture about the first few decades of Firaq's life, those days of early promise as a poet, the early burden cast on him by fate. And that loveless marriage, that experience of being married to a woman with whom he saw few parallels. As said in the book, she provided him 'hujjat' – biological relief – and his children gave him 'chahat'. She was a dutiful wife, a caring daughter-in-law, and a fine mother. What she failed to provide Firaq was companionship, that ability to interact with the poet at an emotional, even spiritual or literary level. To pin all the blame on either would be a travesty – both Firaq and his wife Kishori did the best they could to make the marriage work. But there were steep odds from day one: A close family friend had arranged their wedding through deceit. Kishori, the daughter of a landlord, was proposed for Firaq. His father wanted his daughter-in-law to be an educated lady as "Firaq had inherent love for beauty, literature and philosophy". Assured that Kishori met the requirements, a meeting was fixed for ladies of Firaq's family to see the young lady. In the meeting, the lady was shown with a couple of books around her. And the match was approved. However, soon after marriage, it turned out that the lady introduced to Firaq's family was different from the lady who became his wife! Kishori herself learnt of the betrayal only after reaching Firaq's place after wedding. "By then, it was too late to do anything except to feel sorry for her husband and his family."
It is at this juncture that Firaq's true character comes to the fore. Though bitterly disappointed at this deceit, he turned out a suggestion that "a wife is for home keeping; for enjoyment there are others." He gave vent to his anguish in the couplet, "Aur Aise Mein Mujhe Biyaha Gaya Bhala Kis Se/Jo Ho Na Sakti Thi Hargiz Meri Shareek-E-Hayat". Though he stayed married, Firaq could never recover from the misfortune; it found its way into his poetry. It gave a touch of melancholy even to his words on love. He got a grehani even as he sought Ardhangini. Yet for all the wild rumours about him, he had an inherently humanistic nature, one that prevented him from being normal on seeing his wife as sick. As related by Mansingh: "Once, in 1916, she was down with some common ailment. Firaq's undue anxiety compelled him to demand calling the top physician in Gorakhpur. His childish and immature behaviour made his mother laugh. Firaq got into a tantrum and started to shout that his wife was going to die and his mother was laughing at the prospect…He would get the doctor to examine her in his presence and later bombard him with probing questions on the diagnosis and prognosis of the ailment."
That was one aspect. The same Firaq in an interview confessed: "One does not look at the ugly face or emotional attachment when one has uncontrollable biological and sexual needs. Yes, my children were wanted….My marriage made me a victim of permanent loneliness. Ghame Firaq To Us Din Ghame Firaq Hua/Jab Unko Pyar Kiya Maine Jinse Pyar Nahin."
The book goes on to talk of Firaq's contribution to Urdu poetry, how the Vedanta philosophy was an overriding factor in his works, and so on. For me, the best part comes from the saddest song of Firaq's life; one that cannot be fully understood with even umpteen visits to Gorakphpur.
Ziya us Salam is a seasoned literary critic
Source: thehindu.com/opinion/columns/Ziya_Us_Salam/understanding-firaqs-pain/article8626553.ece
URL; https://www.newageislam.com/books-and-documents/ziya-us-salam/understanding-firaq-gorakhpuri's-pain/d/107477