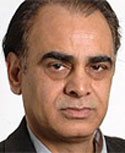 By Ziauddin Sardar
August 18, 2008
4:147; 8:26; 14:5; 10:60; 27:73; 41:33-36; 10:41; 17:15; 46:35;3:200; 31:17; 42:43; 7:128; 10:109; 18:28; 17:110; 17:29; 25:67;31:19; 10:26; 28:77
Andrew, one cannot appreciate light without darkness. We need the devil too! And as devil's advocate, you raise the inescapable question: why do bad things happen to good people?
I have spent my entire life pondering this question. Indeed, no one of faith can be so lacking in awareness or imagination not to have noticed this. But, your way of thinking, Andrew, I would suggest leads to both a counsel of despair and an encouragement of the very worst "religious" mentality. As a religious person, I think in a different way. So let me first deal with what these verses are saying to me.
A book of guidance is ultimately a book about ethics and morality. So it should not surprise us to discover that the Qur'an contains numerous verses and passages about moral and ethical concerns from the beginning to the end. But scriptural moral guidance has meaning for only those who believe; or are perceptive enough to understand the "signs" of the grace of God and appreciate that the universe has a moral purpose. It is of little consequence to those who see without insight, who do not follow "the ways of peace" and "what pleases him" (5:16). Hence, the Qur'an's moral exhortations are couched, in the words of Bishop Kenneth Cragg, in "the perpetual perhaps". Perhaps those who believe will be able to connect the dots and see this wisdom in its true perspective. Perhaps those who do not believe may also gain something from these teachings. Perhaps a reader of the Qur'an has enough intellectual acumen to appreciate the pragmatism of its moral insights. Perhaps. What is necessary, I think, to appreciate the moral and ethical dimensions of the Qur'an, is a sense of awe and gratefulness. The Qur'an addresses its moral message, primarily, to those with capacity for gratitude.

Gratitude is the prime moral value of the Qur'an and the foundation of its ethics and morality. Again and again, we are asked to be thankful to God. The "signs" of God are there to see "for every steadfast and thankful person" (14:5); God provides "you with good things so that you might be grateful" (8:26); and "God always rewards gratitude" (4:147).
Gratitude comes both from the heart and the mind. It is a reflection of the feeling of awe at the wonders of God's creation, it is dismayed neither by terror nor by despair, and, like true love, it cannot be forced or controlled. Yet, unlike love, it creates perspective and discernment that leads to critical capacity and critical awareness. This is why gratitude in the Qur'an is always connected to God's favours and the believers are asked to say, "Lord, help me to be truly grateful for your favours to me" (46:46).

In contrast, the Qur'an sometimes deplores the behaviour of an ungrateful, graceless people: "Most of them do not give thanks" (10:60). Even though God is "bountiful to people, most of them are ungrateful" (27:73).

Both gratitude and ingratitude manifest themselves through service or lack of service to humanity. Gratitude has external and internal, personal, dimensions. Externally, it expresses itself by working to improve the lives of others and enhancing the environment we inhabit. We have already seen that the Qur'an gives great importance to charity, to helping the orphans, the needy and the old, and spending one's wealth on good causes. But helping others less fortunate than oneself is not a part-time concern for believers: gratitude demands that in one way or another, one's entire life is devoted to promoting equity and human dignity, peace and harmony, and conserving and preserving the environment.
The most profound way of thanking God is to enhance our humanity and beautify the garden of his creation. And while this demands the attention of each individual it is not merely left to isolated individuals. The challenge is collective; the same moral and ethical principles are an exhortation to people living in community. The greatest gratitude is in striving to organise and operate an entire society that delivers human dignity, peace and harmony, justice and equity for all - Muslim and non-Muslim alike. Indeed, the whole point of these moral and ethical principles is that they are not branded products, not the special preserve of Muslims alone, and cannot in a complex society be achieve by Muslims alone. They are principles capable of building common aims and objectives with people of other faiths and no faith, for which we should be truly thankful, since it offers a realistic way to achieve peace, if we learn to implement the guidance properly.
Internally, gratitude is about two specific values that the Qur'an mentions again and again: patience and moderation. "Be patient" (46:35), we read, for it is the patient who ultimately have faith and hope in God: "Those who believe seek help through patience and prayer" (2:153). The Qur'an divides patience into three components. First, patience requires endurance: "Endure patiently whatever may afflict you" (31:17). But endurance in the face of affliction is not about fatalism, Andrew. It is about steadfastness, the second element of patience. Affliction is endured patiently because there is always hope if we steadfastly follow the path of virtue. This is why the believers pray "Our Lord, fill us full of patience and make our feet firm" (2:250).

Third, patience is about self-control and seeking righteousness without being distracted by the glamour of the world or materialistic and physical desire: "Content yourself with those who pray to their Lord morning and evening, seeking his approval, and do not let your eyes turn away from them out of desire for the attraction of this worldly life" (18:18).
The Qur'anic idea of patience is not passive but proactive. In expressing our gratitude to God through seeking equity and justice we can err towards self-righteousness, feebleness and towards impatience violence. This is why patience is associated in the Qur'an with strength, discipline and persistence. It is not about submitting to misfortunes, difficulties and hurdles, but control of the self in the face of opposition while being fully engaged in the spiritual and moral task of social transformation. Its function is to persist, against all odds, to change what is, to what ought to be.
Source: http://blogs.theguardian.com/quran/2008/08/ethics_and_morality_part_1.html
--------
What Happens When It All Goes Wrong?
By Andrew Brown
August 18, 2008
Andrew Brown again here: it really does seem to be my role to be the devil's advocate here, or possibly merely the Christian's. These verses seem to me to demand and to offer two of the things which are necessary for a decent life: self-discipline and hope; but they don't address what happens when it all goes wrong. Be good; be sensible, be moderate, they say, and God will reward you. If you are loving and observant, he will not punish you.
The flaw in this reasoning has been obvious ever since the book of Job. In the words of a modern bestseller, "Bad things happen to good people". About this, these verses have nothing to say. The pungent streak of pessimism that runs through the Hebrew Bible, to say nothing of the story of the crucifixion, at least acknowledges that terrible things happen to good, faithful and loving people.
It seems to me that this fact about the world - even its possibility - is explicitly denied in some of these verses: "Why should Allah chastise you if you are grateful and believe? And Allah is the multiplier of rewards" (4:147); "To those who do right is a goodly (reward) - Yea, more (than in measure)! No darkness nor shame shall cover their faces! They are companions of the garden; they will abide therein (for aye)! (10:26)
Of course, the fact that it is not a wholly true or adequate description of the world doesn't mean that it will fade away. History is written by the winners, who will remember what they did right, and attribute their success to virtue, not to luck. They will forget all those who also did the right things, yet failed. But the unfairness of life remains a fact. Many innocents do suffer; many virtuous, pious and hardworking people get nowhere. See Job above. And so it occurs to me that the cheerful, muscular exhortations that Zia has chosen - if their tone is characteristic of the Qur'an - may actually account for some of the problems of the Islamic world: a certain lack of resilience in the face of civilisational catastrophes. If one is constantly told that the world is run in accordance with the dictates of justice, and that the virtuous will prosper, what hope, what explanation, can there be when these things turn out to be false?
Source: http://blogs.theguardian.com/quran/2008/08/what_happens_when_it_all_goes.html
URL of Part 46: http://www.newageislam.com/books-and-documents/blogging-the-qur-an-by-ziauddin-sardar--part-46--nature-and-environment--part-2/d/14163
URL: http://newageislam.com/books-and-documents/ziauddin-sardar/blogging-the-qur-an-by-ziauddin-sardar--part-47--ethics-and-morality--part-1/d/14260