By Farooq Sulehria
04 December 2014
There is little in Dilip Kumar's life that his avid fans do not know. From his childhood in Peshawar to his love affairs, from minor incidents on the sets of various film studios to his philanthropic engagements, Dilip's fans know it all. While he has been the subject of a few biographies, Dilip Kumar: The Substance and the Shadow narrated by Udaytara Nayyar tells Dilip Kumar's story in his own words.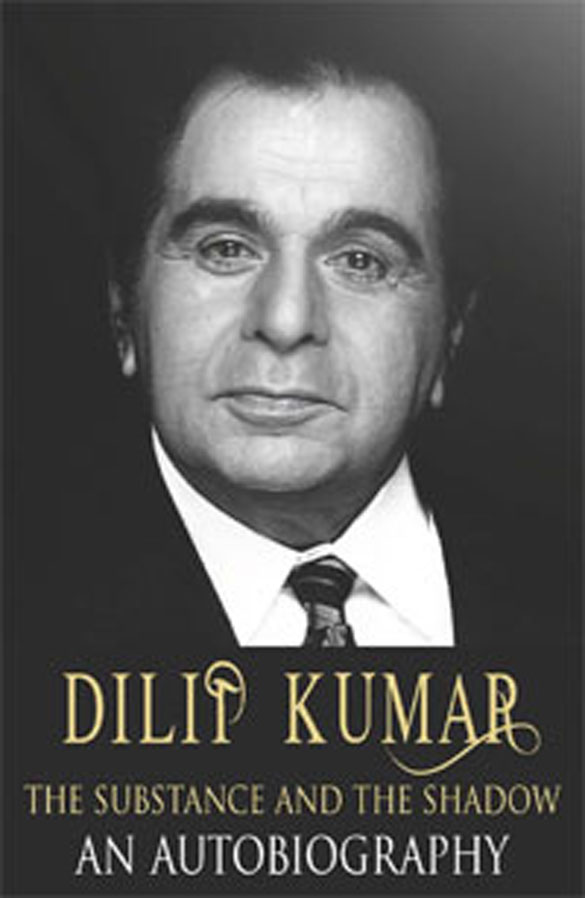 Born as Yusuf Khan in Peshawar, his childhood was not deprived save one calamity. Lest he should catch evil eye, his domineering grandmother had his head shaved and soot was rubbed over the shaved head. This earned him the ridicule of his class fellows. Not until the family moved to Bombay, was Yusuf Khan able to grow hair. In days to come, his hairstyle became fashionable and until the 1960's he was an icon and fashion diva in India and Pakistan. Everyone followed his fashion from his dandy hairstyle to his suit and tie.
Born to a conservative Muslim family, Yusuf Khan was not supposed to enter the film world. His father, reverentially referred to as Agha Ji, was a fruit merchant. Unlettered, but worldly and wise, Agha Ji wanted Yusuf Khan to become a bureaucrat. He made certain that his sons went to the best schools and colleges in Bombay. As luck would have it, Ayub, Dilip's brighter brother died at a young age. In this book, Dilip Kumar talks at length about his brother Ayub. After Ayub, Agha Ji pinned his hopes on Yusuf. Fond of football and cricket, Yusuf was ambitious and eager to lift his family out of their economic difficulties. During the great depression, Agha Ji's business suffered. Yusuf gave up his studies to work at a military canteen in Poona. Through sheer hard work and intelligence he turned the canteen into a roaring success. During this proletarian period, he was arrested and detained for one night because he delivered a nationalist speech at a military gathering.
When Agha Ji realized that Yusuf was not likely to become a top civil servant, he encouraged Yusuf to share his business responsibilities. It was still unimaginable that Yusuf would join the film industry. In fact Raj Kapoor's grandfather Basheshwar Nath Ji, was a close friend of Agha Ji. Himself a top civil servant, Basheshwar Nath Ji had no regrets that his son and grandson had become film stars. Both families hailed from Peshawar [the Kapoor family moved from Punjab to Peshawar] and both were good friends before moving to Bombay. Agha Ji was scornful of Basheshwar Nath ji, telling him not to twirl his moustache since his children were in the film line. As luck would have it, it was Basheshwar Nath Ji who one day dropped by at Agha Ji's shop, brought him into the nearby square and showed him a life-size billboard advertising 'Jugnu' featuring Dilip Kumar!
Eventually Agha Ji accepted Yusuf's choice. Mela was the first of Dilip's films viewed by Agha Ji at the cinema house. Dilip himself only began watching films after he became an actor. He watched a film or two each day and learned by watching Hollywood productions and through interactions with co-stars such as Ashok Kumar and other leading names in the industry at the time. Bimal Roy, Mahboob Khan, S Mukherji were great influences in his formative years. It's true that his looks and acting talent catapulted him to the status of on-screen demigod. However it was hard work, devotion and commitment to his work that kept him at the top the Bollywood celebrity chart for decades. His artistic genius endeared him to his countless fans, many of them women.
Women in Dilip's Life:
Contrary to popular opinion and despite his confession of admiration for Kamini Kaushal and Madhubala prior to his marriage to Saira Bano there were only two women who mattered most to Dilip, his mother and his spouse.
In the case of Uma Kashyap (Kamini Kaushal), he states 'I guess I was drawn more intellectually than emotionally to Uma, with whom I could talk about matters and topics that interested me outside the purview of our working relationship. If that was love, maybe it was. I don't know and I don't think it matters anymore.'
About Madhubala, Dilip says the relationship soured during the making of Mughal-e-Azam. He holds her father responsible to a large extent, but also Madhubala who would not rebel against her father. Recalling Mughal-e-Azam's sensuous scene where the two were seen in an intimate situation, Dilip says:
The outcome was that halfway through the production of 'Mughal-e-Azam' we were not even talking to each other. The classic scene with the feather coming between our lips, which set a million imaginations on fire, was shot when we had completely stopped even greeting each other.
Recalling his last meeting with Madhubala after his marriage to Saira Bano: 'Soon after our Nikah (marriage) …I received a message from Madhubala that she wished to see me urgently. I confided in Saira…about the message. Saira insisted that I should meet…When I went to Madhu's home, I was pained to see that she was frail and looked very weak…She was happy to see me and said: 'Hamaray Shehzade Ko Unki Shahzadi Mil Gayi Hai, Main Bahut Khush Hoon!' (Our prince has got his princess, I am very happy)'.
Yes, there was another woman he secretly married. He claims to regret their meeting and that his biggest regret was to betray Saira. He quickly divorced the second wife. Like any decent man, he speaks reluctantly and with respect about all the women he mentions. Although he never states it in his autobiography, his fans know that he would never pair with a girl who acted as his sister in a film. In fact, he turned down a role in Mother India because he had romanced Nargis in his previous two films. Lucky for Sunil Dutt Ji who was able to win Nargis' heart on the sets of Mother India!
Social Responsibility:
Thus says Sahab-e-Alam: 'I have always endorsed the necessity for actors to possess a reasonable degree of social responsibility. The actor who is adored by millions of people owes something to the society which has given him an elevated and highly respected position.'
It was because of his interaction with blind people during the production of Deedar that he committed himself to an association that works for the blind people. Most importantly, he worked for Congress on the advice of Nehru Ji, a man he holds in great esteem. He also accepted the position of Bombay's Sheriff in view of his commitment to social causes.
As an actor he insisted … 'there should be no explicit depiction of physical intimacy…This does not mean that I was (or am) puritanical or orthodox…I was acutely aware of the moral responsibility I shouldered as an actor. As the head of a family comprised of six girls and five boys, I was intimately averse to any display of indecency and the first thought that always crossed my mind was about the embarrassment such scenes could cause to my own sisters if they watched me in, albeit, a make-believe situation in a film'. In fact, when such situations were demanded, he himself would work out the scenes.
Family and Friends:
Six girls and five boys, siblings he mentions above, were very dear to him as were his friends: Raj Kapoor, Pran, Ashok Kumar and others. Rumours mark Raj Kapoor's professional rivalry with Dilip Kumar; however, his autobiography negates this. They were great friends who knew each other in Peshawar and went to the same college. In fact, when Dilip was subjected to a vicious campaign by RSS on accepting Halal-e-Imtiaz from the government of Pakistan, he missed Raj Kapoor. Dilip thought, had Raj been alive, he would have supported him. Dilip also dismisses the impression that he had any relationship problems with Raj Kumar.
While he speaks on many topics, he also omits a few such as an avoidance of discussion about the Partition. At times, he entertains superstitious beliefs but never explores the topic of superstition.
The book offers many things for many people. While his fans may find out more about him, cultural critics and artists can draw many lessons in film-making. In fact, this book should constitute an essential reading at film schools
Source: http://www.viewpointonline.net/2014/12/vp230/sahab-e-alam-speaks
URL: https://www.newageislam.com/books-and-documents/farooq-sulehria/sahab-e-alam,-dilip-kumar,-speaks!/d/100372