By Zarminae Ansari
August 16, 2013
July 26 was both the birth (1928) and death (1980) anniversary of Urdu detective story writer Ibn-e-Safi, who created the wildly popular Jasoosi Duniya and the Imran Series in the 1950s. I recently read The House of Fear from Safi's Imran Series translated by Bilal Tanweer.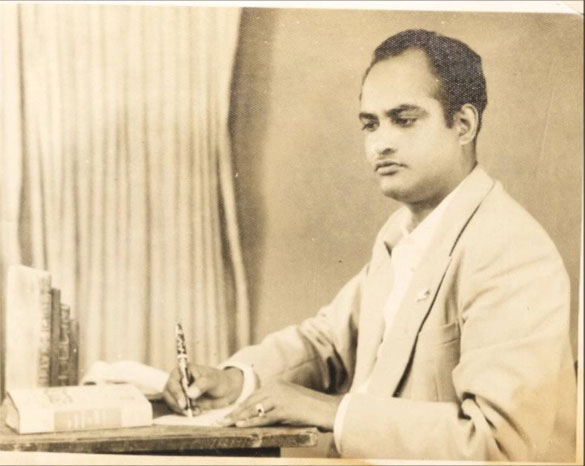 Ibn e Safi
--------
A poignant introduction by the author's son, Ahmad Safi, makes Ibn-e-Safi come alive and become as fascinating a character as the one he invented, and with whom he apparently shared many qualities. For example, while he simplified socio-psychological issues and made them accessible to the layman, his knowledge of the latest advances in crime detection was detailed enough for him to be consulted by official intelligence agencies. He was known for his witticisms, his strong principles and for being kind-hearted to a fault, never pursuing legal action against impostors or publishers.
Ibn-e Safi was a pseudonym for Asrar Narvi, which literally meant 'son of Safi', while Asrar, quite appropriately, means 'secrets' or 'mysteries' in Arabic. Though small, the village of Nara in the Allahabad district where Asrar grew up was known as a centre of culture and learning having produced many notable scholars and writers. The influence of growing up in such an atmosphere is reflected in Safi's words:
"My father was fond of reading, therefore the house was full of novels and ancient mythology books but I was not allowed to even touch any of those. So I used to steal a book or two and, pretending to be going out to play, I used to sneak up to the roof. Once on the roof, I used to be gone for the whole day. Eventually, one day I was caught red-handed and my parents had an argument over it; the finally the verdict was in my favour. My mother said, 'He is at least better off than the kids who spend their days playing Gilli-Danda or marbles in the streets.' Then there were no holds barred and I was completely drowned in the stories."
The acclaimed literary magazine, Shahid, published his first short story when he was just in the seventh grade. Fooled by his style and maturity into thinking that he was a much older writer, the editor has added a note saying: "A product of the thoughtfulness of the Painter of Sentiments, Hazrat Asrar Narvi". It was a cause for a great deal of teasing in his household.
Asrar, as Ibn-Safi, started writing detective fiction after being challenged by someone, to come up with a new genre of the Urdu novel. He eventually wrote about 245 novels in the Jasoosi Duniya and Imran Series. His 1963 Imran series novel, written after a 3-year hiatus and launched by Lal Bahadur Shastri who was to become PM of India, broke all sales records and went into second edition within a week in India.
While warmed by the back-story, I hesitantly delved into the world of Imran. No one, but no one, in my Christie-fan opinion, has ever equalled her knack for narrative and unpredictability. Specifically regarding detective fiction, when motive stems from character rather than circumstance, character development at a very basic level is important not just to explain a character's action, but also to create a credible cast and plot. To elucidate the character of her characters, Christie made simply stated, yet often profound, observations about human nature and the nature of intimate relationships. Another aspect of her writing was the dropping of clues, so that the reader technically had as many clues as the detective. Subsequently, the final denouement became even more surprising and satisfying.
I found much of this lacking in Ibn-e-Safi. Then again, I've tried many modern Christie wannabes and found them lacking too. Perhaps it's unfair to compare a translated Safi to the underrated brilliance that was Agatha Christie. Without (too many) comparisons then, Safi is a certainly a fun summer read. Like Christie, his novels were addictive and popular with all ages, and one can understand why.
The protagonist, Ali Imran is a rather creative invention. Unforgettable, eccentric, cartoonish even, like Hercule Poirot, but for different reasons. Imran is the brilliant, multilingual, physically fit spy and detective with an MSc and PhD in criminology from Oxford – a fact he reiterates ad nauseum and which becomes a part of his off-the-wall sense of humour: the timing of it often rubs people the wrong way, as does his buffoon act. I found myself chuckling away and wanting to read the original Urdu as some of the humour doesn't translate well and would probably read more smoothly in the original: I was mentally re-translating into Urdu to appreciate the wit and 'hazir-dimaghi' (presence of mind) of Agent Imran.
Occasionally, the narrative in House of Fear is jarring and disjointed- unless it was a problem of translation. One can't follow Imran's reasoning, nor the clues that lead to his solving the mystery, but it certainly was a surprise end.
The second story, Shootout at the Rocks, which on the one hand leaves much to be desired in character development is, on the other hand, more coherent, interesting in its global worldview, and exciting in its relentless action.
Admittedly, it was a fast-paced read that holds ones attention. While Safi continued to write more literary works as Asrar Narvi, he veered more toward the pulp fiction that made him a household name, and replying to critics he defended his position:
"Whatsoever the quality of fictional literature, it is eventually a means to mental escape. It's purpose is to provide recreation of one or the other level. Just as a football layer cannot be entertained by a game of chess, similarly elitist or high literature is absolutely meaningless for a big segment of society. Then why should I write for a few drawing rooms? Why shouldn't I write in a style which is more popular... Maybe this way some high concepts may reach the common people too?"
A study in contrasts between the regressive, radicalised, post-Zia culture of today and the much more relaxed and tolerant past would be fascinating. It's like going back to the future. Although, since Safi lived in both India and Pakistan it's difficult to differentiate occasionally which country the action is taking place in, or if its a fictionalised place name.
One does in fact get transported back in time to the 1950s era of nightclubs and cabarets. Villainous ladies and Begums with their whiskey tumblers a la Meena Kumari, negligees and cigarette-holders. One almost expects a tuxedo-clad Shammi Kapoor to come crooning and shimmying out as Imran goes to his regular haunts to look for the usual suspects.
I found myself flipping through the action, and dismayed that these are the only two books in English translation. I guess I'm hooked and I'll be reading more of Safi. In Urdu.
Zarminae Ansari is a Moscow-based producer in various media and an architect specialising in cultural tourism.
Source: http://www.thenews.com.pk/Todays-News-9-196158-The-world-of-Ibn-e-Safi
URL: https://www.newageislam.com/books-and-documents/zarminae-ansari/the-world-of-ibn-e-safi/d/13059