By Roshan Shah, New Age Islam
09 August 2016
Name of the Book: Radical Forgiveness
Author: Antoinette Bosco
Publisher: St. Pauls, Mumbai
Pages: 161
ISBN: 978-93-5015-125-9
Price: Rs. 150
Year: 2012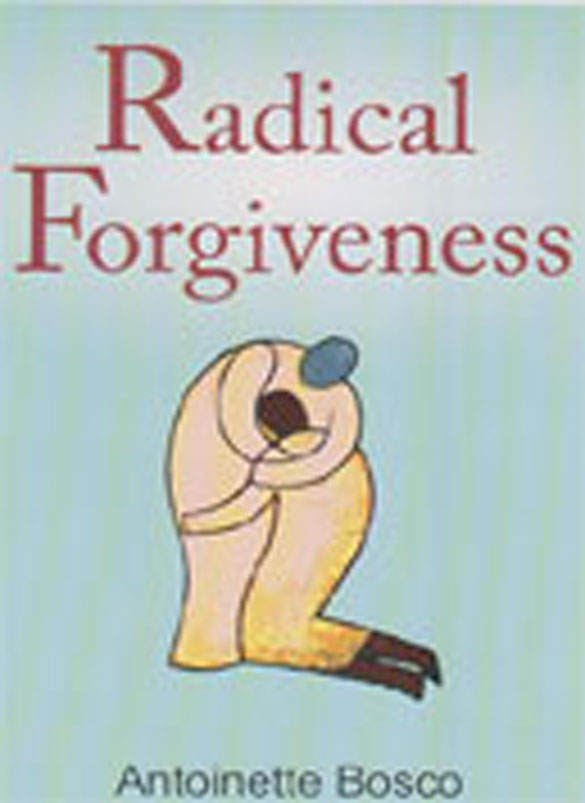 As we move through life, it is inevitable that we will face hurt from the hands of others. While we are not always in a position to control how others behave with us, we can determine our response to their hurtful behaviour. Many of us choose to nurse our wounds, making them even worse by refusing to forgive those we see as responsible for them. We think they deserve to be hated. This gives us a deceptive sense of power over them. We feel that forgiving them might mean that condoning their actions or that we are weaklings. Little, however, do we realise that the resentments that we so carefully cultivate against others for what they may have done only damages us further (without hurting those whom we love to hate), by making us bitter and unhappy, destroying our body, mind and soul, and draining us of our goodness. In this way, we let our past destroy our present and future.
The only sensible way to deal with life's many hurts, Bosco, a well-known 87 year-old American writer, says is forgiveness. She speaks based on her own experience of undergoing horrific trauma—the murder of her son John and daughter-in-law Nancy by an 18 year-old boy and the suicide of another son of hers, Peter. Only through forgiving John and Nancy's murderer and Peter for doing what he did was she able, she tells us in this riveting book, to be healed. While 'forgive and forget' may be a tired cliché that we've all heard but rarely, if ever, consider putting into practice because we think it's impractical or unwise, Bosco's personal account of forgiveness provides us with a practical demonstration of how it is indeed possible to forgive those who have seriously harmed us and why forgiveness is so important for our own wellbeing and sanity.
Providing a chilling account of the two tragedies that struck her life, Bosco writes that she realised that she'd be totally lost if she stayed in the dark that traps the unforgiving. Not to forgive would only totally destroy her. Forgiveness, then, she realised, was for her own good. Forgiving Peter for killing himself and the murderer of John and Nancy began a process of her own healing. Her forgiveness was rooted in her religious faith. She felt it was God who was prompting her to respond this way. She was convinced that forgiving others has much to do with how God will treat us and that to earn God's forgiveness for our failings we need to do that by forgiving others for theirs. And, as she began the long and difficult journey of forgiving the John and Nancy's murderer and Peter for killing himself, she discovered that goodness emerged from her pain, because her pain led her to reach out to many more people who, like her, had suffered torment and needed support.
Forgiving doesn't come easily to many of us, but if one's religious tradition stresses its importance, as does Bosco's Catholic faith, it can be the inspiration for doing what might otherwise seem impossible. Forgiving John and Nancy's murderer didn't mean her anger had disappeared or that she condoned what he had done. But her faith in Jesus' teaching of loving one's enemies overwhelmed her and led her on to forgive him.
Forgiveness, Bosco tells us, "has to be a continuous way of life." It has to be rooted in the awareness that forgiving others is good for our own selves, for it liberates us from the bitterness that would otherwise destroy our own lives. Rather than being a sign of weakness, Bosco says, it indicates a strong soul.
Forgiveness, Bosco says from her own experience, is the only way to healing sundered relationships and cultivating peace and our own wellbeing, and this is not only at the inter-personal level, but also at the inter-community and even international levels. Thus, she writes:
When I would turn on the television news and hear about killings and retaliations between different groups—the Serbs and the Muslims in Bosnia, the Arabs and Jews in Israel—I would strongly feel that I was hearing the same message: that we hang on to our hate in order to feel powerful, that it is some kind of compensation for our lost power. It was all so obviously wrong, and so contradictory to the message of Christ.
We become the thing we hate the most, Bosco says, and in hating those who we don't want to forgive, we, ironically, become like them. This happens in the case of individuals, and entire nations, too. Bosco quotes George W. Russell who, in his Evil and World Order, writes: "By an intensity of hatred, nations create in themselves the characteristics they imagine in their enemies". Bosco reflects on the miraculous results that might ensue if nations forgave each other:
Imagine what would happen if all nations followed the teaching of Christ to love their enemies [...] The world would be radically transformed as love ended national and international conflicts [...] Then peace would prevail.
Drawing lessons for world peace based on her own personal experience of compassion and forgiveness, Bosco writes:
If we are ever to have peace in this world, it must begin with the recognition that we need to change a long-established mindset that makes people of one country adversaries of another. We have to stop thinking of others as enemies and start seeing them as truly our kin. Only then can we acknowledge that they are loved by God just as we are, and that we should all be cherishing one another.
Books on forgiveness and other such virtues there are in plenty, but this one is particularly inspiring, growing out from the experiences and insights of someone who has engaged in what she terms 'radical forgiveness' in her own personal life.
URL: https://www.newageislam.com/books-and-documents/roshan-shah,-new-age-islam/the-only-sensible-way-to-deal-with-life's-many-hurts-is-forgiveness/d/108220
New Age Islam, Islam Online, Islamic Website, African Muslim News, Arab World News, South Asia News, Indian Muslim News, World Muslim News, Women in Islam, Islamic Feminism, Arab Women, Women In Arab, Islamophobia in America, Muslim Women in West, Islam Women and Feminism