By Roshan Shah, New Age Islam
12 May 2017
Majma ul-Bahrain: Commingling of Two Oceans
Author: Dara Shikoh
Publisher: Hope India Publications, Gurgaon
Pages: 176
Price: Rs. 250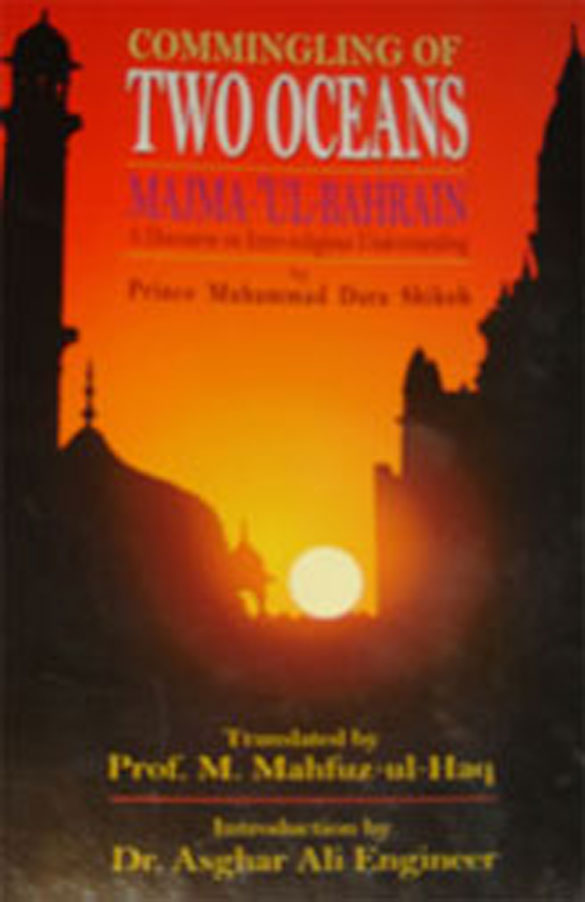 Sufism, or Islamic mysticism, provides rich resources for developing theologies of interfaith and inter-community understanding, dialogue and solidarity, an urgent necessity in today's world. In this regard, the works of numerous Indian Sufis are particularly significant because they lived and wrote in a multi-religious context, addressing and attracting people of different faiths—Muslims, Hindus and others. Some of them developed understandings of Islam and other faiths that went beyond narrowly-constructed communal boundaries, defying the empty and soulless ritualism that served to divide communities from each other.
Of the various Indian Sufi treatises of this sort, one of the best-known works is Majma al-Bahrain, or 'The Commingling of the Two Oceans', by Muhammad Dara Shikoh, eldest son of the Mughal Emperor of India, Shah Jahan, and heir apparent to his throne. The 'two oceans' referred to in the title of the book denote Islamic Sufism, on the one hand, and the Vedantic thought contained in the Upanishadic tests of the Hindu tradition, on the other. As the title suggests, Dara sought to argue that, essentially, the two were the same thing, although bearing different names. In doing so, he developed an innovative approach to interfaith and inter-community relations, one that can provide inspiring insights for similar efforts in our own times.
Majma al-Bahrain is best understood in the context of Dara's own life. Like many other Mughal princes, Dara's early education was entrusted to Muslim scholars, who taught him the Qur'an, Persian poetry and other subjects. In his youth, Dara came into contact with numerous Muslim and Hindu mystics, some of whom exercised a profound influence on him. Among the most noted among these was Miyan Mir Sahib, a Qadri Sufi of Lahore, whose disciple he later became, and who is remembered, among other things, for having laid the foundation-stone of the Golden Temple at Amritsar, by invited to do so by Guru Arjan Dev Sahib, the fifth Sikh Guru.
Dara's close and friendly relations with Muslim and Hindu mystics led him to explore what both systems of mysticism had in common. Accordingly, he set about learning Sanskrit, and, with the help of some Pandits of Banaras, made a Persian translation of the Upanishads, which was later followed by his Persian renderings of the Gita and the Yoga Vasishta. Throughout this endeavour, his fundamental concern was the quest for the discovery of the Oneness of God.
Dara expresses this concern in his Persian translation of the Upanishads, the Sirr-i-Akbar ('The Great Secret') thus:
And whereas I was impressed with a longing to behold the Gnostic doctrines of every sect and to hear their lofty expressions of monotheism and had cast my eyes upon many theological books and had been a follower thereof for many years, my passion for beholding the Unity [of God], which is a boundless ocean, increased every moment Thereafter, I began to ponder as to why the discussion of monotheism is so conspicuous in India and why the Indian mystics and theologians of ancient India do not disavow the Unity of God, nor do they find any fault with the Unitarians.
Dara's works are numerous, all in the Persian language, only some of which are readily available today. His writings fall into two broad categories. The first consists of books on Islamic Sufism and Muslim saints, and the other on Hindu religious beliefs.
Majma-ul Bahrain is one of the most well-known of Dara's several works. Completed when he was forty-two years old, this book is a pioneering attempt to build on the similarities between Islam and Vedanta, and it is these two that the 'two oceans' in the book's name refers to. He describes this treatise as 'a collection of the truth and wisdom of two Truth-knowing groups'. Parts of the book are rather technical, focussing on Vedantic and Sufi terms and showing the close similarities between the two.
The basic message that this book conveys is summed up in Dara's own words thus: 'Mysticism is equality'. And that simple but profound message remains, of course, as meaningful today as it was when Dara enunciated it.
URL: https://www.newageislam.com/books-documents/islamic-mysticism-provides-rich-resources/d/111122
New Age Islam, Islam Online, Islamic Website, African Muslim News, Arab World News, South Asia News, Indian Muslim News, World Muslim News, Women in Islam, Islamic Feminism, Arab Women, Women In Arab, Islamophobia in America, Muslim Women in West, Islam Women and Feminism