By Raziuddin Aquil
4 March, 2017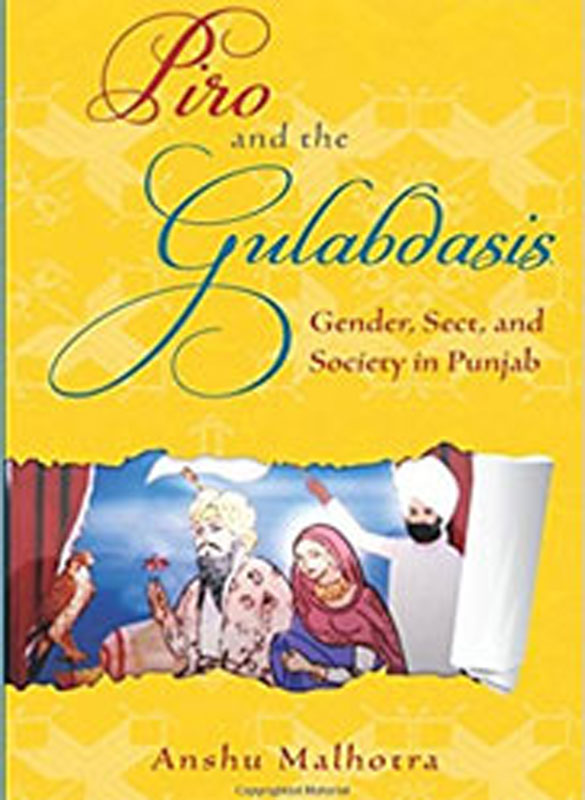 Bhakti devotionalism challenged social hierarchies.
-------
Historical writings on the marginal sections of society have seen some very fine scholarship in recent years. Professor Anshu Malhotra's monograph Piro and the Gulabdasis: Gender, Sect and Society in Punjab (Oxford University Press) is another excellent example of this genre. The main protagonists of this fascinating piece of work are a terribly marginalised Piro—a low-caste Muslim prostitute in nineteenth-century Punjab—and her Guru Gulabdas, a cult-figure and preacher of syncretistic Bhakti variety. The main part of the story revolves around Piro's struggles over her own life, body and thought in association with Gulabdas, for whom she abandoned her Muslim-ness, amidst violent opposition, and sought a new beginning in the devotional milieu at the Dera of the Guru. Refashioning herself as a venerable mother-figure among the disciples, Piro narrated her life-story in a versified autobiographical narrative, Ik Sau Saath Kafiyan (160 Kafis), and further highlighted her views in some other poetical compositions of Bhakti kind. Gulab Chaman, a work attributed to the charismatic Guru, provides further material for understanding and situating the sect's negotiating capacity.
There are two-ways of reading the book: a) understanding Piro and the Gulabdasis in their nineteenth century context; and b) the historian's own perspective—determining the manner in which she has handled the subject. Piro and Gulabdas were eclectic in their philosophical and theological choices that carried shades of advaita intellectualism, which included belief in the idea of monism, non-duality, no difference between atma (human soul) and parmatama (God)—advocating love for God and all his creations, for it was believed everything emanated from Him, everything is God.
The Bhakti devotionalism, epitomised earlier by foremost spiritual gurus like Baba Nanak Shah and iconoclasm of Sant Kabir, had challenged all social hierarchies and religious hypocrisies, besides giving voice to the struggles of a large number of liminal figures— important in their own contexts and commemorated by followers. Similarly, Sufi ideas and practices emphasised on the monistic notion of Wahdatul Wujud or unity of existence—encouraging mutual borrowings, appropriations, and sharing—a worldview celebrating value of love, tolerance and peace. All these were resisted, opposed and even attacked by custodians of Sampradays, Firqas or Panths helmed in within narrow cultural boundary-markers.
In an aggressive social setting witnessing popular mobilisations on religious grounds, the narrowly-framed religious identities of communal or sectarian kinds, Hindu-Sikh/Khalsa-Muslim, locked in violent conflict displace the possibility of syncretic, shared, or tolerant respect for difference and peaceful co-existence. In such volatile contexts, political regimes can momentarily thrive on religious differences of communities, pitting them against one another—political flux of nineteenth-century Punjab was a case in point. A more responsible political order will ensure level-playing field for religious diversities to co-exist, maintaining critical distance with communities at odds with each other. As in modern Indian example of secularism, it should emphasise the governing principles of a just and inclusive political system that will prevail over narrowly articulated community or religious interest seeking to dominate terms. Digression from it and failure to maintain a just political order is a flawed strategy from the point of view of those in power themselves.
The book also reflects Malhotra's own concerns over political flux and social upheavals of the time, once again creating considerable anxieties. The professional or "cloistered" history, to use Dipesh Chakrabarty's term in his important new book, The Calling of History: Sir Jadunath Sarkar and his Empire of Truth (Permanent Black), is under attack from popular politics of the public domain. Privileging faith-based narratives and socio-historical memories of communities feeling short-changed, custodians of these groups and their traditions use history as a weapon. Scholars and historians have to be sensitive to the concerns or grievances of the people and yet rise above social and political pressures to understand what exactly might have happened in the past—even if it is about violent contestations—and offer a non-partisan, scholarly interpretation and narrative.
The author has intelligently anchored her work in religious histories (best of the current research on Sufi-Bhakti traditions, important not only separately but also showing significant convergences); intellectual traditions (from C.A. Bayly's "ecumene" to Sheldon Pollock's "socio-textual" community), literary practices in Indian vernaculars (including texts written for aural communities, for reciting, commemorating); scholarship on community identities and formation of publics; and more importantly in the context of the main subject of discussion here, women and feminist history—surviving all odds to tell their own stories and write History ("Her story") of their own. This is a finely-written, densely argued, fascinating book with only one agenda—scholarly excellence to be appreciated by the fraternity of historians and scholars in the fields of social sciences and humanities as well as the informed general public.
Source: sundayguardianlive.com/opinion/8584-story-piro-and-gulabdasis
URL: https://www.newageislam.com/books-documents/the-story-piro-gulabdasis/d/110650