By Owais Manzoor Dar
July 4, 2019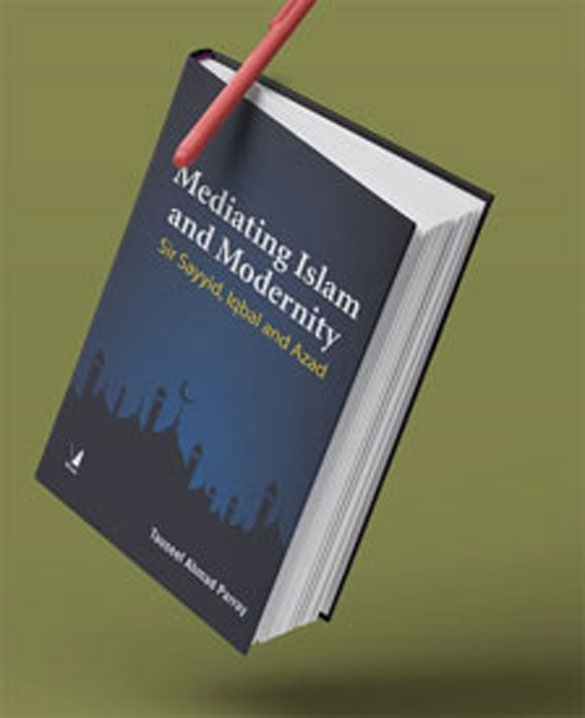 The question of Islam's compatibility with modernity (and other interrelated aspects like democracy, rationality, nationalism etc.) has been debated from more than last two centuries. In the Sub-Continent, this debate started with British imperialism ('British Raj', 1857-1947). Muslims responded to the imperialism through different means, scholars like Chirag Ali (d.1895), Sir Syed Ahmad Khan (d.1898), Allama Iqbal (d.1938), Abul Kalam Azad (d.1958), Shibli Numani (d.1914), Mumtaz Ali (d. 1974), Syed Mawdudi (d.1979), Amin Ihsan Islahi (d.1997), Abul Hassan Ali Nadwi (d.1999), and others gave them critical response by their scholarly works. The debate is still relevant and manifested in different forms, from nationalism to secularism, and from rationality to progressive thought. A plethora of literature has been produced on the question—mostly on reconciliatory approach—and a new supplement added to this prevailing literature, with some distinctive characters, is Parray's Mediating Islam and Modernity.
The main objective of the book is to analyse the thoughts and the vision of three South Asian 'Pioneering Modernists'—namely Sir Sayyid Ahmad Khan, Muhammad Iqbal and Abul Kalam Azad—on some contemporary crucial issues, like Muslim responses to Imperialism, Ijma and Ijtihad, Islam-democracy discourse, and other inter-related themes. The book combines the scholarship of past and present, carries together and examines the thoughts and vision of these 'pioneering' South Asian reformers with the broader context, and highlights their relevance in contemporary era. The book is theoretical in nature and adopts descriptive, critical and comparative methodology. It comprises of four (4) chapters, excluding reface and Epilogue, with a Foreword by the Professor Irfan Ahmad (a renowned anthropologist presently at Max Planck Institute, Göttingen, Germany) titled 'On writing History' in which he raises fundamental questions on history, history writing and seeks to push the historian to go beyond the established binaries like 'Gentoo vs gentleman, barbarian vs civilized, traditional vs modern, developed vs backward, terrorist vs democrat and so on'.
In Chapter one, "Introduction: British Colonialism and 'Pioneering Modernists' of Colonial India on Reconciling 'Islam and Modernity' (pp.1-28), the author provides a sketch of emergence and later developments in 'modernist/ reformist' thought in South Asia, with an overview of British colonialism and Muslim response(s), and focus on contextualizing the terms like modernity and traditions. The author defines Modernism as 'a movement to reconcile Islamic faith with modern values'. He argues that Modernism emerged in the mid 19th century as a response to the European colonialism, 'which pitched the Muslim world into crisis' (p.2). In India the three broad responses to British Imperialism came from 'traditionalists'; 'reformists' proto-fundamentalists'; and 'Modernists: the last one encouraged to produce a new synthesis of Islam within the frames of Tajdid (revival) and islah (reform).
The second chapter, "Muslim Responses to Imperialism: Contribution of Sir Sayyid Ahmad Khan as a Muslim Modernist-cum-Educational Reformer" (pp. 29-43), explores his major reaction(s) to European colonialism through his socio-educational programs with twofold objectives: 'response to British imperialism, and to change the intellectual, political and economic destiny of Muslims in India. He believes that 'Islam is in full correspondence with reason' (p.34) and christened a new theology of Islam by accepting the western thought. In order to put his educational programmes into practice, he established Aligarh Scientific Society (1864) 'translated forty (40) European books dealing with different themes, Modern school at Ghazipur (1886) – to promote and establish educational committees in northern India, Muhammadan Anglo-Oriental Collage (1874) at Aligarh, modelled on Oxford and Cambridge University, 'it soon assumed a form of and a personality of its own' and in 1920 became Aligarh Muslim University (AMU), and the Muhammadan Anglo-Oriental Educational Conference (1886) – for the promotion of western education in Muslim India.. The author has also presented an assessment (both appreciation and criticism) of Sir Sayyid's educational reforms in the views of various scholars, both Muslims as well as non-Muslims. The author argues that Sir Sayyid is a source of inspiration for all reformists and modernists, not only for South Asian, but for the European, American and others across the globe.
Third chapter discusses "Islamic Modernist and Reformist Thought in Colonial India: A Comparative Study of Sir Sayyid and Muhammad Iqbal" (pp. 44-80). The chapter focuses on the religio-political thought and the views and vision of Sir Sayyid and Iqbal collectively, arguing that 'in South Asia, it was Sir Sayyid and Iqbal, who pioneered the modernist vision during in the 19th and 20th centuries' (p.45). Sir Sayyid, like Jamal al-Din Afghani and Muhammad Abduh in the Middle East, stressed on a modern Ilm Kalam (scholastic theology), and Iqbal called for the 'reconstruction' of religious thought and declared Taqlid as a dogmatic slumber. The author describes Sir Sayyid in three categories: "(i) 'as an architect of two nation theory' (ii) 'as a modernist thinker', and (iii) 'as a heretic or deviant'" (p.46). The author argues that Sir Sayyid believes that 'Islam is full accordance with nature' (modern science), and thus advocated a slogan: "Islam is nature and nature is Islam" (p.47). The chapter mainly focuses on their contribution to the dynamic concepts of Ijma and Ijtihad, Religion–science (reason) relationship and compatibility of Islam and democracy. The chapter also highlights the criticism of Sir Sayyid religious thought by scholars like Fazlur Rahman (d.1988) who believed that 'he was not the keen religious thinker, nor primarily and deeply religious, but was led by the inner logic of Muslim intellectual history to justify his cultural progress attitude theologically' (p.56).
The next portion of the chapter focuses on Iqbal's views on Ijma and ijtihad and Islam-democracy debate. The author contends that unlike Sir Sayyid, Iqbal was more critical to the western thought. He believed that major reason for the Muslim decline was 'the inability or unwillingness to the subject the legal system of intellectual scrutiny, particularly with reference to Ijtihad'. The author contends that Iqbal indeed criticized democracy, but he never rejected the whole idea. In fact, he was against imperfections of modern/ western democracy, but believed that democracy is the best form of government for Muslim community, and Islam as an egalitarian faith with no rooms for any clergy.
In the fourth chapter, "'Islamic Democracy' or 'Democratic Islam': Re-Reading Abul Kalam Azad on Shura-Democracy Nexus" (pp. 81-104) the author highlights Azad believed that Shuracracy is as an alternate for western democracy, and he uses the term 'Islamic democracy' (Islami Jumhurriyah) for it. Furthermore, the author makes comparative analyses of Azad's exegetic work (Tarjuman al-Qur'an) with some prominent 20th century (Urdu) exegesis. This is followed by Epilogue which is aptly titled as "Considering the Past and Looking to the Future" (pp. 105-114).
The book not only analyses the understating of Sir Sayyid, Azad and Iqbal on Islam and modernity, but reveals their relevance in the present times through wide variety of Urdu, English source-material, and varied interpretations. In sum, Parray's Mediating Islam and Modernity highlights some of the contemporary crucial issues of diverse nature, within the broader context of present scenario and thus, will be helpful for the students and specialists not only in the fields of Islamic Studies but South Asian history, anthropology and other related subjects.
Original Headline: Between Islam and Modernity
Owais Manzoor Dar, IS Doctoral Candidate, Department of Islamic Studies, Jamia Millia Islamia, New Delhi.
Source: The Greater Kashmir
URL: https://www.newageislam.com/books-documents/islams-compatibility-with-modernity-critical/d/119534