By Mushtaq Ul Haq Ahmad Sikander, New Age Islam
2 February 2021
Peace and its relationship with Islam is the most debatable topic in Islam. For most scholars violence has been an inevitable part of Islam. Even now when the futility of violence has been evident still most Muslims uphold violence as a part of Muslim discourse. The rise of Nation states has rendered violence as the prerogative of state only, but many Islamic revivalist movements justify the violence perpetuated by the non state actors. They legitimize this violence in the name of Islam, although few voices do condemn this trend. Among such valiant voices is that of Maulana Wahiduddin Khan, who in his new book discredits the violence perpetuated in the name of Islam. In his Foreword Maulana depicts violence being akin to intervening in the creation plan of God, "Killing a human being is tantamount to intervening in the creation plan of God. It is to deprive a person of the chance to live his full life and play the role destined for him by his Creator." (P-5)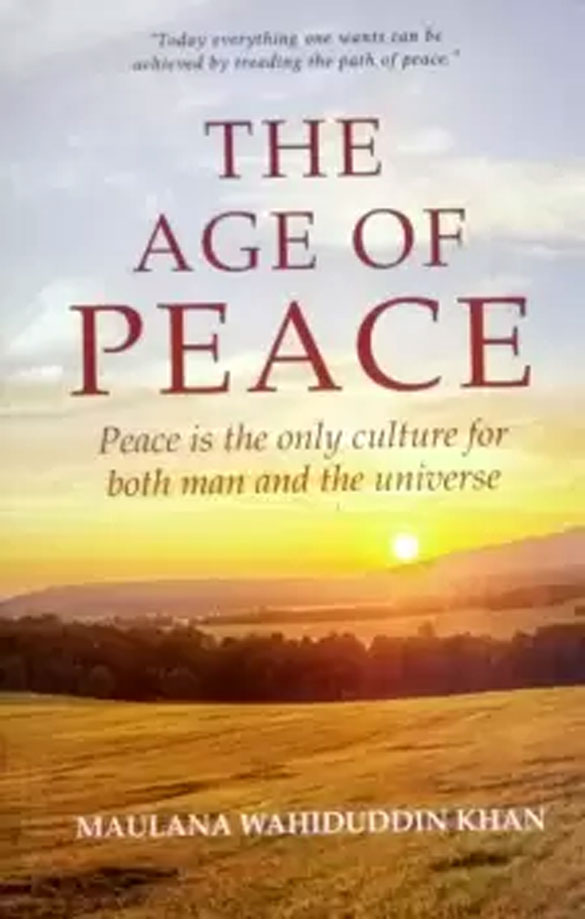 The Age of Peace" Peace is the only culture for both man and the universe
Author: Maulana Wahiduddin Khan
Publisher: Goodword Books, New Delhi, India
Year of Publication: 2018
Pages: 192 Price: Not mentioned
Maulana describes his work as, "The purpose of this book is to re-engineer the minds of those who think in terms of violence. The book aims at making such people realize that it is entirely possible for them to successfully achieve by peaceful means what they are unable to achieve by violent means." (P-7) So Maulana is critical that India achieved justice through protest and states that, "Injustice can be removed through education and hard labour, not by demand. The strategy of complaint and protest will not give you justice." (P-16-17). Hence despite independence of India a culture of protest and violence still exists and prevails.
Maulana observes that De monopolization over religious studies, economy and political power has rendered many things possible, which include avoiding the wars, "The age of de-monopolization has practically eliminated the option of war." (P-26) For him violent activism in our times is an outdated concept (P-33) but then he does not engage with the issue of state terrorism that breeds the violence and reinforces it. State terrorism is an overwhelming issue that Maulana avoids to engage with, thus he misses one of the important reason that fuels the violence and terrorism by non state actors. People will have to learn the means and options to settle down their differences peacefully but our education is not preparing us for such a negotiation. Also the progress achieved through peace will form the concrete basis for strengthening Peace. Again that culture is missing from our social milieu.
Positive planning, policy of de linking and the ideals being pragmatic are the basis that will lead towards what Maulana calls as the culture of peace. If the ideal is not pragmatic then every pursuit towards achieving it will be futile and people have pursued these ideal non pragmatic goals that lead to violence. So to achieve these goals violence is romanticized. Thus there is no need for starting movements that aim at achieving abstract goals. Maulana uses this pragmatic thinking in case of Palestine and Kashmir dispute but one can be critical on this account that no colonized nation would have achieved freedom if his pragmaticism is to be believed. The art of crisis management is important for ushering peace both for nations and individuals. So Maulana believes that accepting status quo for Peace is the way out, again an option that can be criticized.
Radicalization and internet have a symbiotic relationship. The violence that is countered by violence leads to a vicious cycle but states are failing to understand this important fact because they have interests to pursue. Further the arms industry is the biggest capitalist venture and these capitalists want that wars should start in every place so that they keep on earning profits by selling their goods both to countries and non state actors. This important aspect seems to be oblivious to Maulana, but he is correct in observing that violence needs to be countered ideologically and through education instead of counter violence that has proved its inefficiency in curtailing it. The glorification of violence in form of muslim warriors like Salahuddin should be desisted and understood in a specific context, and peace as the only way forward should be presented before the community. So as the law of nature that believes in avoiding conflicts and tussles should be adapted to achieve success and progress.
Maulana laments that Muslims have least contribution in every facet of life today, so they have just been rendered as takers and consumers. To add insult to injury they are not able to understand the current challenges and times in which they are living where guns and violence have lost their power and are being replaced by ideologies and education. Muslims yet have to acknowledge this fact that human life is based on interdependence and by fighting with others they are killing the chances of interdependence. Hence absolute universal peace remains a distant dream for most Muslim countries.
Maulana describes terrorists in his peculiar manner as, "Terrorists are not basically corrupt individuals. They are rather wrongly conditioned human beings. We should try to alter their thinking by applying reason, and without doubt terrorism will disappear." (P-158). This is the most important aspect that should be emphasized and reinforced. Instead of eliminating the individual terrorists by labelling them as a threat to the community and nation they need to be countered and counselled ideologically.
Overall the book is an important addition in building the peace theology of Islam. Maulana as a prolific writer of Islam does not disappoint the readers and his writings about the peace theology of Islam are essential reading for anyone interested in understanding how Islam engages with the challenges and issues that threaten the peace in our current times.
-----
M.H.A.Sikander is Writer-Activist based in Srinagar, Kashmir .
URL: https://www.newageislam.com/books-and-documents/mushtaq-ul-haq-ahmad-sikander-new-age-islam/maulana-wahiduddin-khan--re-engineer-the-minds-of-those-who-think-in-terms-of-violence/d/124205
New Age Islam
,
Islam Online
,
Islamic Website
,
African Muslim News
,
Arab World News
,
South Asia News
,
Indian Muslim News
,
World Muslim News
,
Women in Islam
,
Islamic Feminism
,
Arab Women
,
Women In Arab
,
Islamophobia in America
,
Muslim Women in West
,
Islam Women and Feminism