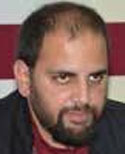 By Mushtaq ul Haq Ahmad Sikander, New Age Islam
24 August 2020
From Darkness into Light: Life and Works of Marlana Abdul Majid Daryabadi (1892-1977)
Author: Abdur Raheem Kidwai
Publisher: Ahsan Publications, South Africa
Pages: 304
Price: Rs 300
----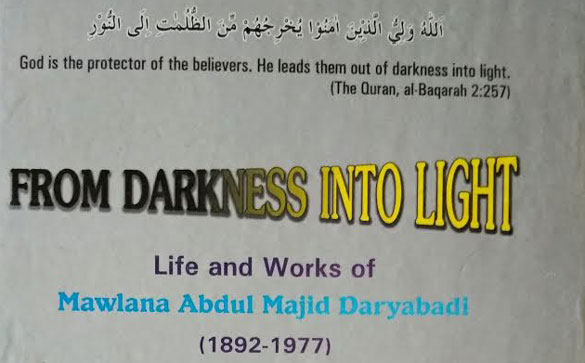 Indian subcontinent has been a bastion of Islamic scholarship. The revivalist movements and the academic scholarship about Islam that has been produced over last one century and more in this region have been marvelous. Muslim theologians and scholars have been at the forefront of adding to the new streams of knowledge. Very few scholars of Islam can be credited with having a serious understanding of comparative religions particularly Semitic ones. Maulana Abdul Majid Daryabadi is one such scholar who has the privilege of not only being a scholar of comparative religion, but he has contributed immensely to widen the horizons of Urdu literature too. In this biography Prof Abdur Raheem Kidwai, has elucidated about different facets of Maulana Daryabadi's life. In his Preface, Prof. Kidwai writes, "The chief merit of Daryabadi as an Islamic scholar resides in his elucidation of Islam-its life-giving creed, its life-sustaining teachings and commands and its life ennobling worldview in a style and idiom which is suited best for today's readers." (P-viii)
Prof. Kidwai provides details about the education system prevalent during Daryabadi's time. Daryabadi is one of the few scholars who have confessed about the loss of faith as he studied the works of European writers and orientalists. Very few Islamic scholars have been so honest to document their atheism. His autobiography titled Aap Beeti, very candidly describes the same. He explains his journey from atheism to Islam and how Ulama should be prepared to tackle the current challenges and contemporary crisis. Daryabadi was helped in this journey by his mentors and the influence of Maulana Rumi's Mathnavi was quite immense in his transformation. So the role of mystical tradition in Islam and writings of this genre were helpful in regaining of his faith. Later he was influenced by the poetry of Akbar Allahabadi and writings of Shibli Nomani.
During his youthful years a number of political movements were vibrant in the subcontinent. Many Ulama were actively involved in the politics and anti-colonial resistance. He was influenced by Maulana Muhammad Ali, but did not indulge in active politics. He chose journalism and scholarship as his field. He actively commented on politics but as an analyst, not as a political activist. Daryabadi had his own inhibitions for not participating in active politics. "After Muhammad Ali's demise he never attended any public meeting, what to say of undertaking any political activity. This also explains why he did not actively campaign for the Pakistan movement either at a later date, though his sympathy was for this cause. He believed that Muslims should have the right of self-determination, including a state of theirs. Notwithstanding his aloofness from public life in his later life, like Muhammad Ali, Daryabadi closely monitored and followed all those political events which had bearings on Muslims in India in particular, and all over the world in general." P-51-52
He introduced the discipline of Psychology among the Urdu readers and penned down a book about the Psychology of Leadership. "As in the domain of philosophy, Daryabadi's writings on psychology made the Urdu lexicon richer, as he added to it scores of new Urdu terms." P-75 Daryabadi was an ace translator, critical commentator as well as a journalist who reacted to issues that were happening around him. But as the trend among Ulama regarding the bashing of West and even phobia of the west and occident, Daryabadi was no different. This trend among the Ulama still continues as they consider and hold West responsible for all the evils that are doting the Muslim world. Prof. Kidwai very well points out, "Yet it may be pointed out that Daryabadi focused more on demonizing the West than on reforming the Muslim society of his day which was infested with vices of all sorts." P-96. Although his uncanny perception of the challenges thrown by modernity against faith and Islam in particular helped a lot of Muslims to regain and reaffirm their faith in Islam.
Daryabadi has the distinction of writing exegesis of the Quran both in Urdu and English languages. His Urdu exegesis is more influenced by the Tafsir of his spiritual mentor Maulana Ashraf Ali Thanvi, titled as Bayan Ul Quran. But it is a sad reality too that till his death his Urdu Tafsir remained unpublished because he did not have the requisite amount to get it self-published. Further he did not belong to a particular group or sect that would have helped him get it published. His English exegesis titled as The Glorious Quran has the privilege of connecting Bible, Psalms and Torah while explaining and commenting on the verses of Quran. No scholar in India has written two different exegesis of Quran that too in two different languages.
The literary style of Maulana Daryabadi is unique, so is his contribution to Urdu language and literature. As a critic and language scholar his book reviews of hundreds of books point out towards his voracious reading habit. His obituaries of men of letters, pen sketches of stalwart personalities of different fields are a treat for readers. His travelogue of Hajj pilgrimage that he undertook in 1929 still holds a documentary value. It highlights the fact about how Hajj then was quite a different experience as compared to now.
Overall, the biography is a rich addition to the literature and readings available to the English audience about Maulana Daryabadi. His most works are available in Urdu and only few have the distinction of being translated into English language. Prof Kidwai needs to be congratulated for this feat, that he has academically explored the life, works and legacy of an important scholar of Islam. Hopefully in future his works will be translated in English language for the benefit of wider readership.
----
M.H.A.Sikander is Writer-Activist based in Srinagar, Kashmir.
URL: https://www.newageislam.com/books-and-documents/mushtaq-ul-haq-ahmad-sikander-new-age-islam/indian-subcontinent--a-bastion-of-islamic-scholarship/d/122705
New Age Islam, Islam Online, Islamic Website, African Muslim News, Arab World News, South Asia News, Indian Muslim News, World Muslim News, Women in Islam, Islamic Feminism, Arab Women, Women In Arab, Islamophobia in America, Muslim Women in West, Islam Women and Feminism