By Mikha Chan
April 9, 2015
K J John's book makes a logical criticism of the powers that be and their mishandling of the country's religious controversies.
There has been much national outcry in the past years over heated issues of religious nomenclature, much of which stem from how self-styled religious authorities have taken offence at the use of the word "Allah" by the Malay-speaking Christian community,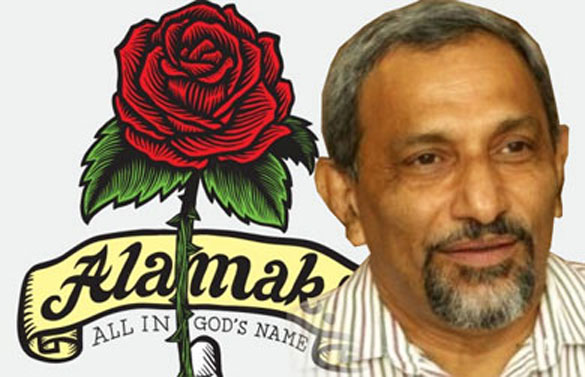 With the authorities having loudly and repeatedly declared the word off-limits to all non-Muslims, especially in their Malay-language religious texts, arguments, counter-arguments and outright displays of obstinacy have come (and will probably keep coming) from all sides in the past decade.
Seeing that Christians in East Malaysia have been using the word in their Bibles for decades, it isn't hard for a casual observer to easily guess at how matters have then developed.
Alamak! All In God's Name is a collection of essays by Malaysiakini columnist and retired civil servant K J John. It takes an incisive and detailed look at the "Allah" issue, along with the matters and affairs surrounding the overall religious controversy that has bubbled within the country's political sphere for the past decade.
With a foreword by prominent lawyer and human rights activist Ambiga Sreenevasan and five other essays by Zainah Anwar, Marina Mahathir, Azmi Sharom, and Tunku 'Abidin Muhriz, Alamak! is a decade-spanning commentary that hits at the perceived institutionalised injustices and abuse of power in Malaysian politics, particularly where religion is concerned.
In fine critical form, John's essays comment on well-known critical scandals and events, slicing past the official silence and evasion surrounding them to point out repeatedly that at the centre of all this controversy – past the half-truths and full lies by various parties – is the constant miscarriage of duties by those he calls "idiocrats" and those who would arrogantly politicise religion and impose their views on the non-Muslim community.
One of his essays quotes a comment by one of his peers that the "Allah" issue is not a Muslim one, but rather a Malay one. And it is on this premise that much of his arguments are essentially founded: the entire dissatisfaction of the religious authorities is not primarily a religious one, but one that conflates religion with racial politics.
To paraphrase his arguments, it is this complexity that has led to the "Allah" discourse becoming less than a dialogue and more of a question of religious and political imperatives. Proper discussion is more or less sidestepped or ignored for the sake of sheer religious will, which he largely attributes to the incompetence or outright dishonesty of the leaders in power for the sake of their vested interests.
He defends the Christian community with vigour, and makes the constant assurance that despite their policy of passivity, they will still make their unwavering stand clear when it comes to their fundamental civil liberties being threatened.
The theme of truth, or the bending thereof, runs deep throughout the collection, which he in an essay pins to what he elegantly (or not; for all his traditional English-educated eloquence, he is occasionally blunt to the point of being almost incendiary) calls a "broken, immoral system", rife with bribery, yes-man politics, and power abuse. He makes also the case for the dichotomy between truths and argues for the separation of the "sacred and profane" in politics, i.e. the old church-and-state argument.
One has to note, though, that his arguments are frequently couched in Christian terminology and principles, which despite his furiously logical arguments, may deter the average non-religious reader. For the most part, his arguments remain respectably non-partisan, based greatly on the carriage of leadership and civil duty. He does sometimes meander into the discussion of Christian principles, but for the most part it does not affect his objectivity.
All in all, Alamak! is a fairly interesting book that offers up an unwaveringly logical criticism of the powers that be and their mishandling of the country's religious controversies, with detailed insights into the complexities of the political and legal systems that surround them.
Source: http://www.freemalaysiatoday.com/category/highlight/2015/04/09/an-incisive-look-at-the-allah-issue/
URL: https://www.newageislam.com/books-and-documents/mikha-chan/an-incisive-look-at-the-'allah'-issue/d/102374