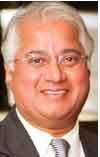 By Mike Ghouse
December 19, 2014
I am pleased to share the following history of Hinduism in America, and have added the Dallas portion to it. It is not complete but a good start.
This reminds me of five of the many programs I had organized relating to Hindu's and Hinduism.
Hindu Festivals
1993 - Under the program "Festivals of the World" highlighted the essence of each major festival. We started writing about it in 1993 at Asian News, and then from 2005 to 2001 we had a 15 minutes weekly radio show on Saturdays that talked about every festival in that segment. We also had a short run TV show that highlighted the festivals. But for the last ten years, we have been writing on blogs and News papers including Huffington Post.
Radio Show about Indians
1996 - Asian News Radio was established in 1996, a predecessor to Fun Asia Radio and other Radio stations. In the talk show format, we explored the history of Hindus, Muslims, Sikhs, Jains and Christians from India, as well by the nationality - India, Pakistan, Bangladesh, Sri Lanka, Nepal and the Diaspora - mainly Caribbean.
Radio Program on Hinduism
Between 2003 and 2005 among other religions, we produced 100 hours of talk show on Hinduism - one hour every Thursday morning with Swami Nityananda Prabhu of Hare Krishna Temple and others as needed. Including Revathi Srinath on the year end programs and we played the Bhajans of Deva Ramsaroop as well. The program was for non-Hindus (and for many Hindus) to get a grasp of Hinduism. At the Foundation for Pluralism, we are committed to learn about different religions and how we can build cohesive societies.
Shanti-Shanti
2003- For the first time, a program was organized by the Foundation for Pluralism to bring all the Hindus communities of Dallas together. Shanti-Shanti is an American girls duos chanting songs in Sanskrit, and they were introduced to the Hindu Audience for the first time. Indeed, that is the first time, Dr. Mihir Meghani of Hindu America Foundation was invited to be a part of the event, as he was set to bring all the Hindu Sampadrayas together.
Workshops on Hinduism
2005 - We organized a series of workshops called "Understanding Hinduism" among all other faiths. It was a three hour workshop for non-Hindus to understand the essence of Hinduism. We did two sets of workshops over a period of two years.
The earliest Hindu in Dallas from India was Mr. Pallana, who came to the US in 1946 to work in Disney Films. He is no more, but his vegetarian restaurant in Oak Lawn is still there, and his wife Ranjana left the legacy of Yoga Center in Dallas.
Mr. A.K. Mago, a Dallas resident for nearly 40 years is accorded the highest Civilian honor of "Padmashri" by the Indian Government.
There was a guy from UT Austin who wrote a book about history of Indians in Texas, and I believe he has mentioned AK Mago and me in the book. I have not seen, but he had called me a few times several years ago.
Dr. Prasad Thotakura has received a similar distinction from the Government of Andhra Pradesh, and spearheaded the Gandhi Memorial along with Mr. Taiyab Kundawala to establish a Gandhi Statute in a Park in Irving this year 2014.
Mr. Satish and Mrs. Yasmeen Gupta have donated a building and funded the business college at University of Dallas.
Mr. Jindal has established the college of business at the University of Texas at Dallas in Richardson.
An now, I am pleased to add Dr. Vivek Murthy, the 19th Surgeon General of the United States of America, appointed by President Obama and confirmed by the Senate on 12/18/14. It one of the proudest moments for Indian Americans.
Please note that the following article is about Hinduism and not other religions of India. There is no mention of Sikhs, Muslims, Jains, Christians and other migrants. No mention about two state Governors Bobby Jindal and Niki Haley either or the work of several other great Indians. That will be a separate essay about Indians in Texas, particularly Dallas/ Fort Worth.
If I win the lottery, I will put together a complete history of what makes Dallas - Indians stand out, from the common man to the contributors.
Like the Doctors, Scientists and Engineers, my contribution as a social scientist to the richness of America would be the gift of Pluralism - that is respecting the otherness of others and accepting the God given uniqueness of each one of us, and when we do that, conflicts fade and solutions emerge. I hope to establish a Pluralism Center in Washington DC and Dallas, Texas.
Jai Hind.
Mike Ghouse
Mike Ghouse for India
Foundation for Pluralism
Courtesy American Hindu Association
URL: http://www.newageislam.com/books-and-documents/mike-ghouse/hinduism-in-america,-a-brief-history/d/100601