By Mehr Tarar
June 23, 2014
Who Am I?
Author: Moneeza Hashmi
Publisher: Sang-e-Meel Publications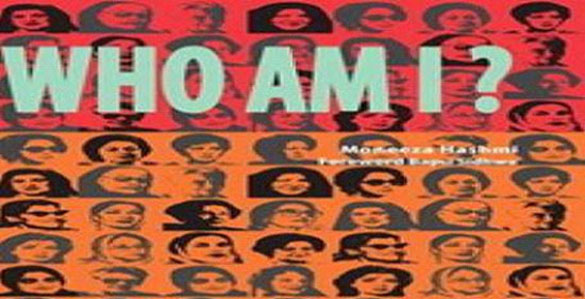 "There are two powers in the world: one is the sword and the other is the pen. There is great competition and rivalry between the two. There is a third power stronger than both, that of the women" — Muhammad Ali Jinnah.
Jinnah said this 67 years ago, and every day the truth of these words strengthens, as women on all levels make their mark, somewhere or the other. Their rights are still debated, persecution still perpetuates, injustices are still too blatant, divides are still too painful and inequality is still jarring, but the mark is too strong to be dismissed any longer. They are everywhere. From the poor, malnourished, overworked labourer with the bent back to the prime minister with her head held high and a cabinet of men standing to attention, the Pakistani woman stands side by side with the Pakistani man, and the credit goes to each and every woman who contributed to the formation and evolution of the dynamic — from the stay-at-home mom to the head of government.
Moneeza Hashmi needs no introduction. She is one of those Pakistani women who stand out in all the roles she has taken on and, in her latest book, Who Am I? a collection of interviews, she highlights many more like her: the very remarkable women of Pakistan. Who better than Hashmi to talk to some truly dynamic women from all fields of life in celebration of their work, values and contribution towards the mosaic that is the very foundation on which the construction of society is done in a myriad of colours and genres. Mostly, the focus is on a few women who are prominent in the political arena and many others who, despite being trendsetters and leaders in their respective fields, do not get as much recognition as they deserve. Although there are many accolades and awards, it is a tad disconcerting to acknowledge that many of these magnificent women are not known to the younger generation. And that to me is not only a disservice to their tremendous body of work but is also a loss to an entire generation of Pakistanis who remain clueless about the huge contributions of women who should be their role models. Who Am I? has a great deal of significance to me because I see it not just as a conversation of one dynamic woman with another but as a celebration of all that is beautiful about the Pakistani woman.
Moneeza Hashmi, the daughter of one of Pakistan's most famous, respected and feted poets, Faiz Ahmed Faiz, has mastered the art of multitasking so well that if I begin to list her list of achievements, this review will become a book in itself. Suffice it to say that this recipient of numerous national and international awards — among which there is the very prestigious President of Pakistan's Pride of Performance Award — is an institution in herself on how to be a woman. The second term president of the Commonwealth Broadcasting Association, UK, general manager international relations for HUM TV, trustee of the Faiz Foundation Trust and Faiz Ghar and project adviser for Lightstorm Entertainment, Hashmi has left her distinct mark in an array of fields. As one of the pioneers in the world of television in 1967, Hashmi opened the door for many hesitant females into a domain considered male-dominated. From an assistant manager to her retirement as director programmes (she is the first female to head that position), Hashmi has had a distinguished career, the one feather being her programme on PTV titled Khawateen Time. This set of shows worked on "promoting awareness in gender, human rights, rights of minorities, reproductive health, education, economic empowerment of women, legal rights and violence against women." Impressed? She is also a primary and elementary education specialist. Indeed, Moneeza Hashmi is a woman who has set the bar very high in terms of achievements, not just for women but also for men.
Who Am I?, with the foreword by Pakistan's much loved author Bapsi Sidwa, is a delightfully interesting compilation of interviews that Hashmi conducted over many years. It is a brilliant list of who's who in Pakistani women, and reading her simple yet comprehensive talks with them, there is this sense of being reintroduced to some of the most famous names of Pakistan. Most of these women, barring a couple of names, represent an era when lives were not conducted in the merciless glare of the media and, despite tremendous fame, some chose to keep their personal lives apart from their professional lives, thus arousing a great deal of curiosity. That, in turn, had a downside.
The very exclusivity that made them so fascinating to their admirers and fans somehow isolated them from mainstream consciousness, and although their work remained unparalleled, their faces became a distant memory to many. Going through Who Am I? reading about the lives of so many magnificent women who blazed their way through a lifetime of obstacles, discouragement, discrimination and disappointments, setting trends, opening paths, delineating new narratives and carving novel identities, I feel a sense of undisguised joy — what to say of pride — to be a Pakistani woman.
Set somewhat primly in alphabetical order, the list covers a very diverse range of women, who spoke in a refreshingly relaxed manner to a fellow Pakistani woman, one who understood their nuances and dilemmas better than most of her male counterparts. Twenty women, 20 lives. Moneeza Hashmi shows sides of them invisible to many.
Be it the two-time Prime Minister Benazir Bhutto's, "Women have softer hearts than men. Women tend to forget grievances. Men nurture grudges. Women do not think as much of revenge and tend to leave things to be settled in God's court," or the legendary recluse Swaran Lata's (film actress) words on leaving the film industry, "I was not happy with the kind of environment it was becoming. Why should any person be in any unhappy situation?" or be it Fatima Bilquis Edhi's (wife of philanthropist Abdus Sattar Edhi) light-hearted banter, "There was a lot of aversion to men with beards. I would say to myself, having a beard is better than him having children from a previous marriage," or how Zehra Nigah (renowned poet) describes the caricature of a poet, "The first thing to emulate is messy hair, the second would be stop showering, then ripped clothes, and then to surround one's self in a world of fantasy," or the owning up to a weak link in her very formidable life, Khyber Pakhtunkhwa politician Nasim Wali Khan, "I could not do justice to my family, or my children who needed me so much given that their father was absent, I just could not manage that," you see sides these women did not reveal to many.
The interactions go on. There is one with the most famous Pakistani actress, Babra Sharif, known as much for her ageless beauty as her reticence to talk to the media, "So this one statement, 'Gosh, you look so young' makes me want to ask them if they are referring to my height or my age!" There is the acclaimed social worker, Dr Ruth Pfau, known for her 50 years' work fighting leprosy in Pakistan, who simply answered when asked, "So where is your place of birth?" "Germany." "And where is your heart?" "In Pakistan." There is Bano Qudsia, the writer-intellectual par excellence, who celebrates her marital life with one of Pakistan's most celebrated intellectuals-writers, "Whenever he would come home he never asked me what was for dinner or anything about the children. It was always regarding how many pages I had written or how many hours I had spent writing that day." There is the very fabulous Fareeda Khanum, who believes that "converting a poem into a melody with a specific rhythm is an intuitive process and evokes in me only one desire: to bring the words to life."
I could go on but then how would I stop and tell my readers to do one thing: buy Who Am I? and join me in this joyous celebration of Moneeza Hashmi's Pakistani woman.
Source: http://www.dailytimes.com.pk/opinion/23-Jun-2014/the-pakistani-woman
URL: https://www.newageislam.com/books-and-documents/mehr-tarar/the-pakistani-woman/d/97680