By Jenny Nordberg
March 18, 2016
UNTIL WE ARE FREE: My Fight for Human Rights in Iran
By Shirin Ebadi
286 pp. Random House, $27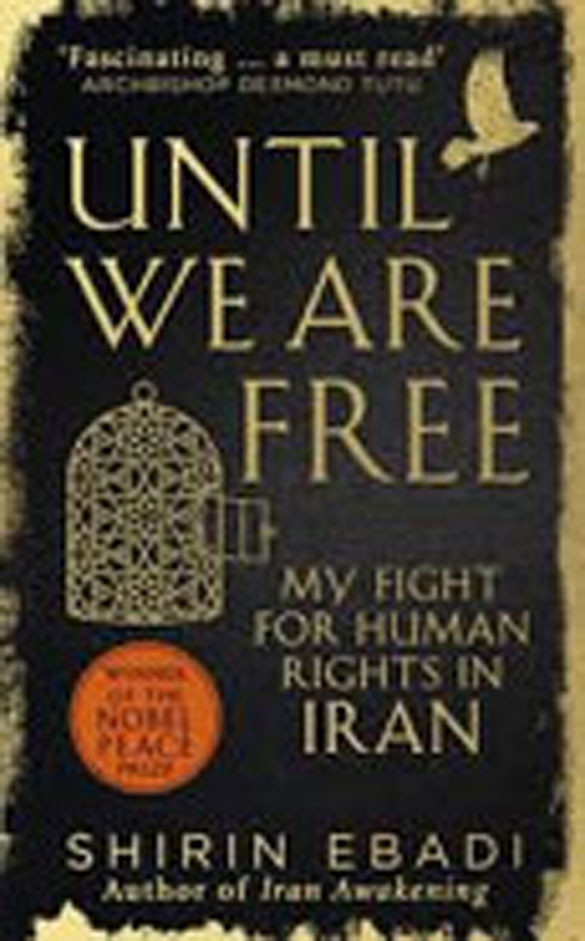 The nuclear deal with Iran has been reached, and sanctions have been lifted. In Iran's recent parliamentary election, reformists took more seats. To the outside world, it may appear as though the country could be on the verge of taking a new turn. But this is still a place where those who say the wrong thing risk being thrown into solitary confinement, where women are not allowed to work or hold a passport without permission from their husbands, and where the charge of ­"insulting sanctities" by writing poetry could be punished by a public lashing.
Through a powerful and deeply disturbing account of her own work as a human rights lawyer and activist, Shirin Ebadi's latest memoir, "Until We Are Free: My Fight for Human Rights in Iran," offers little optimism that more personal freedoms and rights for Iranians will come anytime soon. Rather, her chilling description of how the country treats its own citizens — including her, its Nobel Peace Prize laureate — builds on the fear expressed by many Iranians at this moment: that precisely because of the nuclear deal, the religious leadership may feel a need to crack down even harder on its own people to reassert power and demonstrate its autonomy.
A former judge (and Iran's first female judge), Ebadi was deemed too "fickle and indecisive and unfit" to issue legal rulings after the 1979 revolution because she was a woman. But unlike the Iranians who emigrated in the decades that followed, Ebadi found it necessary to stay behind, and navigate the "duplicity and compromises" required for survival in Iran to this day.
Armed with her training in both Sharia and civil law, and taking on the cases of persecuted reporters, dissidents and minorities, she enters a trench war within Iran's deteriorating and corrupt legal system. At times, she can only offer "words and tea" to her clients and their families, like the parents of a blogger whose mysterious death was ruled a suicide, or the wife of a journalist who slowly starves himself to death in prison. But as she speaks publicly about such cases, she also becomes a credible whistle-blower; her words advocate for freedom of expression, both to Iranians and to the outside world.
After Ebadi was awarded the Peace Prize in 2003, Iran's intelligence apparatus ramped up its endlessly creative battery of intimidations. Ebadi writes that she was surveilled, interrogated, detained and threatened. The human rights organization she created with the Nobel money was raided and shut down. Her home was attacked by a mob. One after another, her colleagues and members of her staff left went into hiding or ended up in prison.
That is still only a prelude to the cruelty she is later subjected to, in her "second life." After remaining in post-revolutionary Iran for three decades, by the time of the student protests and their violent dissolution in 2009, she decided not to return after a trip abroad, knowing that she had long been on an official kill list.
Sign up to receive a preview of each Sunday's Book Review, delivered to your inbox every Friday.
Set against the backdrop of her mournful and intense struggle for her country in exile, the second half of her book continues to describe many interesting contradictions of the religious leadership and its foot soldiers, its infighting and the dangerous paranoia that permeates the country. Ebadi also puts Iranian involvement in the Syrian civil war into context, arguing that Iran's leadership not only wants to advance its geopolitical interests but also aims to demonstrate to its own people how a popular uprising at home would be mercilessly struck down.
Her excruciating personal story, glimpsed through her restrained and careful prose, tells of the almost unthinkable human cost of one person's battle against a much stronger and very sophisticated enemy. The Islamic Republic eventually found a new way to get to Ebadi in exile when they targeted the family she left behind. To have one's sister taken away at night and imprisoned; to be humiliated by the betrayal of a lonely husband who has lost his dignity — such degradations feel like lashes to the soul.
"This is what they do," she writes of her enemies.
In the end, although her memoir underscores that a slow change will have to come from within Iran, it is also proof of the stunning effects of her nonviolent struggle on behalf of those who bravely, and at a very high cost, keep pushing for the most basic rights.
Jenny Nordberg is an investigative reporter and the author of "The Underground Girls of Kabul: In Search of a Hidden Resistance in Afghanistan."
Source: nytimes.com/2016/03/20/books/review/until-we-are-free-by-shirin-ebadi.html?
URL: https://www.newageislam.com/books-and-documents/jenny-nordberg/until-we-are-free--my-fight-for-human-rights-in-iran/d/106702