By Javed Anand
Nov 03, 2013
A line from the novel-turned-film, Zorba the Greek, I watched decades ago remains lodged in the mind: "A man needs a little madness or else he never dares cut the rope and be free". If that's true for a man, it's got to be truer still for a woman in our male-centric cultures. Writer and mental health counsellor Nighat M. Gandhi then must be a little mad.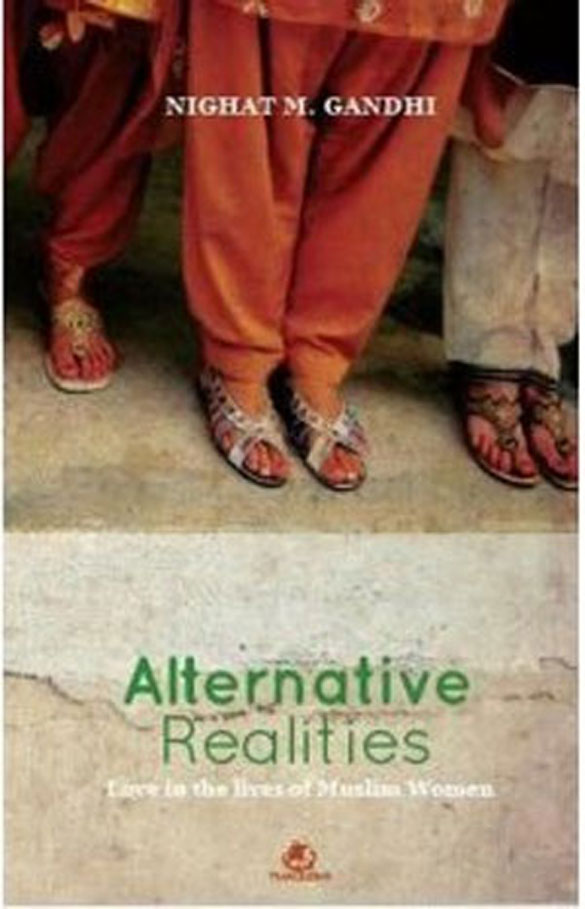 Born and brought up in East Pakistan till her family migrated to Pakistan following the country's Partition and birth of Bangladesh, Nighat graduated in counselling psychology from the University of Wisconsin, Madison. And since her marriage to a Raj Gandhi from Ahmedabad, India has been her home. "I am a Muslim and a Buddhist, married to a Hindu, and wavering in the shadowy no-religion land called agnosticism since I was 15," she writes. If all this is a bit confusing, so is her proclaimed allegiance to a plural tradition — Gandhi insists she is a "South Asian", and not a Bangladeshi, Pakistani or Indian.
So expect the unexpected from the travelogue-memoir-autobiography, Alternative Realities: Love in the Lives of Muslim Women, of this "not normal" woman. The book is as much about her as the women whose lives she invites us to enter. "My Safar to places of my past… revealed who I am to me".
It's a Safar that begins with the self: "My sisters, our mother and I, the four loyal subjects of my father's kingdom". From Abba, a religious man of high principles, she imbibes the imperative of living with values; no compromises. But since their principles clash, there is head-on conflict, over the daughter's "un-Islamic" chomping on a piece of forbidden meat, and entering into a "Haram" relationship with a Hindu. So much for the family.
Gandhi chooses one Independence Day (2010) to travel from Allahabad, her home for more than a decade, to the shrine of Hazrat Nizamuddin Auliya in Delhi to seek the blessings of the Sufi saint before embarking on her journey into her past. She is outraged by the hypocritical male custodians who, by limitig women's access to the Auliya's Mazar, vitiate the "overwhelming femininity" of this sacred space. The irony is evident as the place continues to resonate with Quawwals reciting the enchanting compositions of Amir Khusro, "the lover who transcended the worldly boundaries of gender and propriety". But Gandhi's visit is not fruitless. She runs into stubborn women who, undaunted by the brutes, create a space for themselves in the proximity of their beloved "Nijamuddin". Meeting these women is a blessing for Gandhi.
On to Lahore by bus. Once in Pakistan she heads for Oghi, a village close to the Taliban territory in Khyber-Pakhtunkhwa (formerly North-West Frontier Province). The idea is to spend Id with her friend Laila and her family. What might the Taliban types think of or do to a woman travelling without a male escort? The scary thought keeps her company throughout the journey. But travel she must for, remember, she's a bit mad.
From Oghi to Karachi, to converse with poet, visual artist, stage designer and college lecturer Nusrat and her lesbian soul-mate "QT" (Quratulain). Would you believe it, an "outed" lesbian couple, living undisturbed amidst "normal neighbours" in a housing complex in Islamic Pakistan?
Gandhi: Is being lesbian and Muslim OK?
Nusrat: For me it is… the notion that God and love do co-exist in all its forms is dangerous. But that's the mystical truth. The central dogma of mysticism in Islam in ishq (love).
We also get to listen to Firdaus Haider, writer, teacher, counsellor, Reiki healer, twice divorced, now single and at home with her loneliness. For her, "love is a spiritual experience". Next, Gandhi travels to Mirpur Khas to meet Nisho and her small community of transsexuals. Nisho is madly in love with and loved by her "boyfriend", a married man. But there's agony too, for this love can never lead to marriage for Nisho.
Back home in India, meet Nahid from Allahabad, who once knew love. Sawan was besotted with her. But he was a Hindu and a Dalit at that. Terrified of what her wretched stepfather might do, Nahid kept Sawan waiting. For too long. One day Sawan immolated himself. Nahid has come to believe that "love means selfishness". A restless soul, she roams around in jeans and tight shirts, flaunting her sexuality, unafraid of lusting men.
Nahid: What's the worst that can happen?
Gandhi: She's already paid the price for fearlessness, for freedoms not meant for her. Not just once. Not just twice.
The visit to Bangladesh in a bid to rediscover her childhood proves to be traumatic. The dreamland of her childhood has vanished. Instead, Tableeghi Jamaat multitudes now have the run of the place and mullahs shriek from loudspeakers, making unmelodious calls to the faithful. After the trauma, there's healing.
As may perhaps be expected, Gandhi's journey ends in the house of her in-laws, in a "Hindus only" locality in Ahmedabad. It's March 2011 and she has the privilege of the house to herself for a few days. She meets Ayesha, a journalist, whose life has been transformed by what Gujarat underwent nine years ago. Among the casualties of 2002 was Ayesha's decade-old relationship with a Gujarati Brahmin. The relationship was severed on her insistence.
Ayesha: As a woman you can feel completely safe in Gujarat, but as a Muslim you can't.
Gandhi: But my in-laws say…
Ayesha: They are probably telling you everything is back to normal. And they are right. Except that the definition of normal has changed forever.
We ought to be grateful to Nighat Gandhi for the insightful glimpse she gives us of the world of women living alternative realities, as only a woman can.
Javed Anand is co-editor of Communalism Combat and general secretary, Muslims for Secular Democracy
Source: http://www.asianage.com/books/mad-Safar-mad-woman-985
URL: https://www.newageislam.com/books-and-documents/javed-anand/a-mad-journey-(safar)-with-a-mad-woman/d/14282