A Report by Human Rights Watch
July 21, 2014
VI. Imprisonment and Treatment
US prisons held 475 people indicted on or convicted of terrorism or terrorism-related offenses as of October 2013, according to the government response to our FOIA request.[584] Some are held in prisons under harsh conditions that include prolonged solitary confinement and severe restrictions on their communication with family and others.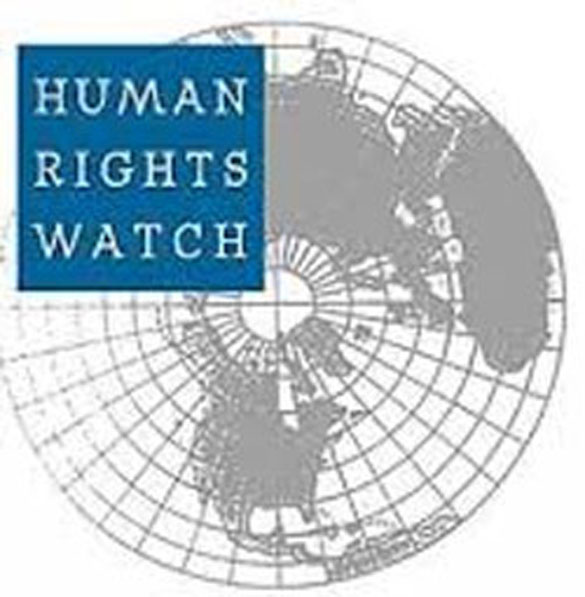 Some restrictions are imposed pursuant to Special Administrative Measures (SAMs), which apply to certain prisoners—not only terrorism detainees—on the grounds that they are necessary to protect national security or prevent disclosure of classified material (as previously noted, these conditions may also be imposed pre-trial, raising concerns over fair trial rights). Other prisoners were placed in Communication Management Units (CMUs), which monitor prisoners 24 hours a day.
We reviewed the treatment and conditions of 35 defendants and prisoners in terrorism cases, 9 of whom were not involved in the main cases we focused on for this report (for a list, see Appendix - B). While the Bureau of Prisons denied 16 out of 20 requests we made to meet with prisoners, we were able to communicate with 12 incarcerated men by phone, letters, or email.
In several of these cases, the Bureau of Prisons did not inform the detainee of the basis for imposing the restrictions—whether it was based on an assessment of the severity of the crime, the security of the facility or of the detainee, or for other reasons. Accordingly, it was impossible to independently assess whether the restrictions were disproportionate to the government's objective. In many cases, this secrecy also stymied prisoners' ability to learn about the basis for their treatment, or what steps they could take to end their solitary confinement or restrictions on their communications with family.
Background: Tightening of Restrictions in Response to "Prisoner Radicalization"
In the years after the September 11, 2001 attacks, media and congressional concern over supposed "prisoner radicalization"—the idea that prisons are a "fertile ground" for inmate conversion to politicized and violent ideology related to Islam[585]—led the Bureau of Prisons to impose significantly harsher restrictions on terrorism detainees and prisoners.[586]
In 2006, seeking to monitor "100 percent" of all terrorism inmate communications,[587] the Bureau of Prisons began adopting policies and practices to restrict the "volume, frequency, and methods" of terrorism inmate communications,[588] and it began to extensively monitor prisoner communication with family and attorneys, and prohibit contact visits with families (discussed below).[589]
The Bureau of Prisons also made plans to "consolidate all international terrorist inmates in approximately six institutions for enhanced management and monitoring."[590] We are only aware of three special units—two Communication Management Units (CMUs) and a unit at the Florence super maximum security prison ("ADX Florence").[591]
Prolonged Solitary Confinement and Restrictions on Family Contact
As Human Rights Watch has previously documented,[592] jails and prisons across the United States often respond to prison or inmate management challenges by segregating individuals from the general population, often through prolonged physical and social isolation, for hours, days, weeks, or even years. Isolation for 22 hours per day or more, and for one or more days, fits the generally accepted definition of solitary confinement.[593] When it is prolonged, solitary confinement can constitute cruel, inhuman or degrading treatment prohibited by human rights treaties to which the US is party.[594] For 23 men whose experiences we documented, the length of pre-trial or post-conviction solitary confinement was measured in months or years, not weeks.[595] The mental pain and suffering caused by isolation was sometimes exacerbated by uncertainty about how long solitary would last.[596]
Prisoners with whom we spoke or corresponded described their solitary confinement as resulting from decisions to put them in administrative segregation based on their security classification. Prisoners in medium-security and low-security prisons experienced solitary as punishment (often called disciplinary segregation).[597]
Special Units for "Terrorism" Prisoners: ADX and CMUs
The Bureau of Prisons says it places the "most dangerous terrorists" at the Administrative Maximum Penitentiary (ADX) in Florence, Colorado, while other so-called "terrorist" inmates have been transferred to Communication Management Units "to consolidate them" and "increase the monitoring and management of these inmates."[598] According to our review of DOJ data, more than a quarter of prisoners convicted of terrorism or terrorism-related offenses were held in these facilities as of July 2013.[599]
ADX Florence
The Bureau of Prisons held 41 prisoners it designated as "terrorists" at ADX Florence, the federal supermax where nearly all prisoners are held in at least 23-hour solitary confinement, as of October 2013.[600] One of the prison's former wardens has described ADX as a "clean version of hell."[601]
For two days a week, a typical ADX prisoner spends the entire day secluded to his single cell, which measures between 75 and 87 square feet, depending on the unit.[602] He is deprived of almost all human contact during these periods, except for perfunctory, impersonal exchange with correctional staff.[603] On the other days, the prisoner remains confined this way for 22 or 23 hours a day, but is given an hour of indoor recreation, alone in a room completely bare but for a pull-up bar; or an hour of outdoor recreation, in a cement enclosure so small that he is only able to take a few steps in each direction.[604] Every time he leaves his cell for recreation, he is strip-searched.[605] For most prisoners at ADX Florence, communication with other inmates is never directly face-to-face and is always mediated by bars or concrete walls—or involves shouting through toilets and vents.[606]
Dritan Duka, who is held in solitary confinement at ADX Florence, [607] described even recreation time as dehumanizing:
You can only see the sky. It's all steel. You feel like an animal in a cage. When it's time to eat, they feed you... Actually [dogs] have more freedom than we do. ... We're in a cage all day; they shove foods in the cell. Then we got a little walk. Then they put us in another cell. I'd rather be in a zoo than over here. People walking by, looking at you like an animal in a caged exhibition.[608]
Dritan said he is able to communicate with other prisoners on his "range" (prison floor and section) by screaming through doors and, during outdoor recreation, talking to prisoners who are in separate cages.[609] These brief periods of communication were insignificant compared to his overall experience of isolation: "There's a lot of times the walls are caving in. It's—you can't talk to nobody… It's like staying alone in a bathroom for three days."[610]
Human Rights Watch has previously reported on conditions at ADX Florence, which houses not only terrorism detainees but also leaders of violent gangs and prisoners with a history of committing violent offenses against other prisoners or corrections officers. We noted in 2001 that inmates there could be subjected to "years of confinement in conditions of extreme social isolation, reduced sensory stimulation, and rigorous security control."[611] After a 2007 visit to ADX Florence, Human Rights Watch wrote to the Bureau of Prisons to express concern about serious problems, including the mental health impact of long-term isolation and highly limited exercise there, and reports of force feeding inmates on hunger strikes.[612]
While we have not, for this report, conducted a thorough examination of conditions at ADX Florence, the cases we examined continue to raise human rights concerns because of the degree of isolation for prisoners and the inadequate process for securing transfer out of the prison into a less restrictive facility.
Communication Management Units
Another 77 post-conviction prisoners designated as "international terrorists" or "domestic terrorists" are in two Communication Management Units (CMUs).[613] The Bureau of Prisons describes the CMUs as units for prisoners who do "not need the security requirements at [ADX] Florence" but nevertheless require "closer monitoring."[614] Of the first 54 prisoners transferred to the CMUs, 39 were Muslim.[615] Civil liberties groups and activists allege that the Bureau of Prisons subsequently transferred environmental and political activists convicted of terrorist offenses to the CMUs in response to media criticism that it was targeting Muslims.[616]
"Other than ADX, the CMUs are the most restrictive facilities in the federal system," a federal appeals court judge wrote in 2010.[617] The CMUs are similar to medium-security units in terms of permitting inmates to interact extensively with each other outside of their cells. However, inmates are constantly surveilled and their communication with the outside world is heavily restricted (including with their families, as described below). There are cameras and listening devices positioned throughout the CMUs, and all inmate conversations are audio-recorded and monitored by the government (except for inmate conversations with their attorneys).[618]
Prisoners and defense lawyers described poor prison conditions at both the Terre Haute and Marion CMUs.[619] At the Terre Haute CMU, they described extreme cold during the winter, insects and rodents, flooding during rainstorms, and extreme heat during the summer with fans so loud that "they gave us earplugs to put in our ears, to keep from damaging our hearing," a former inmate told us.[620] One defendant described it as "dangerously and poorly ventilated," explaining that windows on either side of the building were "bricked in from the outside," making the building "like an oven" in summer.[621]
The recreation area at the Marion CMU is "all kennels on concrete," environmental activist Andy Stepanian, who was among the first inmates at the facility, told us. In the recreation area, "the ceiling was a chain-link fence and dome of razor wire. So there was open sky but there was razor wire and dead birds between you."[622]
Several prisoners and their families reported problems accessing medical treatment at the CMU, particularly on weekends and holidays. [623] The CMU functions like "a bubble," as one defence lawyer explained: prisoners could move freely within the unit, but any movement outside of it was highly constrained, leading to delays in medical attention.[624] Inmates also have few opportunities for work and education in comparison to other federal inmates in medium- or low-security prisons.[625]
Several CMU inmates and defence lawyers also described harassment, intimidation and retaliation by CMU prison guards against Muslim inmates.[626] While a significant majority of the CMU inmates are Muslim, inmates described few accommodations made for Islamic religious practice in comparison with other religions.[627]
Current and former inmates reported arbitrary denials and delays in their ability to send and receive correspondence, including legal mail. Mail is monitored by the Bureau of Prisons' Counterterrorism Unit.[628] Eljvir Duka, who is currently held at Marion CMU, said he has continuously been denied receipt of materials his attorney sent him: audio recordings of conversations the informants in his case taped for the FBI, which were provided through the discovery process of his trial.[629] Though they are vital to his ability to prepare for his habeas corpus petition, the CMU returned the material to his attorney without allowing him access.[630]
Special Administrative Measures
In about three dozen terrorism cases,[631] the government has used Special Administrative Measures (SAMs): restrictions imposed to protect national security or prevent disclosure of classified material. SAMs ordinarily prohibit defendants, attorneys and their families from communicating about the SAMs to each other—or anyone else.
This "gag order" of sorts limited our ability to document the impact of SAMs, because family members and defence lawyers were concerned that by speaking with us or providing certain details, they might inadvertently violate SAMs. Bars on communicating with journalists, which are often imposed through SAMs, have also resulted in an information void about the government's practices.[632] We nevertheless documented, in limited form, the experiences of six prisoners currently or formerly under SAMs. We also reviewed, in redacted form, the SAMs modification and extension orders for between 20 and 22 prisoners, which the Department of Justice provided in response to our FOIA.[633]
Two regulations authorize SAMs: the National Security rule and the Prevention of Acts of Violence and Terrorism ("Terrorism") rule.[634] Both rules provide that SAMs "ordinarily may include housing the inmate in administrative detention" and may limit, among other privileges, "correspondence, visiting, interviews with representatives of the news media, and use of the telephone."[635] In addition, the Terrorism rule permits the attorney general to order monitoring of attorney-client communication.[636] After 9/11, the SAMs regulations broadened to apply not just to post-conviction inmates, but also defendants detained pre-trial, witnesses, and immigration violators.[637]
Figure 1 – Prisoners under SAMs

[638]
The number of inmates under SAMs has grown since regulations were substantially broadened the month after 9/11. In November 2001, there were only 16 individuals under SAMs—"a very small group of the most dangerous inmates," according to then-Assistant Attorney General Michael Chertoff.[639] Since 2009 the number of prisoners under SAMs termed "terrorism-related inmates" has held steady at about 30.[640] The increase may partly owe to a 2006 recommendation from the Department of Justice Office of Inspector General to consider the application of SAMs for each "pre-trial or convicted inmate associated with terrorism."[641]
Our review of the known cases suggests that typically these individuals were accused of having some link with Al Qaeda or Al Qaeda-affiliated individuals, although these accusations were not necessarily established at trial or an essential part of the conduct underlying conviction. None of the SAMs cases we reviewed involved the use of informants, where there was limited or no actual communication between the defendant and the alleged terrorist organizations.
Severe Restrictions Imposed Through SAMs
SAMs often require the imposition of extreme physical and social isolation. In the orders we obtained through a FOIA regarding 20 to 22 prisoners, SAMs banned at least 20 prisoners from "making statements audible to other prisoners or sending notes" and required them to be housed in single cells "separated as much as possible in cellblock area from other inmates."[642]
As we described, Oussama Kassir spent one and a half years in pretrial isolation because under SAMs he was barred from talking with other inmates or correctional staff.[643] He was permitted "virtually no recreation or exercise, and [was] never allowed to be outside or enjoy natural light or air."[644] He was also barred from purchasing food at the prison commissary to supplement his limited meals, a restriction with little evident connection to national security.[645] (SAMs orders we reviewed typically barred prisoners from access to "any material/objects that could be converted to dangerous objects").
SAMs can also heighten social isolation by blocking prisoners from receiving information about the outside world, including through widely available books.[646] Prison officials initially denied Ahmed Omar Abu Ali access to President Obama's two memoirs, Dreams from My Father and the The Audacity of Hope.[647] SAMs prisoners can communicate with their immediate family members, but subject to restrictions that have no evident and direct connection to the security risk they pose: letters are limited to "3 pieces of paper, double-sided, once per week, single recipient"; family visits require 14 days' notice and can include only one adult at a time.[648]
The Department of Justice, in reply to our letter, wrote that all decisions to house prisoners in "single-cell status" were made on a "case-by-case basis," and that SAMs are not intended to "routinely include complete curtailment of privileges."[649] The SAMs orders we obtained through FOIA do reflect that prisoners sometimes obtained modifications regarding family visits. Yet the SAMs restrictions we reviewed uniformly barred communication with other prisoners, raising the concern that these restrictions were not individualized or narrowly tailored to each defendant, at least initially.[650]
ADX "H Unit" Conditions for Post-Conviction SAMs Prisoners
According to the Bureau of Prisons, 37 individuals under SAMs are held at ADX Florence.[651] We reviewed the SAMs restrictions of 18 of these prisoners about whom the government provided documentation.
All SAMs prisoners at ADX are housed in the Special Security Unit, also known as "H Unit."[652]Prisoners there are held in 22- to 24-hour solitary confinement, receiving a minimum of five hours of out-of-cell recreation a week (half that of ADX General Population inmates).[653] They live in cells that measure 75.5 square feet, so small that prisoners reportedly eat their meals within an arm's length from their toilet.[654] During recreation, inmates pace alone in an outdoor cage, or an indoor room slightly bigger than their cell, and are barred from speaking with other inmates.
Compounding the isolation of solitary confinement are the SAMs bars on communication with the outside world, through letters and phone calls. "For the most part conditions are like those in other solitary units," Uzair Paracha, who was held at ADX Florence from 2003 to 2009, wrote. [655] "[B]ut every inmate there is subjected to the SAMs, cutting prisoners off from the outside world." [656]Paracha described "non-stop hunger strikes" at the H Unit since 2002, when it was created, causing "many illnesses" and "psychological issues" for prisoners there. [657]
SAMs and the Attorney-Client Relationship
SAMs permit the government to monitor any and all attorney-client communications—without first seeking court approval—if federal law enforcement agencies have a reasonable suspicion that a defendant may use the attorney-client communication to "further or facilitate acts of terrorism." [658] Monitoring is permitted "to the extent determined to be reasonably necessary for the purpose of deterring future acts of violence or terrorism." [659] A "privilege team" monitors communication but cannot disclose any information unless it gets court approval. [660] It also cannot retain any communications that are found to be privileged.[661] According to the Bureau of Prisons, as of November 2013 the government was monitoring the attorney-client communications of one prisoner in its custody. [662]
Full confidentiality of communications between lawyers and prisoners is a key aspect of the right to counsel under international human rights law. [663] In practice, "surveillance cannot but have a chilling effect on the attorney-client relationship," a lawyer who has worked with a SAMs defendants notes. [664] "The client sharing information with his attorney has nothing but the promise from the very government prosecuting him that such statements will not be used against him." [665]
In three cases we reviewed, attorneys complained that SAMs undermined their ability to prepare for trial, in particular, due to delays they encountered when trying to communicate with their clients and get information from them. [666] Jay Carney, attorney for Tarek Mehanna, told us that Mehanna's facility repeatedly rejected attorney-client emails he sent to Mehanna and, in one instance, seized as "contraband" evidence that was from the trial (see section III). [667] SAMs also impose restrictions on attorneys themselves, leading to delays in attorneys' communication with potential witnesses, defence experts, investigators, paralegals, and interpreters. [668]
Restrictions on Family Contact
Many prisoners who were convicted of terrorism or terrorism-related offenses are denied any physical contact during visits with their families, meaning they are only permitted to see each other through glass or by video monitor, and speak through a telephone receiver. These include all inmates under SAMs[669]; all inmates at the CMUs[670]; all inmates at ADX Florence[671]; and some inmates held in pre-trial facilities or other facilities post-conviction, according to interviews we conducted.
This is in contrast to general Bureau of Prisons policy, which permits "handshakes, hugs, and kisses (in good taste)" at the beginning and end of visits.[672] Moreover, while the Bureau of Prisons' general policy is to provide inmates 300 phone call minutes a month,[673]in the cases we documented individuals frequently received far less: one 15-minute phone call per month in pre-trial detention and for inmates under SAMs; at the CMUs, two 15-minute phone calls a week since 2009, which may be reduced to a single 15-minute phone call per month under a proposed rule.[674] Where imposed as a regular policy, rather than a punishment, such restrictions could last years or even a lifetime.
Prisoners described the ban on contact visits as exacerbating the pain of solitary confinement or other restrictive conditions. Dritan Duka, who is serving a life sentence at ADX Florence, described the prohibition on physical contact during visits as "the most difficult thing to deal with":
We all want to touch our children. You want to hug and kiss them. You got to be patient. Otherwise you'll break down like other people. … If you're not strong this place will destroy you.[675]
In a phone interview, Aref told us: "My daughter was five years old and I have never hugged or kissed her. I never touched her because she was born after my arrest. If I knew why—but I do not have any reason."[676]
Shukri Abu Baker, a defendant in the Holy Land Foundation case, termed the CMU a "touch of hell."[677] In a letter, he described no-contact visits: "my children…could see, but not touch me as though I had some sort of a contagious disease that the government wanted to protect them from."[678] He also described trying to call his hospitalized and terminally ill daughter after having exhausted his allowance of two 15-minute phone calls and a single "compassion" call:
I would panic thinking she was dying on me….The most dreadful thought I had was that she is gone before could [s]ay goodbye. The CMU has some good compassionate men who tried to help me but their hands were tied up because it was the Counter Terrorism Unit in the [Bureau of Prisons] that managed my communications….all I wanted was to be able to hear the voices of my loved ones and be heard. [679]
As Representative Sheila Jackson Lee emphasized in a 2010 letter to the Bureau of Prisons regarding CMU inmates: "the ways in which prisoners are prevented from maintaining family ties has the possibility to rise to cruel punishment, and serves no legitimate purpose."[680]
Because international terrorism inmates are frequently held at facilities that are hundreds of miles from their families, many of the families we spoke to reported they were only able to visit once or twice a year. This is in contrast to most prisoners' placements, as the Bureau of Prisons' general policy is to place prisoners within a 500-mile radius of their release residence. [681]
The government's stated purpose for imposing these family contact restrictions is to ensure complete audio monitoring of inmate communications and detect terrorist or criminal activity.[682] Yet in practice the outcomes raised human rights concerns by escalating the degree of social isolation beyond what is necessary.
Nor are these restrictions necessary to address concerns about prisoner radicalization expressed by Congress or the Department of Justice.[683] Even assuming that complete monitoring of inmate communications is a necessary and legitimate goal, the Bureau of Prisons could meet it by designing contact visitation rooms that permit audio monitoring, and increasing the resources it devotes to monitoring to permit more frequent and longer inmate phone calls.
URL of Part 8: https://www.newageislam.com/books-and-documents/human-rights-watch/illusion-of-justice--human-rights-abuses-in-us-terrorism-prosecutions---part-8/d/98546
URL: https://www.newageislam.com/books-and-documents/human-rights-watch/illusion-of-justice--human-rights-abuses-in-us-terrorism-prosecutions---part-9/d/98583