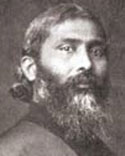 By Hazrat Inayat Khan
When people have evolved further they begin to use a still higher form of prayer. That prayer is the adoration of the immanence of God in the sublimity of nature. If we read the lives of the prophets and teachers from Krishna to Buddha, Moses to Muhammad, Abraham to Christ, we see how they dwelt in the jungles, and went into the forests, sat beneath trees and there recognized the divine immanence in all around them. It is a prayer, not to a God in heaven, but to a God living both in heaven and on earth.
What does praise of God, praise of His creation, praise of His nature, develop in man? It develops in him such an art that nothing can compare with it, a sense of music with which no music can be compared. He begins to see how natures are attracted to one another and how they harmonize […] The causes of all such things become clear to him, when once he begins to see into nature, to admire the beauty of its construction, its life, its growth; when he begins to study nature and its causes.
Those who have praised nature through their art appeal directly to man's heart. Those who praise nature in their music become artists in music, and those who have expressed their praise in poetry and verse are acknowledged as great poets. All of them appeal to the heart of man because they have seen God. They have seen Him in nature and in everything on earth. They have turned earth into heaven. That is the next, the higher step.
Zoroaster has said, 'Look at the sun when you pray, at the moon when you pray, at the fire when you pray.' People therefore call his followers sun-worshippers or fire-worshippers, when all the time this worship was merely a way of directing man's attention to the witnesses of God which express His nature. The one who cannot see any trace of God anywhere else, can see Him by looking at all these beautiful things, and observing their harmonious working.
From beginning to end, the Quran points to nature, showing how in the sun that rises in the morning, in the moon that appears in the evening and in the whole of nature there is God. Why does the Quran always express it this way? If one wishes to have some proof of God one should look at nature and see how wisely it is made. Man with his learning becomes so proud that he thinks there is nothing else worthy of attention. He does not know that there is a perfection of wisdom before which he is not even like a drop in the ocean. Man looks at the surface of the ocean, yet he is so small that he cannot even be compared with one of its drops, limited as he is in intellect and knowledge. He seeks to find out about the whole of creation, whereas those who have touched it have bowed before God, forgetting their limited selves. After that God remained with them and spoke through them. These are the only beings who have been able to give any truth to the world.
As Amir says, 'He who has lost his limited self, he it is who has attained the High Presence.' Do we not forget ourselves when we behold the vision of beauty? If we are blind to beauty we cannot see it, and then we cannot forget ourselves in the beauty and sublimity of the vision. But when we perceive the beauty of nature, we bow our head in love and admiration. As a poet said of nature, 'I cannot study you, for you are too great, you are too beautiful. The only thing left for me to do is to bow my head in prostration at your feet.'
If we could only see this perfect beauty around us, if we only had our eyes opened to it, we should first bow our heads in all humility before ever attempting to make a study of it. No pride could find a place in our heart. Without any doubt we should bow our heads before this beauty, this wisdom of the Creator, the art of the Creator, and His skill which is apparent in the flowers, plants and leaves, in the construction of man – his birth, and all other things in life.
It would suffice did we but once ask how all these things have come. 'Where there are no teeth, milk is given. When the teeth come, the food suitable for the teeth comes also,' the poet says. The eyes are delicate, and so an eyelid is formed for them, to cover them and protect them. How well all the organs of man's body are fitted and suited for the purpose for which they are made! With all this there is also the beauty of the art with which everything is created, and the height of beauty is attained in the skill shown in the making of mankind.
Whoever has seen beauty, has found that beauty cannot exist without wisdom. Wisdom is behind all creation. The one life, which has created the rocks, trees, plants, animals, birds and all things, is both one life and one wisdom. The flower, the leaf, the fruit, and the branches all come from one root, even though they have different names. It is all one. It might be called 'he' or 'she'; yet it is both. When we see that life with wisdom is both he and she, we realize that wisdom which is behind all things that we see; and then we find that what is behind all things is a Person whom we call God.
[Extracted from the section titled "Prayer" in Hazrat Inayat Khan, The Unity of Religious Ideals (The Sufi Message Vol IX)]
URL of Part 8: http://www.newageislam.com/books-and-documents/the-sufi-message--excerpts-from-hazrat-inayat-khan's-discourses-on-the-unity-of-religious-ideals--on-turning-to-god-in-prayer-in-times-of-need-–-8/d/11685
URL: http://newageislam.com/books-and-documents/hazrat-inayat-khan/the-sufi-message--excerpts-from-hazrat-inayat-khan's-discourses-on-the-unity-of-religious-ideals---adoring-god-in-nature-–-9/d/11727