By Farooq Sulehria
March 29, 2014
It will not be an exaggeration to state that progressive Urdu writers have popularised Marxist ideas in the Indian Subcontinent more successfully than the Marxist apparatchik.
Sahir (literally: 'the magician') stands out among progressive poets also because he, as a lyricist, transformed Bollywood music by lending it populistic yet radical flavour. Such was his cult-like status in Bollywood that film promos would highlight Sahir's lyrics instead of the star-studded cast. Also, such was his popularity that when he was once taken hostage by dacoits, they -- on finding out who the captive was -- let him go.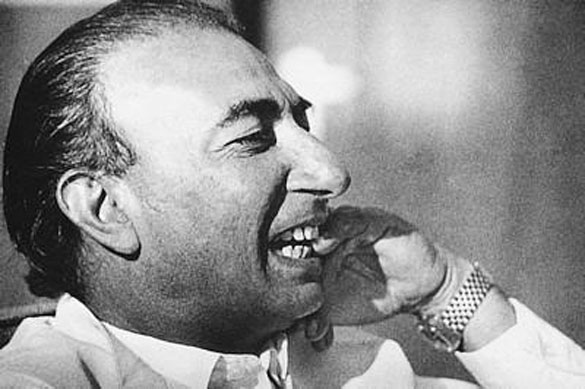 Sahir Ludhianvi
----------
Akshay Manwani's Sahir Ludhianvi: The People's Poet, published in India last year, not merely documents Sahir's cult-like status but also his complex-but-fascinating personality besides engaging with Sahir's socially-engaged poetry and political activism.
After all, the 'three main facets of Sahir: his personal life, his non-film poetry and his career as a lyricist' are so intermingled that even if Manwani's focus and aim was to document Sahir's contribution to Bollywood, he lavishly explores Sahir's troubled childhood and devotes almost an entire chapter to Sahir's passionate love affair with legendary Punjabi writer, Amrita Pritam.
What fascinates Manwani is also the fact that Sahir "drew from his experiences to express himself through the medium of the film song". From childhood memories to college-life's radicalism and his unrequited love affairs, "all channelised to his songwriter". Therefore, he was unlike "his peers who wrote, largely, as per the demands of the script".
Born in Ludhiana, in 1921, Sahir was named Abdul Hayee. When he was three, his parents broke up. His mother, Sardar Begum, had to move the court against his father to secure his custody besides arranging permanent security for Sahir lest his father, Fazl Mehmoud, should kidnap him as he had threatened to.
A secluded childhood, imposed by a security cover, turned Sahir into an avid book reader. He had already attempted composing poetry during his school days and before his matriculation he adopted Sahir, a phrase he picked from Allama Iqbal's poem, as his pen name. During his college days, Sahir became active with the Marxist student body, AISF, but was expelled from college for dating a girl.
He moved to Lahore but was expelled from the Dayal Singh College too for his activism and spent some time at Islamia College without appearing in the BA exams. When the first anthology of his poems, Talkhian, was published in 1943, he became a new literary sensation at the age of 23 despite the presence of such luminaries as Faiz and Josh.
However, soon after Partition, harassed by police and disillusioned by the stifling intellectual atmosphere, he left for Delhi and ended up in Bombay -- also because he always wanted to be a song writer.
In Bombay, he initially struggled. However, 'Thandi Hawain', for the film Noujawan (1951), sung by Lata Mangeshkar, provided the break. Composed by R D Burman, it was an instant hit. For the next three decades, while his lyrics in Payasa, Naya Dour, Kabhi Kabhi and other Bollywood classics elevated him to the status of a film celebrity, he remained committed to his ideals of peace, socialism and women's rights.
Manwani brilliantly explores Sahir's time in Bollywood. Though largely based on Urdu texts, the tome may not offer anything radically new for keen Sahir readers. But it is an excellent introduction for a new generation. Manwani's original contribution, however, is on the one hand, a collection of oral evidence by interviewing Sahir's peers and friends and on the other hand, through the medium of the English language, he has introduced Sahir to a wider audience.
Farooq Sulehria is a freelance contributor.
Source: http://www.thenews.com.pk/Todays-News-9-240938-Peoples-Sahir
URL: https://www.newageislam.com/books-and-documents/farooq-sulehria/people's--poet--sahir-ludhianvi/d/66322