By Farheen Dyala
04 Feb, 2014
What happens when you give Muslim men an open platform to talk about love, emotions, sex and relationships? You get a groundbreaking book of anthological essays, Salaam, Love: American Muslim Men on Love, Sex and Intimacy; a raw, real and unapologetic look into the lives of 22 very different men from various different cultural backgrounds, religious perspectives and ethnic groups.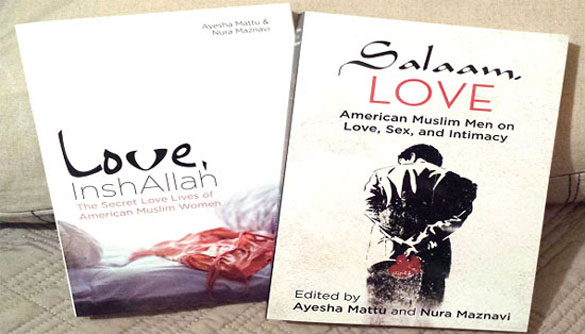 Salaam, Love was edited by Ayesha Mattu and Nura Maznavi. In the introduction, the editors said the decision to compile this book came after the success of their first book, Love InshAllah, an anthological book about Muslim women on the same subject.
"When Love, Insha Allah: The Secret Love Lives of American Muslim Women was published two years ago—a collection in which twenty-five women raised their voices to tell their funny, romantic and moving tales about the search for love—it resonated with countless readers around the world, Including men. They started to ask us, 'Where are our stories?'"
Many times the feelings and emotions of men are held back or pushed to the sidelines because Muslim men are stereotypically seen as dominant or masculine, and therefore lack a space to freely express themselves. "Men without space? It sounds absurd. After all, men dominate corner offices and the upper echelons of leadership and power…but what about the emotional space to be honest and vulnerable about the matters of the heart, without jeopardizing notions of masculinity and manhood?"
The book contains two of the most taboo topics in the Muslim community: the concept of masculinity and an open discussion of sex and relationships, in an effort to let men know that, "by raising their voices, these Muslim men are leading the way for other men to recognize that being open and honest about their feelings is not only okay—it's intimately connected to their lives and critical to their well-being."
In addition to the explanation as to why this book was necessary, the editors also make it clear that this book is not intended as a theological debate. These are real stories of real men: an accurate portrayal of the struggles that many American Muslims face in balancing the dictates of Islam with personal and societal pressures.
The book is separated into three sections, which organize stories into three distinct themes. Umma: It Takes a Village, focuses on the "crucial role that family, friends and community play in our sense of self and search for love." The second section, Sirat: The Journey, discussing "romantic, personal, and spiritual transformation." And lastly, Sabr: In Sickness and in Health, a section where writers, "lift the façade of 'happily ever after.'" The essays in Salaam, Love are humorous, candid and sincere. They are stories about gay Muslims, men who were involved in interracial relationships, extramarital relationships, as well as stories about love, loss and vulnerability.
One story that stands out was by Sam Pierstoff, who was born to a Syrian mother and Kentucky-native father. He recalls his struggle with reconciling both his Islamic, as well as an American identity. Pierstoff's story gives readers a glimpse into the life of someone who, "tethered" or "loosened" the ropes to God, but "never cut them completely." Not only is his story genuine, but it is also familiar and relatable for many American Muslims who share similar struggles. "it was like playing a game of chicken with God. How far could I walk toward the edge of the cliff without falling off?"
Another interesting and entertaining story was by Haroon Moghul, a Ph.D. candidate in Columbia University's Department of Middle East, South Asian and African Studies. Moghul discusses the challenges he faced while being a Muslim high school student in "Prom Insha Allah."
During his senior year, Moghul is determined to go to his prom, and even goes as far as applying for a secret job at Mcdonalds, so that he could afford to attend without telling his parents. Moghul retells his awkward attempts at asking a girl to prom and dating, all the while not knowing anything about sex education.
"Not only did my mom and dad never talk to me about girls, but they also made sure no one else did…The only brown kid. The only Muslim kid. The new kid. I was assigned a project on the solar system instead of sex education." His story leaves readers both cringing at the awkwardness as well as feeling nostalgic about similar high school experiences.
His story caught the attention of National Public Radio, who asked Moghul during an interview the importance behind discussing sensitive topics in Salaam, Love. "I think for a lot of American Muslims, especially those of us who are in some kind of community role, we are forced to become, for lack of a better term, professional Muslims…we were forced to deny a lot of parts of ourselves."
Although the subject matter of Salaam, Love may seem too controversial or taboo to some, it is important to be able to discuss it as a community. The stories in this book illustrate the complex, intricate, honest and uncensored struggles that many Muslims face every day and can help gain understanding and compassion within the Muslim community.
Source: http://www.illumemag.com/zine/articleDetail.php?The-Muslim-Male-Perspective-of-Faith-Love-and-Relationships-14607
URL: https://www.newageislam.com/books-and-documents/farheen-dyala/the-muslim-male-perspective-of-faith,-love-and-relationships/d/35615