By Faiza Rahman
December 4, 2013
In interviews published in The Express Tribune and the London Evening Standard, the ever-discerning Fatima Bhutto discussed the plot for her upcoming book. Indeed, she has amazed us all by the novelty of choosing 'Waziristan' as its setting. In her novel, Miss Bhutto will share her insights on the hitherto unknown sufferings and struggles of the people in that unfortunate location. Needless to say, the manuscript will be excitedly devoured by a readership that has not so much as glanced at local newspapers for two years in a row at the very least. Moreover, that Miss Bhutto features prominently on the contact lists of the global literati and keeps abreast with the latest trends in English literature is glaringly obvious through the refreshing originality of the story's chosen setting. You may now stifle your yawns.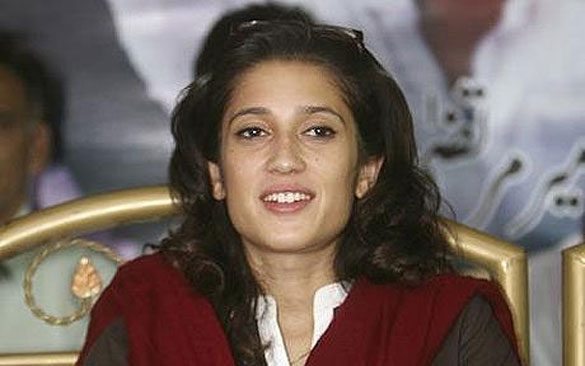 Fatima Bhutto
-------
We, the toiling, whimpering and suffering people of this country — complete with our impaired nerves and all — wish to thank her for soliciting the world's attention to 'Waziristan's' and the rest of Pakistan's sorry state. Her kind efforts are late by only over a dozen documentaries, 10 dozen news reports and thousands of minutes of prime time television.
Now you will know, dear reader, if you have, unlike Miss Bhutto's all-knowing readership, breezed through a local newspaper now and then, that 'Waziristan' is divided into the 'North' and 'South' agencies, whose current on-ground crises are enormously different. You will probably understand that anyone writing any prose on the area should make it amply clear as to which parcel of the territory is being discussed. South Waziristan is in a sort of cliff-hanger situation, with a heavy contingent of troops buffering off a blood-baying enemy which still seems to enjoy some presence there. As far as North Waziristan is concerned, once in every three or four weeks, reports of a drone missile and blast casualties from the agency compete fiercely for front-page space with even the most chilling of stories from other parts of Pakistan.
But Miss Bhutto knows better. Tapping on to her marvellous literary acumen, she has decided to choose 'Waziristan' as her story's setting because "unlike Peshawar, Bajaur or Bannu", 'Waziristan' (deciphering whether she means North or South is a task bequeathed unto you) is devoid of "too many prejudices such as the Taliban and drones". Did you hear that, reader? All of 'Waziristan' is now free of drone strikes and the Taliban! Thank you for opening our eyes, Miss Bhutto! That easily makes for tomorrow's front page lead, unless the entire global literati dies of consuming factually inaccurate fiction. Are you, by the way, looking for a job as a reporter?
Those whose eyebrows disappeared into their hairlines after reading her candid views would agree that she, of all people, is an authority on the humanitarian crisis in 'Waziristan'. Because, you see, she has probably done exhaustive research on 'Waziristan' and has lived there for years. She is also probably quite fluent in the language of the area, using which she has been regularly holding intimate conversations with the locals, who have been confiding into her about their deepest "fears and longings" without any qualms. We wonder, madam, if you baked them any croissants as a thank you gesture?
We also wonder how and when Miss Bhutto was afforded such rare and comprehensive access to the local population in 'Waziristan', the sort which would turn any ambitious Pakistani reporter green with envy. It is marvellous to note that while flitting about from lit-fest to lit-fest, taking the tube in London, jogging at parks, baking croissants and mouthing off pearls of wisdom to foreign publications, Miss Bhutto has somehow managed to frequent the tricky terrains of 'Waziristan' quite regularly. Not to mention mastered the local tongue and struck a reliable camaraderie with its residents, a feat which would demand at least a decade of focused efforts if you happen to not be Miss Bhutto.
Bravo, Miss Bhutto! Congratulations on this achievement. Congratulations also, Madame, for the fresh ambassadorial status you have come to enjoy. Newspapers shower you with attention and social media users follow you around like puppy dogs. Your political lineage, 'Bond-Girl looks', enigmatic single status and prestigious schooling all come quite handy in masking the drivel that escapes your lips. Pray, tell us madam, if you are aware of the resolutions passed to offset the evils of the Hudood Ordinance by leaders of the very political party whose glory you never fail to bask in? Are you aware, madam, of the Lower House legislations passed to fortify women against harassment and discrimination in the last tenure?
No, Miss Bhutto, the Pakistani woman is not always a helpless, sobbing victim. Unlike what you think, women here can easily wade through the Karachi streets, sit in the legislatures and fight battles. A million voices have been raised in your country against the very ordinance you have been generously citing to smear your country's already-tainted image with. All of which you are doing "out of love", we understand.
One day, Miss Bhutto, you will realise that loving this country is not as trifle a task as penning paradigm-shifting fiction from seven seas away. Tell us, Miss Bhutto, if you know what it is like to cast a vote at a sensitive polling station, while knowing that this might be the last thing you ever do, but going ahead and doing it all the same? Tell us, Miss Bhutto, if you know what it is like to be the Jiyala who takes a precarious bus ride to Garhi Khuda Bux in the sweltering heat to weep on the graves of your deceased family members? Tell us, Miss Bhutto, if you know what it is like to get baton-charged by the police while shouting yourself hoarse at a street protest? Tell us, Miss Bhutto, if you have ever had any tender thoughts for the men who emerge out of nowhere to assist you when your car runs out of fuel on a busy Karachi street during rush hour?
No, Miss Bhutto, you have had no such thoughts. Because, Miss Bhutto, despite your Columbia degree, much wealth and many travels, you have failed to venture far enough for your car to ever run out of fuel.
Tailpiece: The "highly fictionalised" town of Mir Ali is quite a real town with geographical coordinates 32°59'4N 70°15'24E. Good day.
Faiza Rahman is a sub-editor for the Editorial pages of The Express Tribune
Source: http://tribune.com.pk/story/641010/done-in-by-bhutto/
URL: https://www.newageislam.com/books-and-documents/faiza-rahman/'waziristan'--done-in-by-fatima-bhutto/d/34719