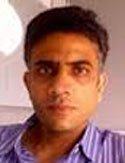 By Aakar Patel
February 9, 2014
There is not a single proper bookshop in Surat, which is remarkable for a city of over four million people. Growing up there 30 years ago, the one place I could buy a few books was the one selling textbooks, which also stocked novels and comics, a place which was less than 10 feet by 10.
When the bookstores chain Crossword opened stores across India, with many in each city and often more than two in one neighbourhood, it didn't come to Surat.
And why would it? There aren't many buyers and fewer readers in that culture. Gujarat has its charms and the ability to make money is chief among them but it is not the place to nourish the intellect.
Bombay is a little different, though not much. Of course, there are dozens of bookstores in that city and all are doing well. And the Strand Book Stall Sale, run by one of the city's oldest stores, is an annual event attended by thousands looking for a good deal or who are there just to browse.
But the nature of the books sold, even at this large sale, is actually quite limited. There are the classics and the big-name current authors, there are a few tables of non-fiction, history and biography, some coffee table works. There is a large section of self-help and software.
And all of the works are in English. This is what makes the Calcutta Book Fair, which ends today, February 9, so different and truly special.
It operates on a scale that is impressive even by global standards, but it is local in a way that nothing else in India is. This is how a report on The New York Times' website described it:"Organised by the Publishers and Booksellers' Guild at the Milan Mela Ground, the annual book fair, which begins Wednesday at noon and runs through February 9, is the largest retail book fair in the world and an important event in Kolkata's literary and cultural scene.
"The book fair, open from noon to 8pm, will include 770 stalls spread over 18 acres (800,000 square feet), offering books in English, Hindi, Bengali and many other languages. Publishers from 29 countries are participating. From Bangladesh alone, 25 publishers will be in attendance. About 200 stalls, housed in the Little Magazine Zone, are dedicated to small magazines — independent, experimental and non-commercial publications."
I went there without anticipating the idea that the fair's popularity — it is in its fourth decade — comes mostly from the sale of Bengali books.
Those hundreds of stalls were made up by publishers as much as by bookshops and there cannot be many places around the world where there are as many small publishing houses as in Calcutta.
It is true that a lot of the works on display were from the old writers, Tagore, and also the writers of the Bengal renaissance before him, but a lot of them also weren't.
There was, for example, Nandimukh, a small publisher of new poetry (how much new poetry is being written and read in English or your language?). And there was Gaangcheel, a publisher of new fiction which was listed in a catalogue with a few sketches.
The thing about the Bengali language is the beautiful typography. One is struck by this immediately on the streets of Calcutta. The quality of signage, even from small advertisers is much better than in other cities, and it is often first rate.
This sense of design comes to Bengali publishing in the form of some of the most lovely covers imaginable. The default is an illustration, rather than a photograph, or some sort of abstract design. It is the rare book that is ugly to look at.
It was true also of the books in the two dozen stalls the Bangladeshi publishers had set up in one area. And here also, the section on software (with books written in Bengali) was full as is always the case in any part of India.
Elsewhere, there were several stalls selling Tableeghi and other Islamic literature in Bengali. There also were a few set up by the communists, selling the works and posters and T-shirts of Marx and Engels. One had posters of Che Guevara and Jyoti Basu and Sudipto Gupta ("our comrade," the girls at the counter said), a student member of the communist wing, the Students Federation of India, killed by the Calcutta police a few months ago.
The crowds at the fair were huge, as large as at one of India's religious festivals and the atmosphere was as uplifting.
Aakar Patel is a columnist. He is also a former editor of the Mumbai-based English newspaper Mid Day and the Gujarati paper Divya Bhaskar aakar.patel@tribune.com.pk
Source: http://tribune.com.pk/story/669252/the-culture-of-reading/
URL: http://www.newageislam.com/books-and-documents/aakar-patel/calcutta-book-fair---the-culture-of-reading/d/35666