By New Age Islam Special Correspondent
19 July 2014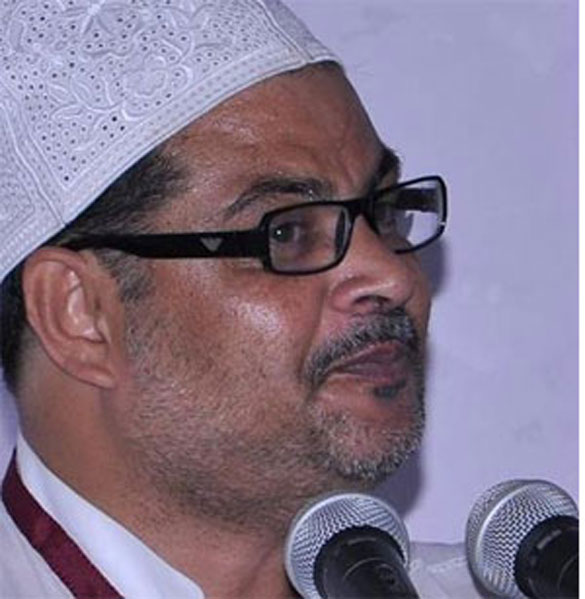 General Secretary of the All India Ulema & Mashaikh Board (AIUMB), Syed Babar Ashraf
---------
"Any ideology that peddles hatred, intolerance and extremism should be severely and unreservedly condemned. Maulana Salman Nadwi's letter has clearly proven that there are petrodollar-funded Wahhabi organisations in India that are working at the behest of Saudi Arabia to propagate Wahhabism, the official ideology of the Kingdom. Maulana Nadwi's letter should be taken as a clear warning of an imminent danger. The government should keep eye on all activities of the Wahhabi organisations in India," said the General Secretary of the All India Ulema & Mashaikh Board (AIUMB), Syed Babar Ashraf.
The Sufi leader claimed that the supporters of ISIS are also at work in India through organisations with different names and they have already pledged their allegiance to Wahhabi/Salafi ideology by organising meetings and protests in favour of Saudi/Qatari Wahhabi/Salafi movements in Qatar and other Muslim nations. He alleged that "the prime concern of nearly all Wahhabi movements in the country is to weaken the democratic system and sabotage the pluralistic values of India. But sadly the government falls prey to their strategies and destructive designs impressed by their large seminaries, towering buildings, large-scale conferences and wealthy madrasas funded by the foreign Wahhabi sources".
All India Ulema & Mashaikh Board (AIUMB) is an apex body of the mainstream Sunni-Sufi Muslims of India. It has organised several Muslim Maha-Panchayats and conferences in different states including the national capital Delhi. On all occasions, it has also sent memorandums to the government detailing AIUMB's assessment of the worsening situation in our country created by the foreign institutions and individuals who aim at transforming India into a hinterland of Wahhabism.
Recently, when Indian Maulana Salman Nadwi's letter extending congratulation and support to the self-styled Islamic caliph Abu Bakr Al-Baghdadi of ISIS created sensation in the country, this New Age Islam correspondent met the General Secretary of the All India Ulama & Mashaikh Board (AIUMB), Syed Babar Ashraf to know what he felt about this dangerous development. Here are the main points that Mr. Babar Ashraf stressed upon in his response to our questions:
Syed Babar Ashraf said that the "mainstream Sunni Muslims of India strongly believe that ISIS is a terrorist organisation carrying agenda of Saudi monarchy to create hegemony in Muslim world through chaos and anarchy caused by by killings innocent human beings, and vandalizing rich cultural and historical heritage of Islam, belonging to both Sunnis and Shias traditions.
Mr. Syed Babar Ashraf continued: "Whatever is going on in Iraq today under the banner of the mischief-monger ISIS is the same that happened in peaceful and progressive Muslims nations like Tunisia, Libya, Egypt, Syria, Nigeria, Mali and our neighbouring countries Afghanistan and Pakistan. Much in the same way, in the war-torn Iraq, innocent civilians are targeted by extremist Wahhabis/Salafis under the banner of ISIS. Their cultural heritage is being vandalized, mosques are being razed, Imam Bargahs are bombed and other monuments bulldozed. Clearly, this is not true Islam. This band of savage murderers of the ISIS is led by Abu Bakr Al-Baghdadi, who is a known Wahhabi-Salafi extremist and a declared terrorist".
He went on: "Cultural assets are main targets of Wahhabis wherever they go and perform the dance of destruction. Be it Buddha of Bamiyan or Bibi Zainab's shrine in Syria or books and manuscripts in Mali. Even eminent Sufi ulema and scholars of other nations were victimised by their targeted killings in Iraq. The targeted killing of the rising Sunni-Sufi Islamic scholar Allama Usaidul Haque Qadri of Khanqah-e-Badayun (Uttar Pradesh) in Iraq is a recent and a very painful example", said Mr. Babar Ashraf.
On behalf of his organisation, Mr. Babar Ashraf, General Secretary, AIUMB, said: "AIUMB has condemned the declaration of Caliphate in illegally captured areas and also criticized Baghdadi for his self-declaration of Khalifa. He said that the global chaos and anarchy created by the Wahhabis is proof enough that doom and destruction is fated to be the destiny of any country that provides the Wahhabi/Salafi elements with space to flourish in their society, as has happened in our neighbourhood."
Mr. Babar Ashraf continued: "It is distressing to see that India is not only importing oil and gas from Saudi Arabia and Qatar respectively but also an extremely radicalised Saudi/Qatari/Wahhabi/Salafi ideology along, which is totally against our ethos and very much detrimental to the national interests including internal security."
He said: "The petro-dollar-funded Wahhabi elements have already done irreparable damage to the pluralistic Indian society by radicalising many Muslim youth." In evidence of his statement, he cited the example of the Indian Wahhabis/Salafis who organised several protests in favour of the Muslim Brotherhood (which has been declared as a terrorist organisation) in different parts of the country in the recent past. Syed Ashraf said that while the Wahhabis supported the terrorists, the mainstream Indian Muslims i.e. Sunni-Sufi Muslims strongly resisted them every now and then.
Lamenting the sorry state of affairs, Syed Ashraf said that "handing over management of Muslim affairs and Muslim Auqaf to Salafi/Wahhabi organisations at the behest of Saudi/Qatari/Wahhabi regime and making them engine of propagation of Wahhabism will in no way serve the country or the community".
Explaining how the Wahhabis managed for their ideology to creep into the peaceful pluralistic Indian society, Syed Babar said that the Wahhabi organisations, seminaries, clerics and their political representatives start their campaign in the name of socio-religious reforms and after creating some space for themselves in the society they take up their hidden political agenda to capture power and dictate terms to the government.
Exposing the deep-rooted radicalism in the Wahhabi literature, he said that "there is a dire need for adopting a comprehensive curriculum in madrasa to imbibe the correct and broader understanding of Islam in the minds of young Muslim students. This is a pressing need of time, because Wahhabi/Salafi Maulvis have imposed their extreme ideology through the books written for students creating in the immature minds of the children impressions antithetical to the ethics of Islam and humanity."
Syed Babar continued: "Not only should the madrasa curriculum but also the syllabi of the Islamic studies being taught in the secular universities be reviewed. For the Wahhabi maulvis have drafted syllabus of several boards and universities and everywhere they have tried to install the Saudi-supported Wahhabi agenda, influence new and impressionable minds and propagate their extreme ideology which is inconsistent with the peaceful teachings and message of Islam." He suggested that the government should ensure that Indian Sunni-Sufi scholars are appointed in schools, colleges and universities to teach the students true Islamic teachings."
URL: https://www.newageislam.com/the-war-within-islam/new-age-islam-special-correspondent/talking-to-new-age-islam,-sufi-leader-syed-babar-ashraf-accuses-wahhabi-movements-in-india-of-seeking-to-weaken-the-democratic-system-and-sabotage-the-pluralistic-values-of-india/d/98203