Since I made the point that reversion of growing Salafism and religious extremism has become impossible in South Asia, especially in Pakistan and India, and in future not only the world would be its victim, but the local societies would also be embroiled in it, some of our readers are not happy with and they think that I exaggerate to strengthen my argument. The best answer could be that I write minimum from my side and listen to Salafists' argument by quoting their own references. We are well aware of Dr. Israr Ahmad's saying about the Ahmadis and are quite sure that no Pakistani Ahmadi would have been left alive if he had a little power.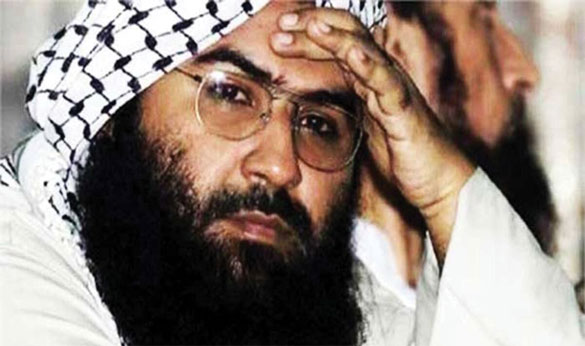 Masood Azhar
-----
The greatest friend of al-Qaida and Taliban in Pakistan, from sectarian war in Punjab to Jihad in Kashmir the always leading Maulana Masoud Azhar (who was negotiated free from an Indian jail in ransom for a highjacked Indian passenger airliner by Taliban) is again ahead in extremist writing nowaadays. Maulana Masoud Azhar whose presence in Pakistan is denied by Pakistani security institutions is publishing newspapers and journals from almost every big city of Pakistan. His has exemplary Jihadist writing credentials, and can always be found busy in Jihad by writing either using his real or pen names. He uses his real name to speak to the future mothers who would sacrifice their loved sons in the name of jihad inspired by his Jihadist writings in "Bannat-e-Ayesha" (a women's Jihadist journal). The place of publishing is written as Karachi on the title of the approximately two hundred pages monthly journal, but in fact all the publishing related work is done in a corner of Jamia Usman-o-Ali (the headquarter of the banned Jaish-e-Muhammad) situated in the southern Punjab's city of Bahawalpur.
The jihadists of JeM publish this magazine for Deobandi seminaries spanned all over Pakistan, and for common members using a modern printing press. Similarly Masoud Azhar and company are publishing weekly "Al-Qalam" for the last eight years upon which the publishing place is printed as Peshawar. With size of eight newspaper pages this magazine is leveling ground for Al-Qaida, Taliban and sectarians in Pakistan through its writings. The leader of JeM, Maulana Masoud Azhar writes most frequently in this weekly. His pen name is "By Sadi's Pen" and the title of the series of his writings is "The Colour and Luminosity", but in his writings the colour is of blood and the darkness of death represents luminosity. In the edition of December 2009 Maulana Masoud Azhar writes that "Gods glory and blessings go with a suicide bomber as he moves around and the blessed angels spread their shade over him". Right beside the logo of "Al-Qalam" the pictures of devastation caused by the Jihadist attacks all over the world during last two decades are published to commemorate that devastation in which countless innocent people died. It's clearly saying: This is our introduction and we will continue this tradition.
How does Maulana Masoud Azhar, who the federal government and powerful secret organizations claim is absent from Pakistan, look at elections with so many transgressions of Sharia? Maulana Masoud Azhar writes in the latest edition of Al-Qalam, "11th May is nearing, it is not confirmed whether there would be elections or not! If it would be then who would lead? There are so many candidates in each constituency that the ballot paper might have to be some yards long. Political leaders are now revealing each other's secrets everyday. It is heard that disgraceful evidentiary videos are being uploaded against each other on the internet. Oh believers! It is a great sin to watch such a video in which any disgusting sin of some known person is shown. Another big problem is the house invasion by PTI and some other parties. Not only men but women are also rushing into the houses wearing veil-less dresses or fashionable "Burqas" to convince people to vote for their party. Not known who told these poor people that the Captain is some sort of rescuer who would flow streams of honey and milk in the country. Captain is the same like Zardari and Nawaz Sharif. The system of this country is too complicated to be changed by even the most pious person.
Unless government is corrected using true Islamic laws, nothing can change. PPP is an oppressor, PML (N) is dangerous and the Captain is double dangerous. Oh Allah where should poor Muslims go! Bless us! We the Muslims are not disappointed by the grace of Allah and one day the sacrifices of the Mujahideen and the efforts of the pure hearts would result in a rule of Belief and Peace over this land".
Maulana Masoud Azhar writes in the December 2010 edition of Al-Qalam: "It is awful to see people who cling to the glory and blessings of Allah suffer. Today infidels and all the enemies of Islam, from Afghanistan, Iraq to Palestine and in other Muslim countries, are killing Muslims and want to end Muslim power. But the glory of those Mujahideen should be observed who have vowed to take revenge from the enemies of Islam and are not hesitating to pledge their lives to please Allah and his Apostle.
"When a Mujahid covers his body with explosives for a suicide strike, Allah's blessing is bestowed upon him and angels follow him wherever he goes, in quest of his target. With Allah's blessing, when he succeeds in finding a target, his happiness is immeasurable as Allah shows him the scenery of paradise, where seeing his seventy two beautiful wives awaiting his arrival, the desire of martyrdom increases in his heart. Once he reaches his destiny, that is martyrdom, a fountain of heavenly fragrance gushes forth from his injured body."
Al-Qalam the spokesperson of the banned organization Jaish-e-Mohammad can be obtained from newspaper stands, book sellers of all big and small cities of Pakistan; on the other hand government has officially banned all the publications of Maulana Masoud Azhar and his organization. Weekly Al-Qalam is taught in thousands of Deobandi seminaries all over the country and some known journalists write columns supporting Jihadist and sectarian ideas in it using their pen names.