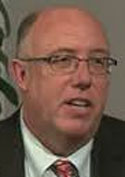 By Bruce Riedel
September 5, 2014
Ayman al-Zawahiri, al-Qaeda's Egyptian emir who lives in Pakistan, released a 55-minute video this week announcing the formation of a new al-Qaeda organization to "return Islam's rule" to the Indian subcontinent. The video is Zawahiri's first this year and threatens a wave of jihadist attacks are coming to India. Zawahiri, normally very loquacious, failed to discuss the jihad in Iraq and Syria or Caliph Ibrahim (Abu Bakr al-Baghdadi).
The new group is called al-Qaeda in the Indian Subcontinent (AQIS), and Zawahiri named as its leader Asim Umar, a Pakistani who had written previous messages for al-Qaeda threatening India. Last year, Umar said to Muslims in India, "You ruled India for 800 years," and that it was time to return to the Islamic rule and law across the subcontinent. This ideological fantasy of restoring the Mughal Empire in India is not unique to al-Qaeda; other terror groups in Pakistan share it.
Zawahiri has long been interested in India, and his propaganda since the 1990s has portrayed Hindu India as part of the Zionist-Crusade conspiracy against Islam. He also has long-standing ties to Lashkar-e-Taiba (LET), the Pakistan-based terrorist group that attacked Mumbai in 2008 and also calls for restoring Mughal rule. Al-Qaeda worked closely with the American David Headley — who helped plan the 2008 attack for LET — on a plot to attack Copenhagen in 2009 with LET, which was foiled when the FBI arrested Headley in Chicago. This June, LET attacked the Indian Consulate in Herat, Afghanistan, in an attempt to kill and capture Indian diplomats on the eve of the inauguration of India's new Prime Minister Narendra Modi. The plot was foiled by the consulate's body guards.
Modi is an attractive enemy for al-Qaeda. His controversial role in riots that swept his home province of Gujarat in 2002 has made him a hated figure in Pakistan and among some Indian Muslims. Zawahiri made several references to Gujarat in his video message.
The Indian government has taken the threat seriously. Many Indians believe the Pakistani intelligence service, the ISI, has been helping al-Qaeda for years and provides protection for Zawahiri's hideout in Pakistan. Some 15% of Indians, roughly 175 million people, are Muslim. An Indian Muslim was recently killed in Iraq fighting with the Islamic State (IS).
Zawahiri made no mention of IS or its leader Baghdadi in the video. Nor did he comment on Baghdadi's claim to be Caliph Ibrahim who is leading the new caliphate. There are some allusions in the video to avoiding discord among Muslims and treating local populations humanely, which can be read as oblique criticisms of IS — but they are indirect at best.
As he often does, Zawahiri reiterated his loyalty to Mullah Mohammad Omar, the leader of the Afghan Taliban. Like Osama bin Laden, Zawahiri has consistently labelled Mullah Omar the commander of the faithful. Some observers also see this as a veiled critique of Baghdadi. However, it's more likely just a recitation of Zawahiri's record.
Zawahiri is not usually taciturn. He has said little or nothing about Baghdadi and IS since the fall of Mosul to the Iraqi group this summer. Earlier this year, Zawahiri had publicly expelled Baghdadi and IS from the global al-Qaeda movement for operating in Syria. Zawahiri said then that IS should concentrate its activities in Iraq and leave Syria to the al-Qaeda-affiliate Jabhat al-Nusra.
Zawahiri could break his silence on Iraq at any moment, so it's wise not to read too much into his failure to speak so far. He may simply not want to escalate the war of words with Baghdadi. Zawahiri hated Baghdadi's predecessor, Abu Musab Zarqawi, as head of al-Qaeda in Iraq, but he was always careful not to break with Zarqawi in public. He may feel the same policy makes sense now that Baghdadi and IS are so successful, at least for the moment, in Syria and Iraq. In any case, IS and al-Qaeda are now competitors for command of the global jihad and al-Qaeda is making South Asia a top priority.
Source: http://www.al-monitor.com/pulse/originals/2014/09/al-qaeda-expansion-in-india-al-zaqahri-rival-islamic-state.html
URL: http://www.newageislam.com/radical-islamism-and-jihad/bruce-riedel/al-qaeda-s-zawahiri-eyes-india-but-stays-silent-on-islamic-state/d/98995