By Tamer al-Samadi
June 20, 2014
In his modest house located on a hill in a marginalized and poor neighborhood in the city of al-Rusaifa, which is adjacent to al-Zarqa, the stronghold and origin of the Jordanian Salafist jihadist movement, Sheikh Isam al-Barqawi — known as Abu Muhammad al-Maqdisi — receives his followers coming from Ma'an, Amman, Salt, Irbid and a number of Palestinian camps. These cities and communities have sent hundreds of their youth to fight in Syria, Iraq and other countries. This meeting took place after four years in detention, which ended a few days ago, after he was convicted on terrorism charges.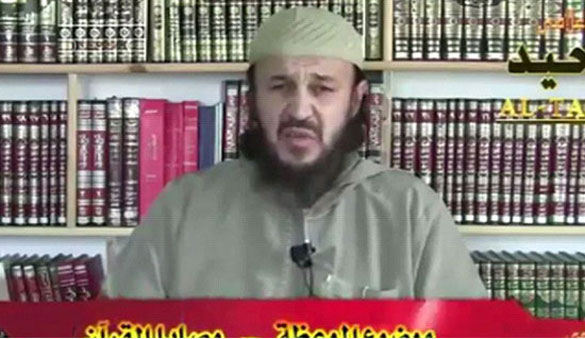 Abu Muhammad al-Maqdisi in a screencap from a videotaped sermon on the Quran on YouTube, uploaded Oct. 22, 2013. (Photo by YouTube/Minbar Tawheed)
---------
Maqdisi is the theorist and spiritual mentor of the Jordanian Salafist movement, and one of the most prominent Salafist figures in the world.
His many jihadist followers describe him as "a sheikh with his own school of thought" and "a Mujahid Imam."
Al-Hayat visited and met with Maqdisi at his place for hours, after he served his complete sentence in the Jordanian Armimin Prison. We also met with a number of his Jordanian comrades and followers, some of whom have recently returned from the fighting camps in Syria, while others are determined to leave to Iraq again, where "their fellows," including Jordanians, are determined to accomplish their promised dream of declaring the establishment of "the state of Islam."
At his place, which is one of the hundreds of houses built with mud blocks stacked on top of each other in the crowded neighborhood, the Salafist mujahedeen were gathered on that evening to congratulate Maqdisi and themselves for his release.
In the small rooms dedicated to receive visitors, they sat and chatted with him, after he served more than 16 years in Jordanian prisons starting in 1993.
The meeting was more like a festive carnival, the jihadist way. Inside those rooms, there were green plastic chairs to accommodate the large numbers of visitors, namely the elderly and youth growing their beards and hair. Some wore long white garments (dishdasha) and others Afghan dress, which used to be worn by the Jordanian Afghans who fought under the banner of al-Qaeda in Afghanistan, the country that for decades has embraced thousands of jihadists from various countries, and where big numbers of Salafist fighters traveled from Jordan.
There were also men in the prime of life wearing military uniforms, whose long hair hung over their shoulders from under black turbans and hats.
Some were just arriving from the strongholds of the fighting. One told Al-Hayat that his serious injury required him to return to Jordan for treatment, while another refused to disclose the reasons for his return and a third avoided speaking for security reasons, as he put it.
Amid this scene, some of the siblings and sons of Maqdisi showed up carrying round trays to serve sweets (Kunafa Nabulsiya) and bottles of cold juice.
This image was an expression of the family greeting its guests.
One guest was a 20-year-old young man named Qatada. He is the eldest son of the prominent cleric Omar Othman (Abu Qatada), who is on trial in Jordan on terrorism charges since he was deported from London to Amman in July last year, and is waiting for the court ruling to be issued by the end of the month.
This was the first time that Qatada, wearing a brown dishdasha and growing a beard, showed up at a public occasion for followers of the Jordanian jihadist movement, since he returned from Britain with his father.
Qatada and Maqdisi gave each other a warm hug that captured the eyes of the audience. Qatada (whose father called on his disciples from inside the prison to comply with the fatwas issued by Maqdisi) sat next to Abu Muhammad. Along with his host, he received the guests and chatted with them.
Maqdisi smiled at all times during this meeting, despite the sadness that filled his heart after he was separated from his wife, who died while he was in prison. The first thing he did after he was released was visit her grave.
But his sadness was due to other reasons that he did not disclose. His release came amid a sharp division and infighting between the two wings of the movement in Syria — the Islamic State of Iraq and al-Sham (ISIS) and Jabhat al-Nusra. This division found its way into the ranks of his Jordanian "fellows."
It is true that feelings of joy for the release of Maqdisi prevailed over the gathering, but the guests were hiding something. Some of the men present follow Jabhat al-Nusra and are ready to go the extra mile for it. Others follow ISIS and could not hide their joy for the "surprising" advancement that was achieved by the organization in Iraq over the past few days, but they were moving away from the eyes of the media.
The presence of ISIS supporters did not surprise the closest circles of Maqdisi, who expressed hard-line and unprecedented stances toward [ISIS leader] Abu Bakr al-Baghdadi and his country when the latter was detained.
A theorist of the Salafist movement in the tribal city of Salt — which is 20 kilometers [12 miles] from Amman, and where dozens of its residents died during the battles al-Qaeda fought outside Jordan — said, "Their [ISIS and Jabhat al-Nusra supporters] arrival is not surprising. … They may be seeking to influence the image the sheikh has regarding the ISIS practices, particularly since many of them believe that he was probably given erroneous information while in prison."
He continued, speaking in a low voice, "Some of them want to make sure that the sheikh was not under pressure concerning what he said, and some wanted to show another image [of ISIS], while others who are away seek the truth. They all know very well that Maqdisi is an important reference that they cannot disregard."
He said, "Maqdisi will seek to heal the rift and defuse the crisis between those touched by the dispute … and we have to admit that the movement is witnessing a sharp division, and the first priority of Maqdisi, as he assured us as soon as he was released, is to unite the ranks and organize the internal structure."
The movement seemed to be scattered and in need of restoring cohesion. The confused and tense atmosphere prevailed, although invisible.
Yet, an elderly man stood up and publicly demanded that Maqdisi ban the guests from raising the issue of differences between the two wings of the movement, on the grounds that this occasion was not dedicated to the discussion of such matters.
This man, Abu Abdullah, who looked defeated by illness since he was praying on a plastic chair (as opposed to prostrating on the floor), pointed at a corner where a group of youth was sitting and whispering about the manifestations of the dispute between the supporters of ISIS and Jabhat al-Nusra.
Yet, Maqdisi was determined not to handle the dispute at the reunion.
The demand by the man, who seemed to be one of the most prominent supporters of the ISIS approach, jokingly told everyone, let's close the book and put it on the shelf.
Maqdisi was intent not to delve into the division, even temporarily, to the point that he refused to even talk to the very small number of journalists who were allowed to attend the reunion. He also refused to talk about his recent letters that included harsh and unprecedented criticism toward ISIS, and contented himself with saying that he will seek to carefully examine the situation before declaring any position.
Munif Samara, a prominent jihadist from al-Zarqa (a reservoir of Palestinian Salafists), who is the closest to Maqdisi, explained that Maqdisi is reluctant to talk, saying, "He chose not to speak at this stage in particular, because he is collecting information, and he wants many facts to be revealed."
"The priority of the Mujahed Imam at present is to make rearrangements and unite the ranks of the movement, following the disputes on the jihadist arena lately," Samara said. "The fellow mujahedeen are eagerly awaiting for Maqdisi to unite their ranks."
The jihadist movement in Jordan is undoubtedly divided, although it is a difficult part of the regional and international equations.
Samara's words were consistent with those of the Salafist leader in south Jordan, Mohammad Shalabi, aka Abu Sayyaf. The latter knows many of Maqdisi's secrets and is deemed to have been his closest associate when he was in prison. Abu Sayyaf was responsible for receiving and leaking Maqdisi's letters to the media.
Shalabi came as fast as he could from the city of Ma'an, which lies deep in the desert 160 kilometers [100 miles] south of Amman, with a large number of jihadists, to the house of Sheikh Maqdisi. He rushed to describe the latter as "a sheikh with his own school of thought," congratulated "the entire world" on his release and wished that God "would release the Muslims lying in Jordan's prisons and jails."
Abu Sayyaf said, "The whole world awaits a word from Sheikh Maqdisi, and the Muslims particularly, as they see him as an imam with a school of thought of his own and are waiting for any guidance from him. … If he asks us to go right, then we will. If he asks us to do otherwise, we will abide."
Awaiting a Decisive Statement
Concerning the criticism made by Maqdisi against ISIS during his stay in prison, Abu Sayyaf said, "Sheikh Maqdisi issued some statements about the situation in Syria, and some questioned the validity of these statements." He added that "everyone is waiting for Maqdisi to see whether he will confirm the statements he issued or announce that the information he was receiving was misleading."
"We are confident that the sheikh cannot be deceived, and even during his stay in prison, the image was very clear," he said.
Abu Sayyaf, around whom many jihadists rallied during that meeting, managed to garner broad support from the marginalized youth in southern Jordan while he spent 10 years behind bars because of the activities associated with the Salafist jihadists, including a plot to attack US troops in Jordan, but he does not care about what appears to be subject to control.
He participated in armed clashes with security forces in 2002, which earned him the sympathy and enthusiasm of the movement's youth members.
An expert on fundamentalist movements, Hassan Abu Haniyeh, who moved from being a jihadist to being an expert on al-Qaeda affairs, said, "We have to realize that Maqdisi is influenced by reality, and that the Iraqi earthquake caused by ISIS has prompted many jihadists, mainly Maqdisi himself, to take a step back and take a great deal of time to recalculate their positions, after deciding to support Jabhat al-Nusra."
"They do not want to appear as enemies of Iraq, especially after ISIS managed to earn large sums from the people of the Sunni community there, and even represent them," Haniyeh said.
"Maqdisi is likely to review the positions that he announced in prison, and will await the developments of the situation in Iraq and possibly the reactions. … During the last few days, the tone of jihadists seemed to be changing across the social networking sites when talking about the role of ISIS and the position on this organization — except for some hard-liners — due to the sudden developments taking place in Iraq," he said.
Haniyeh said, "The insistence by Jordanian supporters of ISIS to visit the house of Maqdisi reflects messages of rapprochement by the organization (which lacks dependable Sharia jurists) toward this reputable religious authority and confirms its quest to gain his friendliness at best or to keep him silent or impartial in the worst case scenario." He considered that "his silence may last long."
However, Wael al-Batiri, a researcher in Islamic movements who works for Al-Sabeel newspaper (which is close to the Muslim Brotherhood), said, "Maqdisi's position toward ISIS is constant and does not change, and he emphasized on numerous occasions that he draws his opinions about the situation in Syria based on confirmed news conveyed to him by reliable sources."
"Certainly at this time, Maqdisi first wants to mend his familial situation after the death of his wife, in addition to the internal organization of the movement, since difference of opinion created division and fissures in the Jordanian Salafist structure. He certainly does not want to widen the circle of conflicts and create frictions within the organization right after his release from prison," Batiri added. "Maqdisi was accused by ISIS of taking a position rejecting its actions while he was in prison and the prisoner's opinion is not taken into consideration, since he is not familiar with the reality on the ground. He wants to refute this accusation bit by bit in such a way that when he expresses his decisive opinion, ISIS will not be able to invoke the pretext of imprisonment."
Fighters in Syria
Batiri expected that Maqdisi's silence will not last for long. "It is expected that he will express his final position within a maximum of one month," he said.
The jihadist Salafist movement in Jordan encourages the flow of its fighters into Syria and their engagement in confrontations with President Bashar al-Assad's forces. According to the current leadership of the movement, there are more than 2,000 Jordanian fighters divided between the battalions affiliated with Jabhat al-Nusra and ISIS, and dozens of them were killed. The Jordanian government is trying to prevent these fighters from crossing the border to join the long, drawn-out battle.
The authorities had arrested hundreds of Salafists before they were able to enter Syria and some of them are facing trial before the State Security Court. Jordanian officials said that the army and security forces were exerting their best efforts to control the easily infiltrated border between the two countries extending over 370 kilometers [230 miles].
A spokesman for the government, State Minister for Media Affairs, Mohammad al-Momani, said, "Jordan is monitoring the acts of any movement or group over its territories and will deal with these groups according to the law. It does not allow weapons or fighters to cross to Syria and it does not take sides with any party in Syria or interfere in its affairs." Momani said, "It is clear that any control by extremist groups in Syria is a source of concern for Jordan and the region."
Source: http://www.al-monitor.com/pulse/security/2014/06/jordan-salafist-maqdisi-released-prison-silence-isis-nusra.html#ixzz35Fb5ytWp
URL: https://www.newageislam.com/radical-islamism-and-jihad/tamer-al-samadi/jordan-salafist-leader,-freed,-quiet-so-far-on-isis-nusra-rift/d/87661