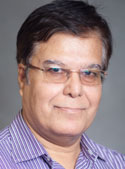 By Taj Hashmi
16 July, 2013
There is nothing new or surprising about the way "Allama" Ahmad Shafi, the chief of the Hefazat-e-Islam (HeI ) recently denigrated women in a recorded public speech in the most ludicrous, vulgar and comical way. He is not the first "Allama" to denigrate women, comparing them with mouthwatering tamarind and undermining them only as object of sex and procreation. Another half-educated rustic mullah, another self-styled "Allama", Delwar Hussein Saidi, who is under trial as a "war criminal" also denigrated women as the roots of all evil and likening them with ripe fruit, advocated seclusion and confinement of women behind the four walls of the house.
Without debating the use of Allama before their names by rustic mullahs like Shafi and Saidi – the title surpasses "mufti", "ayatollah" and "sheikh" to denote only the highly qualified Islamic scholar – it is time to stop the misogynic vulgarity of mullahs and their quest for capturing state power, forever. Unfortunately, madrasas across the world without exceptions – from al Azhar to Deoband and Lal Bagh to Hathazari – churn out half-educated bigots and buffoons. I have documented elsewhere the misogyny of the late al Azhar Sheikh Gad al-Haq, Maulana Maududi, the authors of Bahishti Zewar , Neam ul Quran and Moksed ul Momeneen ; and demagogues like Delwar Hussein Saidi and Abul Kalam Azad, aka Bachchu Razakar .
The way Ahmad Shafi abused the Quran to abuse and subjugate women is repulsive. The Quran does not exhort women to stay home and "do not even go for shopping". Contrary to Shafi's fabrication, the Quran nowhere urges men to take four wives or even justifies – let alone encourage –polygamy. "Allama" Shafi's promotion of patriarchy in the name of religion is as old as civilization. Pre-modern societies throughout history – Pagan, Jewish, Christian, Hindu, Muslim and others – almost invariably promoted patriarchy by demonizing women. As Aristotle did not believe women had souls, so did many medieval Christian priests. Biblical texts, Jewish and Christian clerics, Hindu sages and monks, Muslim priests and philosophers also portrayed women as subhuman.
While Saint Clement of Alexandria (150-215 AD) thought, "Every woman should be filled with shame by the thought that she is a woman," we find woman being denigrated as "the devil's gateway" and "the root of all evil" in Christian texts; and as an object of sex or raman (hence the pejorative " ramani ") in Sanskrit and Sanskrit-based languages. Man made Hadis and Shariah law, and writings by Muslim scholars like Imam Ghazzali, Firdausi and Sheikh Saadi are full of vulgar and misogynic prescriptions.
However, unlike the post-Renaissance and post-Enlightenment societies in the West, Muslim societies are not yet enlightened enough to accept women as equal human beings deserving equal rights and opportunities. Thanks to the predominance of the mullah, nurtured and glorified by Muslim societies in general, extra- and un-Islamic practices and beliefs have crept into Muslim societies, especially in backward Sub-Saharan Africa, Saudi Arabia and South Asia . Although Bangladeshi women have better rights and opportunities than what their counterparts enjoy in Afghanistan and Pakistan, mullahs are again raising their voice against women's liberation and equal rights and opportunities guaranteed by the Constitution. Now, in the backdrop of the latest vitriolic, vulgar speech against women's rights and dignity by the leader of the so-called Hefazat-e-Islam outfit, it appears that sections of the radical pro-Taliban (if not pro-al Qaeda) elements are trying to fish in the troubled water. The HeI is trying to make some headway in the arena of Bangladesh politics by capitalizing on mass sympathy in the wake of the Government's brutal crackdown on its leaders and followers at Motijheel in Dhaka, which resulted in the deaths of unspecified number of HeI followers (often exaggerated to 3,000) in the early hours of May 6 th .
We may impute the rise of the HeI to some hateful writings against Islam and the Holy Prophet by some bloggers, who were also active supporters of the months long Shahbagh Rally that demanded death penalty for convicted "war criminals" belonging to the Jamaat-i-Islami. Nevertheless, the HeI's 13-Point-Programme is out and political, aiming at turning Bangladesh into a Taliban State. It goes beyond the demand of trying anti-Islamic bloggers for blasphemy against Islam.
The prevalent chaos, corruption and political uncertainty in the fractured and over-polarized country have facilitated the rise of Islamist forces not long after the Government's "decisive victory" against anarchist JMB and HUJI (B) in 2006. In sum, leaders and their followers are collectively responsible for the disorder at the macro and micro levels.
Firstly, the Government and people promote three types of education system -- English, Bengali and Islamic – and produce employable, under-employable and unemployable graduates out of rich, not-so-rich and poor families. As it happened in Algeria, Egypt , Pakistan and some other Muslim-majority countries, the discriminatory education system has also polarized Bangladesh society between the disempowered and the dominant elites. The system has created social envy of the "vernacular elites" towards the "Western elites" (as Oliver Roy has coined the expressions) precipitating the clash of cultures and interests between people having different world visions, philosophies and interests. It is time that Bangladesh addresses its lopsided education policy for the sake of equal opportunity to all citizens. Most importantly, only modern, secular and job-oriented education can contain Islamist obscurantism and tyranny.
Secondly, along with bad governance and unaccountability, both the military and "democratic" governments since the 1970s have tolerated and even promoted political Islam. As Zia legitimized Islamist parties so did the military dictator Ershad to legitimize their rule by exploiting the cheap religious sentiment of the over-whelming majority of the population. The BNP under Khaleda Zia and AL under Sheikh Hasina have not lagged behind in this regard. The successive BNP and AL governments not only failed in removing the un-constitutional amendment of the Constitution that had declared Islam as the "state religion", but they nurtured political Islam and forged politically expedient electoral alliances with reactionary Khilafat Majlis ,Jamaat-i-Islami and other Islamist groups. Surprisingly, some former "secular" and "socialist" politicians have also been serving political Islam since August 1975. One may mention the state-sponsorship of the extra-Islamic Tablighi Jamaat, especially during its annual gathering at Tongi, with regard to the indirect promotion of political Islam. Liberal democratic politicians in Bangladesh should have learnt from the bad example of Pakistan, where General Zia started Islamizing the polity by promoting the apolitical Tablighi Jamaat.
Finally, it is time to call a spade a spade. The menace of political Islam in Bangladesh is not dead; it is only dormant. It must be addressed not exploited politically. Bangladeshi leaders and people must realize that the Hefazat and Jamaat are the two sides of the same coin. Despite their mutual differences, these undemocratic, fascistic, pre-modern forces can unite to the detriment of freedom, democracy, and rights of women, minorities and liberal Muslims. It is distressing that so far only a handful of human rights and women's rights groups, along with the Awami League, have condemned the "Allama" for his misogynist expositions. The BNP and all democratic forces should come forward to contain political Islam, so that Bangladesh does not experience long-drawn civil wars between democratic and obscurantist forces in the long run.
Taj Hashmi is the author of a best seller Women and Islam in Bangladesh (Palgrave-Macmillan 2000) and Global Jihad and America (Sage, January 2014). Taj Hashmi, Austin Peay State University, Tennessee, USA
Source; http://www.countercurrents.org/hashmi160713.htm
URL: http://www.newageislam.com/radical-islamism-and-jihad/taj-hashmi/a-quest-for-a-taliban-state-in-bangladesh/d/12642