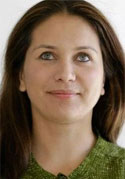 Rukmini Callimachi
By Rukmini Callimachi and Eric Schmitt
April 25, 2019
A bearded man wearing a heavy backpack and sandals walks deliberately across the courtyard of St. Sebastian's Church in Sri Lanka on Easter Sunday. Moments later, he slips past the pews where women are sitting with their hair covered in veils of white lace, then detonates a bomb.
The explosion that followed — one of numerous blasts unleashed by eight suicide bombers at six sites in three cities — was strong enough to blow the tiles off the church roof.
At least 250 people died in the coordinated attacks, which were believed to have been carried out by a local cell that had pledged allegiance to the Islamic State. That would make it one of the deadliest attacks carried out by the group, nearly twice as lethal as the 2015 Paris attacks.
Just four weeks after the ISIS caliphate was erased in Iraq and Syria — and four months after President Trump first claimed the group was defeated — the terrorist group has reminded the world in dramatic fashion that it does not need to control territory to be a major threat.
"ISIS is not in disarray; it's not 'defeated,'" Laith Alkhouri, a senior director at Flashpoint, which assesses the global terrorist threat, said in a Twitter post on Wednesday. "It's not a membership-based organization. It's skilled at reorganizing and modifying its strategy to fit the evolving security landscape around the world."
Experts say the group has simply pivoted to exploit the resources at hand and the notoriety it has banked as a global brand. With its command-and-control hierarchy in Syria and Iraq seriously degraded, it has become more decentralized, turning to its affiliates further afield to spread its message and mayhem.
"As its core weakens, its peripheries will become more dangerous," Charlie Winter, a senior research fellow at the International Center for the Study of Radicalization at King's College London, tweeted on Thursday.
The Islamic State has always seen the caliphate as a global project, and despite the loss of territory in Iraq and Syria has continued to expand abroad.
When the remnants of Al Qaeda were driven from Afghanistan in 2002, the group was also forced to become more decentralized, turning to foreign franchises in places like Yemen, Iraq and northern Africa to regenerate. But unlike Al Qaeda then, the Islamic State already has numerous affiliates around the globe, an influential media ministry and thousands of fighters still underground in the group's home base in Iraq and Syria.
As early as 2015, ISIS began instructing recruits to migrate to territory held by its overseas affiliates. And in a development sometimes missed by local officials abroad, it began signing up kindred local groups in distant outposts.
"Rather than building up membership from scratch, the group poaches members from existing hard-liner groups, or oftentimes the entire groups themselves," wrote Rita Katz, a co-founder of SITE Intelligence Group, which monitors extremist propaganda.
In the Philippines, ISIS recruited insurgents from Abu Sayyaf to create what it considers its East Asia Province, which carried out an attack on a cathedral in January, killing 23 people. The ISIS affiliate in Afghanistan has swallowed whole units of Taliban fighters.
'He Nodded, Apparently Took the Sign Literally and Rushed Up the Steps'
More recently, it cobbled together a new "province" in the Democratic Republic of Congo by recruiting members of the Allied Democratic Forces rebel group, which received cash transfers from an ISIS financier.
These groups have felt little impact from the loss of territory in Iraq and Syria, and need no direct communication from the Islamic State to understand its objectives, which the terrorist group broadcasts in regular audio messages.
"They understand that the mission within their geographies is to amplify operations against law enforcement, military and, yes, non-Muslim and Shia groups," Mr. Alkhouri said.
They also have local knowledge that can help identify seams in a country's defenses — like the fact that after a 26-year military campaign against ethnic Tamil insurgents, most of whom are Hindu, Sri Lankan security officials were more focused on them than on Islamist extremists.
That blind spot may have contributed to Sri Lankan officials' failure to act on warnings by Indian intelligence of a plot to bomb churches.
"When combined with ISIS' technical know-how and expertise, the combination with the local knowledge of more parochial groups can have devastating effects," said Colin P. Clarke, a senior fellow at the Soufan Center, a research organization for global security issues.
And now that it has lost its safe haven in the Middle East, the Islamic State may be increasingly relying there on the model it perfected abroad.
The group's leader, Abu Bakr al-Baghdadi, has gone underground and is believed to communicate only by personal courier, but its fighters communicate freely by encrypted apps.
Source: nytimes.com/2019/04/25/world/asia/isis-sri-lanka.html
URL: http://newageislam.com/radical-islamism-and-jihad/rukmini-callimachi-and-eric-schmitt/isis-is-not-in-disarray;-it's-not-'defeated'--sri-lanka-attack-signals-isis'-widening-reach/d/118451