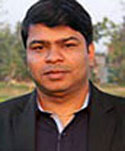 By Rock Ronald Rozario
November 25, 2020
Two hardline Islamists recently made unwarranted declarations that continue to divide opinion and triggered a war of words online and offline in Muslim-majority Bangladesh.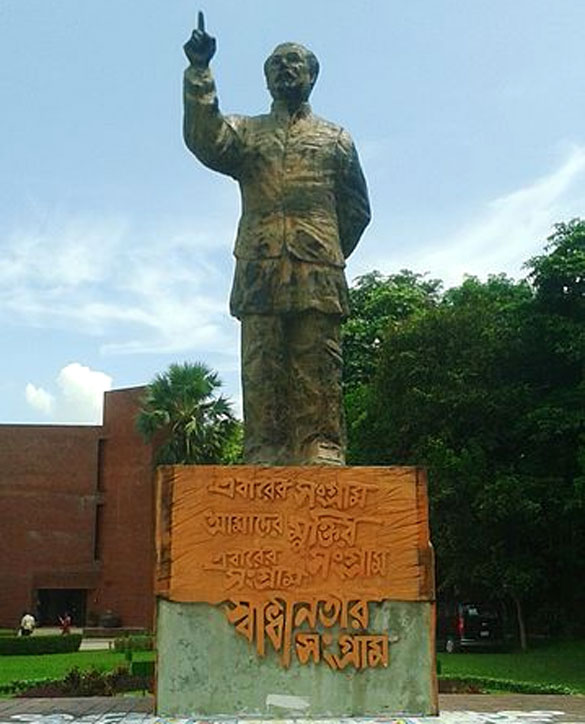 From Wikimedia Commons, the free media repository
----
On Nov. 13, Islami Andolon Bangladesh, an Islamist political party, organized a large rally with thousands of supporters in the capital Dhaka to protest against the construction of a sculpture of Sheikh Mujibur Rahman, founder of the nation and the father of Prime Minister Sheikh Hasina of the ruling Awami League party.
During the rally, party chief Syed Mohammad Faizul Karim announced that Touhidi Janata (Supporters of Islamic Uprising) will resist with their lives any move to install the statue of Sheikh Mujib because it amounts to idol worship, which is banned in Islam.
"We cannot tolerate idol worshiping in the nation of Muslims," Karim declared amid thunderous chants from his supporters.
Hours later, a similar call was made at the rally of Bangladesh Khilafat Majlish, another Islamist party.
Mamunul Haque, acting secretary-general, said his party will oppose any efforts to install the statue as it is un-Islamic and unacceptable.
Two Islamists touched an issue deemed very sensitive to the Awami League, a nominally secular party that led the struggle for independence during the 1971 Liberation War with Pakistan and has been in power since 2009.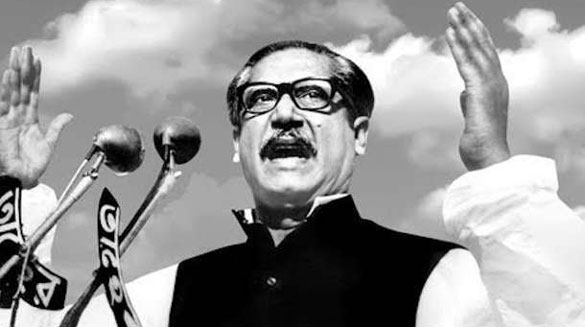 Sheikh Mujibur Rahman, founder of the nation, is held in high regard in Bangladesh. (Photo: YouTube)
-----
Popularly known as Bangabandhu (Friend of Bengal), Sheikh Mujib is held in high regard in Bangladesh and by most Bengali people across the globe for his seminal contributions and sacrifices for the independence struggle. The August 1975 military coup cut short his life when he was assassinated with most of his family members and some staff.
This year marks Mujib Borsho (Year of Mujib), the birth centenary of the great leader, and the ruling party has implemented a year-long program to commemorate his life and legacy.
Though it is close to blasphemy to defame Mujib anyway during the Awami League regime, the party has been surprisingly silent against such uncomfortable demands from hardline Islamists.
The Islamists, however, have been backed by other political and non-political Islamist groups.
Several Awami League ministers levelled threats and tirades against the hardliners. Several pro-Awami League groups, civil organizations and leftist political outfits have staged protest rallies to criticize the Islamists and demanded their arrest.
"There are lots of sculptures in different Muslim countries. A sculpture and an idol are not the same. Before making any remark, one should know the difference between a sculpture and an idol," said a leader from the Bangladesh Students' Union, a leftist group.
But there was no official statement or action from the government and the party over the issue.
Appeasement And Silence
There might be two reasons behind such silence and inaction from the ruling regime.
Firstly, these political parties, despite their large followings, have no political relevance as they have never won any seat in the past 11 parliamentary elections. So, the Awami League simply ignored them as spent political forces that can bark but cannot bite.
Secondly, the party might be in shock and disbelief to experience the audacity of Islamists in a country where the ruling party has no effective opposition either in parliament or on the streets.
The party itself can be blamed for such recklessness of hardliners for a range of initiatives that were mostly aimed at appeasing Islamist extremist groups, including courting Islamist groups for political expediency, attempts at Islamizing school textbooks and recognizing madrasa degrees.
In 2017, the government removed the statue of Lady Justice (Greek goddess Themis) from the premises of the Supreme Court after another hardline group, Hefajat-e-Islam, protested against it.
In fact, the party has been soft on Islamists, unlike in the past when it was often described by opposition parties as an anti-Islam party that put secularism before religion. Its actions in recent times to appease Islamists show the party wanted to get rid of the tag.
But the outcome of such Islamist pandering bears ominous signs for a nation that has a long-held tradition of harmony and secular culture.
The divisive politics of Islamist extremists and their further pandering would open the floodgates for demands for the removal of various sculptures of national heroes and important personalities that are very much part and parcel of culture-based nationalism.
Islamists' politics of extremism and division are against the spirit of Bangladesh and place the identity of the nation in question. No political or non-political entity should tolerate such a future Frankenstein.
Christian Extremists
Christians, a small minority in Bangladesh accounting for less than half percent of the population of more than 160 million, are not immune from such divisive and extremist ideology.
In recent weeks, another war of words has raged on Facebook between Catholics and Protestants in Christian groups. Protestants argued that Catholics were idol worshipers like Hindus as they touch with reverence, light candles and offer incense to the Virgin Mary and various saints.
A Protestant claimed: "By worshiping idols Catholics are doing what is against the foundation of Christian faith and banned in the Bible — revering other entities except God."
He posted his comments with an image of Cardinal Patrick D'Rozario, the retired archbishop of Dhaka, that shows the prelate offering incense to a statue of St. Anthony of Padua during his feast day on Nov. 20.
The post drew hundreds of likes and comments from Catholics and Protestants, mostly bashing one another. However, some called for restraint and asked for not doing and saying anything that creates further division in the minority community.
Across the globe, there are renewed efforts by Catholic and Protestant leaders to forge better ecumenical relationships and respect for each other. It seems not all are on the same page for unity and solidarity and continue to harbor disgust for each other's rites and rituals for vested interests.
Whether Christian or non-Christian, pressing hard with religious doctrines and hate mongering for anything a group doesn't like bears the seeds of bigotry, division and destruction for the community, society and nation.
Our state, social and church leaderships need to be careful to control and halt anything that attacks pluralist culture and harmony in the name of religion. They must make constant efforts to counter radicalism with strong liberalism in thoughts, words and actions.
Original Headline: Sculptures, statues and the politics of extremism and division
Source: Union of Catholic Asian News
URl: https://www.newageislam.com/radical-islamism-and-jihad/rock-ronald-rozario/islamists-organisations-in-bangladesh-to-resist-any-move-to-install-the-statue-of-sheikh-mujibur-rahman-because-it-amounts-to-idol-worship--banned-in-islam/d/123590
New Age Islam, Islam Online, Islamic Website, African Muslim News, Arab World News, South Asia News, Indian Muslim News, World Muslim News, Women in Islam, Islamic Feminism, Arab Women, Women In Arab, Islamophobia in America, Muslim Women in West, Islam Women and Feminism