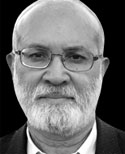 By Rahimullah Yusufzai
September 10, 2018
The dramatic 9/11 attacks on the US made Al-Qaeda a household name as a dreaded terrorist group capable of undertaking the most daring and complex assaults against difficult targets.
Now, 17 years later, Al-Qaeda – despite suffering near-fatal blows – has survived, albeit with reduced strength and appeal. As an older and more mature militant organization when compared with the more brutal Daesh, Al-Qaeda always had a better chance of survival in the long run. Daesh's defeats in Iraq and Syria may already be prompting the leftover elements from its ranks to consider associating with Al-Qaeda to continue their extremist journey. In fact, there have been reports that some Daesh cadres have quietly joined Al-Qaeda in Yemen, Libya and Afghanistan.
There is no doubt that Al-Qaeda was the pioneer of global extremism. It inspired thousands of Muslims to take part in the Afghan war against the Soviet occupying forces in the 1980s.
The late Palestinian terror preacher Abdullah Azzam and Omar Abdel Rahman, the blind Egyptian preacher who died in a US prison in February 2017 after being imprisoned in 1993 for his involvement in terrorist activities, came to Peshawar in north-western Pakistan in the 1980s to organize the Muslim volunteers flocking to the country on the way to Afghanistan. Younger volunteers at the time, such as Osama Bin Laden and Ayman Al-Zawahiri, the Egyptian physician, carried forward the mission and in turn inspired fighters like Abu Musab Al-Zarqawi, who reached Iraq from the Afghan war theater to lead a new generation of extremists.
Jordan-born Al-Zarqawi was the founder-leader of Daesh's predecessor, Al-Qaeda in Iraq, and was able to capture large swaths of territory until his assassination in 2006. Al-Zarqawi was the cause of differences in Al-Qaeda's ranks, as Al-Zawahiri had reprimanded him for attacking Shiites. It was thus hardly surprising that Daesh leader Abu Bakr Al-Baghdadi, who was accused by Al-Zawahiri of committing sedition, and his followers were inspired more by Al-Zarqawi than bin Laden or Al-Zawahiri.
As Al-Qaeda receded and Daesh gained power, most militant groups across the Muslim world withdrew allegiance from the former and pledged loyalty to the latter. Boko Haram in Nigeria, Al-Shabab in Somalia, the Sinai province affiliate in Egypt and other factions in Yemen and Libya, the Islamic Movement of Uzbekistan and Tehrik-i-Taliban Pakistan all declared allegiance to Daesh. Al-Qaeda's losses resulted in large gains for Daesh.
Al-Zawahiri, who took over as Al-Qaeda head after bin Laden's assassination during a US Special Forces raid on his Abbottabad hideout in May 2011, was so alarmed by the rise of Daesh that he urged all extremist groups, including Daesh and Al-Qaeda affiliates, to help each other in fighting the US, Bashar Assad's Syrian regime and others. Al-Zawahiri's inability after bin Laden's death to play a more active role from his hideout in the Afghanistan-Pakistan border region, away from the new battlegrounds in the Middle East, weakened Al-Qaeda and gave Daesh an opportunity to fill the vacuum.
Though Al-Zawahiri tried to stay relevant to the changing situation by occasionally making mostly audio statements, his appeal was limited. His biggest concern all these years was to survive the US manhunt. As Al-Qaeda members were killed or captured, he, Saif Al-Adel, bin Laden's son Hamza and other members managed to stay alive and free, even if their struggle for survival restricted their ability to plan terrorist attacks.
Al-Zawahiri also took other steps to stay afloat. He set up Al-Qaeda's South Asia branch to focus on targeting Pakistan, India and Bangladesh through alliances with local militant groups. He kept pledging loyalty to Afghan Taliban leaders Mullah Mohammed Omar, his successor Mullah Akhtar Mohammed Mansoor and the present head Hibatullah Akhundzada in a bid to seek their support for his men still hiding in Afghanistan. By siding with the Afghan Taliban, he also ensured that their alliance is for a common cause against Daesh.
It is obvious that Al-Qaeda has been largely left alone in recent years, as global and regional powers vented their anger against Daesh, which was undoubtedly a bigger and more immediate threat. But the situation could change if Al-Qaeda is able to undertake new attacks, particularly against the US and its Western allies. That it has failed to do so until now was primarily due to its declining power and failure to attract more recruits.
Rahimullah Yusufzai is a senior political and security analyst based in Pakistan.
Disclaimer: Views expressed by the writer in this section is his own
Source: arabnews.com/node/1370076
URL: http://www.newageislam.com/radical-islamism-and-jihad/rahimullah-yusufzai/al-qaeda,-now-in-daesh's-shadow,-was-the-pioneer-of-global-extremism/d/116337