By Rémi Carayol
28 July2018
Young men in yellow jackets meet at nightfall in Konna, near Mopti in central Mali. They divide into groups of eight or nine and, armed with sticks, machetes and walkie-talkies, set off on motorcycles to patrol the streets until dawn. This 'brigade' of 500 volunteers aims to provide security in Konna, which the gendarmerie abandoned nine months ago. The army, its nearest outpost 50km away, visits only rarely.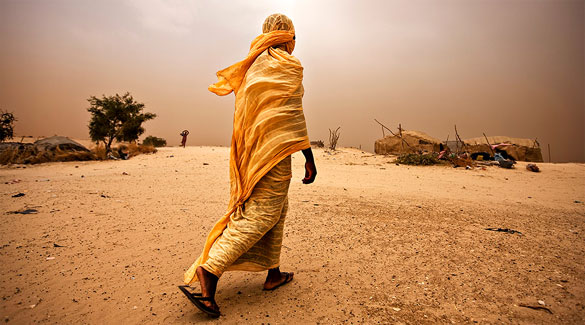 Brent Stirton · Getty Images Reportage
----
The brigade was formed even before the gendarmes left, because people were alarmed by rising theft and murder rates. Yaya Traoré, a brigade leader and deputy mayor of Konna said: 'On 23 March 2016 a marabout was killed in the town centre. The next day, a shopkeeper was murdered. The gendarmes did nothing. That's when we decided to take charge.'
He said they were getting results: 'When we catch a thief, we take him back to headquarters at the youth centre, and the next day we hand him over to the courts and tell him not to come back. The thieves are getting the message. These days they're few and far between.' Islamist fighters too: 'They're scared of us, so they don't come here.' Thanks to the brigade, Konna's three schools are still open, while those in neighbouring towns have closed under pressure from the Islamists.
Konna, population 15,000, lies on the road from Bamako to Gao. After the battle of Konna (10-17 January 2013), at the start of Operation Serval, the French military intervention in Mali, Konna was to be a symbol of renewal of the state; instead, it has come to symbolise state failure. There are burned-out cars in the sand-strewn streets, and buildings destroyed by the French bombing have been left as they were.
After the French and Malian armed forces, leading a coalition of African armies, retook the north of the country, the people of Konna thought they had seen the last of the jihadist groups. Ibrahim Boubacar Keïta (IBK), elected president with a substantial majority in August 2013, promised to rebuild a strong state. He is standing for re-election on 29 July, but there is no guarantee that voting can take place nationwide: Mali is in tatters.
The big cities of the north (Gao, Timbuktu, Kidal, Tessalit) have been recaptured from the Tuareg and jihadist groups that had controlled them since 2012; the UN Multidimensional Integrated Stabilisation Mission in Mali (Minusma) has the area locked down; a peace agreement was signed in Bamako in June 2015 between the Malian government and the Coordination of Azawad Movements, which brings together Tuareg and Arab rebels in the north (1); regional governors have been appointed and the Malian army is getting itself together. But progress has been mostly theoretical, like the peace agreement, which has yet to be implemented. After some time in disarray, the Islamist armed groups have reformed. In March 2017 Al-Qaida in the Islamic Maghreb (AQIM), Ansar Dine, the Macina Liberation Front and Al-Mourabitoun announced they were merging as Jamaat Nusrat al-Islam wal-Muslimin (Group to Support Islam and Muslims, GSIM). Led by Iyad Ag Ghaly, a Tuareg Malian, it harasses civilians and troops daily.
'We Must Avoid Collapse Of The Centre'
The army has bases in Timbuktu and Gao, but has yet to return to Kidal and many parts of the north are beyond its reach. According to the UN, fewer than one civil servant in three assigned to the north was in post as of December 2017, and the number assigned actually fell last year. This worries UN secretary-general António Guterres, who said on 30 May during a visit to Mali: 'We must avoid the collapse of the centre of Mali, we must restore security and normalcy.'
Insecurity is spreading. The violence no longer centres on Kidal or Timbuktu, but on the more isolated parts of the Mopti and Ségou regions, further south. In 2017 the UN recorded 63 attacks against Malian, French and UN troops, most in Mopti. In the first quarter of 2018, Minusma recorded 85 'major violent incidents' in central Mail, with at least 180 civilians dead.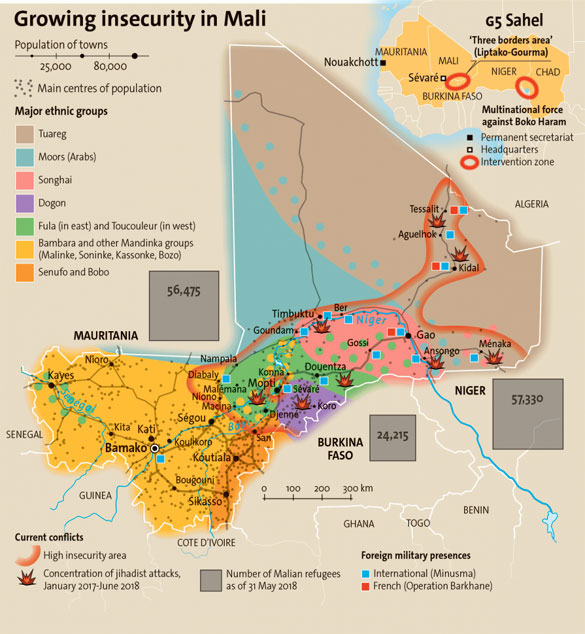 Growing insecurity in Mali
Cécile Marin
------
The vast expanse of central Mali is mostly unprotected. '[The towns of] Mopti and Sévaré are OK, but once you get out into the country, you're in danger,' said former mayor Oumar Bathily. The towns, a haven of stability, are a dozen kilometres apart, linked by a dyke crossing marsh that flood during the rainy season.
Mopti, at the confluence of the Niger and the Bani, used to attract thousands of tourists every year; today, there are hardly any. The port, from which cruise ships used to go north to Timbuktu, is deserted. Local boatmen are out of work and the staff of the Kanaga Hotel, which faces the river, stand idle. 'We have 80 rooms, seven suites and no guests. It's a disaster,' said the manager, Amassome Dolo. 'The other hotels have closed. We've survived, because we are part of a group.' After the north was retaken in 2013, Dolo hoped business would pick up, but it has only worsened. 'Nobody goes to Timbuktu any more, or to Dogon Country or Djenné. It's too dangerous. But they could come here, at least. There's no danger of Mopti being attacked.' That's debatable: there are jihadist groups on the other side of the dry riverbed, and you can cross it on foot.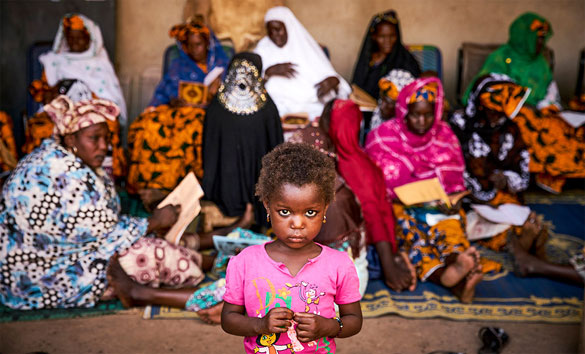 'What about me?': a small girl in the house of one of the few female marabouts, Houssa Nientao, in Bamako earlier this year
Michele Cattani · AFP · Getty
------
Sévaré, which has a strategic airport, looks safer. It has become one of the best defended villages in Mali, with a huge army presence, a command post, a 400-man Minusma rapid response force, and the headquarters of G5 Sahel (see Barkhane bunkers down, in this issue). The hotels are full of soldiers in combat fatigues, 'consultants' with bulging muscles, and diplomats in transit. The only travel agency with a local office is Echo Flight, the EU service that organises airlifts in war zones. Most buildings have been rented out to the military and fortified. 'Local shopkeepers and property owners are rubbing their hands with glee. We are making a living from a crisis economy. But people outside the village have been abandoned,' said Bathily.
The outbreak of war in this region surprised many. On 5 January 2015, men on motorcycles carrying the black flag of jihad attacked the military base at Nampala, killing 11 soldiers. For a few hours, they took control of the town, which is close to the Mauritanian border. The history of Nampala, as told by its mayor Sekou Bah, a chemist by trade and elected in 2016, is typical of a region neglected for years. 'In 2012, when the jihadists took control of the north, they didn't come here, but nor did the government. The civil servants had run away. In 2013, when the French recaptured the north, the Malian army came back. But when cattle rustling increased, they wouldn't help. Some of the farmers decided they would defend themselves. Things eventually calmed down, but after the attack on 5 January the army and the civil servants ran away again.' After that, all disputes were settled with guns.
'The Men on Motorbikes'
After Nampala was retaken, other towns were attacked, civil servants killed and politicians threatened. For the first few months, the government failed to react, being unable to identify the attackers. In Macina, a region flooded during the rainy season, they are popularly known as 'the men on motorbikes'; they call themselves 'the men of the bush' (yimbe ladde in the Fula language). Some claim to follow Hamadoun Koufa, head of the Macina Liberation Front, and say they want to impose sharia. 'There are only a few hundred of them,' said a Malian army officer. 'They hide in the forests, disguise themselves as shepherds and infiltrate villages. They are not motivated by religion.' Others claim to be defending Fula cattle herders from abuse by the army and sedentary farming communities. But these political claims often hide less honourable motives: robbery or score-settling against a backdrop of inter-community rivalry.
The situation in central Mali is confused. The area received little attention from the French colonial authorities, or from the Malian government after independence in 1960. 'There were no rebellions, so it was ignored, unlike the north,' said a European diplomat in Bamako. 'All you can say is that it's not a single conflict in the centre, but a host of micro-conflicts, which terrorists exploit.' Malian journalist Adam Thiam said:'In the 19th century, the Mopti region was an El Dorado, very prosperous because of its agriculture. After independence, it was regarded as Mali's economic powerhouse, and it accounted for more than 30% of export revenue. But droughts in the 1970s hit the local economy hard, and in 1985 the region was classified as food insecure. A report published in 1986 suggested there was a risk of rebellion if the authorities failed to act.'
Policies focusing on the development of sedentary agriculture, adopted in Bamako by what Thiam calls 'the Mandinka authorities', who treat nomads with contempt, and the enclosure of common grazing land, have upset the fragile balance between herders (mostly Fula and Tuareg), farmers (Bambara and Dogon) and fishermen (Bozo). To coexist on this fertile but disputed land, all submitted for decades (though sometimes with difficulty) to customary rules and to the decisions of 'masters' of pasture, water and land; even violent conflicts were quickly settled by local notables. But the state dismantled this system of cohabitation in the name of modernity, disrupting traditional hierarchies. By 1995, even before the north became insecure, the Mopti region was Mali's poorest. In 2015 it had the lowest rates of access to electricity (7.1% compared with 22.9% nationally) and school enrolment (41.9% at primary level, 72.3% nationally).
Army Abuses
When war broke out in the north, Mopti was further neglected. And when the government was restored in 2013, it acted as if nothing had happened. The army committed abuses against the local people, which 'exacerbated the distrust between people, especially some [Fula], and the security forces' according to a report by International Crisis Group. Several NGOs have reported serious human rights abuses.
Army and government are accused of playing on inter-community rivalries in the war on terror. In a report published this April, the Simon-Skjodt Centre for the Prevention of Genocide even raises the possibility that these inter-community conflicts will lead to 'mass atrocities' (2). A number of people close to IBK and the army general staff are suspected of arming militias formed of dozo (traditional hunters) in central Mali to hunt 'jihadists'. In March about 30 people were killed in Dogon Country during clashes between Fula and a Dogon self-defence group armed with military weapons. Many, including members of Minusma, believe the weapons came from army stocks. Fula villages have been burned, men killed, livestock stolen; Dogon villages have been attacked in reprisals. In the Koro area there are daily clashes. A local politician said: 'It's a vicious circle of revenge with an ethnic dimension. The problem is that jihadism has come on top of old existing conflicts.'
Prime Minister Soumeylou Boubèye Maïga, appointed in December 2017, chose Mopti for his first official trip; while there he announced a development plan and the restoration of the Malian state. To reassure the local population, there would be a huge offensive in the remotest parts of Mopti and Ségou, involving nearly 3,000 troops. General Ismaïla Cissé, former Malian ambassador to Equatorial Guinea, criticised errors of judgment: 'To the military, all Fula are jihadists. That's a dangerous mistake.' He said banning motorcycles because the jihadists use them would make things worse. (The ban was introduced in Mopti and Ségou this year.) 'Everyone rides a motorbike in these parts. Banning them effectively prevents herdsmen and market traders from moving around. Markets can't function if this ban isn't revoked. If the government kills the economy, law-abiding people will turn to the jihadists.' A study of 63 young former members of jihadist groups reveals that many joined not because of religious indoctrination, but 'because they needed to protect their families, their communities and their income-generating activities' (3).
The administrative vacuum has allowed extremist organisations to grow. NGO Delta Survie, based in Sévaré, which promotes education in the most dangerous areas of central Mali, sees this every day. Its president Ibrahima Sankaré said: 'It's harder and harder to get around. The jihadists are in every village, and they are running things. They raise taxes and deal out justice. They ban women from bathing outdoors or leaving home without a veil. They ban public celebration of christenings and weddings. They persecute the griots [traditional musicians, poets and storytellers].' And it's working: 'Given the choice of making their women wear the full veil or losing their cattle, the herdsmen didn't hesitate for long.' The jihadists provide order and security that the state did not. Sankaré described his efforts, over the years, to persuade the state to take account of the needs of nomadic peoples. Delta Survie set up schools that follow the herders on their migrations. 'I got funding from abroad, but not from the Malian government. In 2012 there were a hundred schools; now there are only five.'
So-called French schools are a particular target. According to the UN, in March this year 715 were closed because of a lack of security, depriving nearly 215,000 children of education. Every day, Daouda Doumbia, deputy head of the Mopti Academy (regional education board), meets teachers who have been laid off and have fled after receiving threats. Some transfer to other schools; most go into hiding. Ibrahim has lived with family in Sévaré since the school where he was headmaster closed. Last November, ten 'bandits' arrived on motorcycles, armed with Kalashnikovs. 'They made all the pupils gather in the playground, and fired their guns into the air. The children were in tears, they were terrified. Then the bandits took all our belongings, shot the windows out and said "If we come back and you're still here, there'll be trouble".' The school is only a few metres from a road that military convoys use every day.
Honest Jihadist Justice?
As their influence grows, the jihadist groups are trying to undermine the legitimacy of the state by attacking its representatives, while offering an alternative, with inducements or threats. They promote Quranic schools when closing state schools. They attack civil servants, whom they believe to be corrupt. The Macina Liberation Front scored a major success last November by abducting a senior judge in Niono, only an hour's drive from Ségou.
'In the past,' said Thiam, 'a civil servant, a judge for example, in central Mali would get himself appointed with the aim of getting rich. We had more and more lawsuits, locally, and you had to pay if you wanted to win.' But in the areas they control, the jihadists make a point of dealing out justice that many people perceive as honest if not impartial, and it's free of charge. 'More and more people are turning to them rather than the state to settle disputes,' said Sékou Bah, mayor of Nampala. Some even refer to the jihadist justice system as a court of appeal.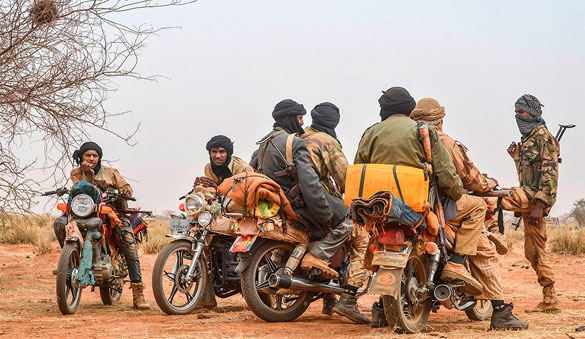 Militants of the Movement for the Salvation of Azawad patrol the Mali-Niger border in the Ménaka region in search of jihadists this February
Souleymane Ag Anara · AFP · Getty
-----
The government in Bamako is far more concerned by these developments than by the continuing war in the north. That's partly because 'the centre is the keystone of Mali,' said Ali Nouhoum Diallo, former president of the national assembly and now unofficial spokesman for the Fula community, but also because what is happening in central Mali is not so much a power struggle as social rebellion against a government seen as evasive, a sign of the huge deficiencies of the Malian state. On 20 June the defence minister launched an inquiry after the Malian armed forces were implicated in the deaths of 25 people in Nantaka and Kobaka, in the Mopti region. IBK said: 'We are not going to rebuild our armed forces just to have an army that is ignorant of the law of armed conflict. That would be a huge step backwards' (4).
'The president has lost all legitimacy,' said Cheikh Oumar Diarrah, briefly minister for national reconciliation and development of the northern regions in 2013. The government failed to grasp the seriousness of the crisis of 2012.' Diarrah, a former diplomat and close advisor to IBK, believes it should have 'drawn up a social contract. People are rejecting injustice and lack of solidarity. It's easy to call them jihadists: that way we don't have to think about what they really are, or about the evil that is corrupting our country.' He said Mali is still suffering from the mixture of bureaucracy and profiteering that emerged during the political democratisation of Mali in the early 1990s and reached a peak under the presidency of Amadou Toumani Touré (2002-12).
Holding an election under these conditions seems like political theatre. The opposition is all the more worried because local elections, which should have taken place last December, and were rescheduled for this April, have been postponed indefinitely. 'How can you aim to organise elections when you only control half the country's territory?' said Marxist opposition leader Oumar Mariko. 'The government says that, in the Kidal region, security during the voting will be provided by the rebels. Isn't that proof of its own failure?'
----
Rémi Carayol is a journalist.
Translated by Charles Goulden
Original Headline: Mali disintegrates
Source: Le Monde Diplomatique
URL: https://www.newageislam.com/radical-islamism-jihad/jihadist-mali-promote-quranic-schools/d/122738