By Prakash Singh
28th March 2015
Addressing an international conference on counter-terrorism at Jaipur on March 19, Union Home Minister Rajnath Singh expressed his satisfaction over the fact that the influence of the Islamic State on the Indian youth was "negligible", and said that this was due to the "complete integration of Indian Muslims into the national mainstream". He, however, cautioned the global community on the appeal of ISIS among the young and educated, and found the threat of attacks by lone wolves real.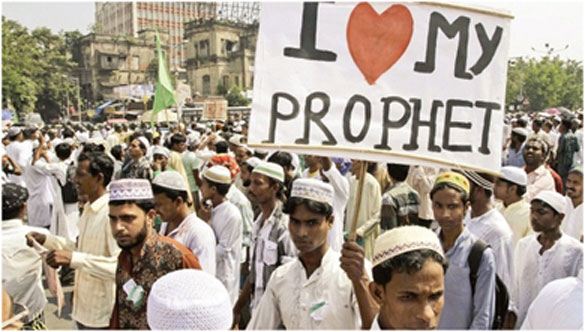 The minister may be factually correct. But there is evidence to suggest that the Indian Muslims are getting Radicalised in gradually increasing numbers. This was particularly demonstrated in the response of Indian Muslims to the terror attack on Charlie Hebdo. Tufail Ahmad, a former journalist with the BBC, carried out a review of Facebook comments made by the Muslim youths in India on the Paris shooting and found that "the geography of this radicalisation in India is indeed wide, fertile and raw". The overwhelming responses from across India were in favour of the attackers. Comments celebrating the killings were made on the Facebook page by Muslim youths living in Kolkata, Patna, Lucknow, Dehradun, Aligarh, New Delhi, Srinagar, Jalandhar, Bhilwara, Indore, Jabalpur, Pune, Bengaluru and other places. Those commenting included engineers, doctors, graduates, school students, both male and female. Ahmad's disturbing conclusion was that "there is no difference between their viewpoint and those of the jihadists of the Taliban, Al-Qaeda and Islamic State of Iraq and Syria (ISIS) when it comes to blasphemy and Sharia" and while it was unlikely that all or even a majority of them would become terrorists, it certainly suggested that "there is a fertile field of jihadist ideas being cultivated by Islamic scholars in India, notions of which young Muslims are fed regularly".
Hasan Suroor is also of the view that "the nature of Indian Muslim radicalisation stands dramatically transformed" and that "there is now a global dimension to it with foreign Jihadi groups looking upon India as a fertile new ground for recruitment as Al-Qaeda's decision to set up a separate Indian branch clearly shows". Muslim radicalisation is "real and growing", he concludes.
So, are we living in denial? The ISIS, according to unofficial assessments, is spreading across most of India, especially in Uttar Pradesh, Assam, West Bengal, Kerala, Seemandhra, Telangana and Maharashtra. Madhav Nalapat's estimate is that this number has already crossed into the four-figure range. "That ISIS is already at war with India is a detail which seems to have escaped the attention of policy makers in India."
ISIS having made inroads in the neighbouring countries makes India even more vulnerable. The Pakistan Taliban has declared its allegiance to the ISIS. TTP spokesman Shahidullah while communicating its chief Fazlullah's Eid message to the Media, said that all Muslim fighters in the Middle East should unite for the greater good. "We consider the fighters in Iraq and Syria as our brothers and are proud of their victories. We are their part and parcel in times of joy and sadness."
In Bangladesh, influence of the Islamic State is becoming visible. According to Animesh Roul, "the Islamic State's self-proclaimed caliphate and the promise of its leader, Abu Bakr al-Baghdadi, to return to all Muslims their 'dignity, might, rights and leadership' seem to have infused a renewed Islamist fervour within a section of Bangladeshi youths and among existing radical elements." There have been several arrests of individuals engaged in recruiting Bangladeshis for the Islamic State. There is a strong apprehension that the growing influence of the Islamic State in Bangladesh "potentially signals more trouble ahead". In Maldives,entire families have gone to participate in the Caliphate's struggle.
Government of India must take cognisance of the stark realities and possibilities. The ISIS poses a formidable security threat to India with its leader al-Baghdadi wanting "volcanoes of jihad" to erupt everywhere. Yossef Bodansky, who served as Director of the Congressional Task Force on Terrorism and Unconventional Warfare of the US House of Representatives, highlighted the threat during the conference on counter-terrorism. Adequate steps, therefore, must be taken to prevent radicalisation of the Indian youth and de-radicalisation of those infected by the virus.
Source: http://www.newindianexpress.com/magazine/voices/Radicalisation-is-a-Real-Threat-That-Government-Must-Wake-up-to/2015/03/28/article2731821.ece
URL: https://newageislam.com/radical-islamism-and-jihad/prakash-singh/radicalisation-is-a-real-threat-that-government-must-wake-up-to/d/102185