By Perry Chiaramonte
August 18, 2014
The jihadist gang known as Islamic State is spreading its twisted message of murder in the name of Islam with T-shirts, hats and other memorabilia on sale around the globe.
It is not clear if the militant extremist group formerly known as ISIS is involved in production of the branded clothing, but its availability online and now in shops in the Middle East indicates it is in demand. At least one clothing shop was found in Bagcilar, a working class district near the outskirts of Istanbul, selling T-shirts, hats, cargo pants and bandannas with Islamic State imagery. And in Indonesia, where many of the goods are produced, street market stalls hawk Islamic and Jihadi street wear.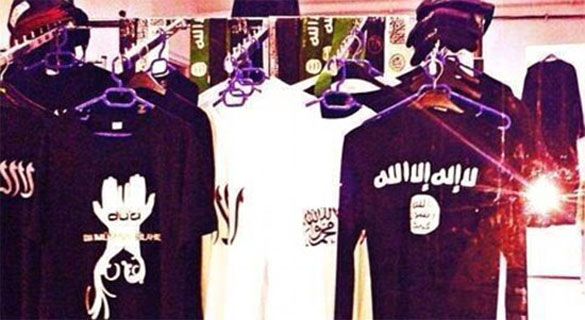 "ISIS is more than likely not producing shirts but indirectly they are benefiting from it," Scotty Neil, a former Green Beret who founded Operator, a clothing company geared towards special ops soldiers, told FoxNews.com. "I don't think that T-shirt Company X is sending the Islamic State funds, but people wearing these shirts are making an outward statement and that often starts a dialogue and debate that furthers their message."
Neil adds that use of trendy clothing to promote violent jihad is nothing new.
"I was with the first wave of Special Forces in Afghanistan and it was the same thing," he said. "We would find World Trade Center Lighters, posters and other stuff all the time. One of the groups we discovered was the Foreign Fighter Network, which was recruiting Muslim fighters from all over the world in a similar way. They were very calculated in how they sent their message out to others to join the cause."
Other experts in the field agree that the Islamic State's message is only strengthened by sales of the branded clothing.
"The Islamic narrative of 'Islam under attack by the West' is what ISIS is playing to and they are branding themselves as the defenders of the faith," Scott Mann, also a former Green Beret and director of the Stability Institute said to FoxNews.com.
"It's popular among Islamic Ummah, especially the youth - and using T-shirts and other commercial products only makes sense," he said. "Folks might be producing and selling them who are not motivated by ideology, but rather because the products are selling."
Mann agrees that the popularity of these goods among the youth helps ISIS' cause even if they are not the one producing the goods.
"What is relevant is that ISIS is mobilizing Islamic youth through commercial products that support their brand of radical Islam by using a solid story and the free market," he said.
In the months since the Islamic State launched their offensive, the shirts and other items like hoodies and even bobble head dolls, were already being sold on websites and on the Facebook pages of manufacturers based in Indonesia.
In June, the social media site promptly shut down the cluster of pages that peddled the goods after an inquiry by FoxNews.com.
"At Facebook, we have rules that bar direct statements of hate, attacks on private individuals and groups, and the promotion of terrorism," said Facebook spokesman Israel Hernandez said at the time. "We have a team of professional investigators both here in the US and abroad who enforce these rules. Where hateful content is posted and reported, Facebook removes it and disables accounts of those responsible. Whenever we become aware of possible violations of our terms, we will investigate these instances and take action if violations of our Statements of Rights and Responsibilities take place."
However, searches show that many of these pages are still existence on the social network site, not only selling ISIS clothing but items in support of jihad in the Gaza conflict.
Source: http://www.foxnews.com/world/2014/08/18/bootleg-isis-t-shirts-helping-terror-group-to-spread-fear-campaign/
URL: https://www.newageislam.com/radical-islamism-and-jihad/perry-chiaramonte/isis-t-shirts,-gear-help-terror-group-spread-murderous-message/d/98631