New Age Islam Special Correspondent
28 February 2019
New Age Islam has reproduced timely pieces on the Balakot-based jihadist movements which can be traced back to 1831 when the two Indian Sunni-origin Wahhabi clerics, Syed Ahmed Rai Barelvi Maulana Ismail Dehlawi were killed in a battle with the army of the Sikh emperor Ranjit Singh. In his article, Uday Mahurkar rightly points out that "Balakot's symbolic and sentimental value for terror outfits, such as Jaish-e-Mohammed (JeM) and Lashkar-e-Taiba (LeT), has been there for almost two centuries now".
Even the prominent Pakistani historian Ayesha Jalal wrote in her book "Partisans of Allah" that Balakot has been a site of great veneration not only for the Pak nationalists but also for the jihadists. At Balakot, Syed Ahmed Rai Barelvi and his 1300 hundred jihadist followers were slain to pieces. Part of the reason is that it houses the grave of the foremost jihadist ideologue in the Indian subcontinent: Syed Ahmed Rai-Barelwi.
The reason why Syed Ahmad who is greatly venerated as 'shaheed' (Islamic martyr) is that he went all the way from Rae Bareli of Uttar Pradesh (India) to Balakot through Balochistan and Afghanistan was to urge the Pashtuns to battle against the Sikh rulers whom they considered kafirs.
But when we closely look at Maulvi Syed Ahmad 'Shaheed' Rai Barelvi's movement of jihad originally known as the 'Tahrik-e-Balakot', as several historians and contemporary scholars have noted, Rai Barelvi was not a freedom fighter. He was actually the chief exponent of the imported Wahhabism in India, an avid adherent of combatant and physical jihadism in place of spiritual jihad which the Sufis called jihad al-nafs or the struggle against the baser instincts and carnal desires. Even Rai Barelvi's himself, in his earlier days, drew inspiration from the Sufi orders (silsilahs) like Naqshbandiyah, Chishtiyah and Qadriyah. But after he met the Wahhabi patrons in Saudi Arabia during his pilgrimage to Mecca in 1821, he was impressed by the Wahhabi clerics of the Arab peninsula. This dramatic conversion from Sufism to Wahhabism is evidenced in his famed book "Sirat e Mustaqeem" (straight path) in which he devoted an entire chapter to purge Sufism of the 'cultural confluences' and replace it with the same doctrines that were laid out in Ibn Abd Al-Wahhab's "Kitab al-Tawheed" (The Book of Monotheism). Similarly, his lieutenant cleric, Ismail Dehlwi wrote the book "Taqwiyat-ul-Iman" (Strengthening of the Faith) in order to castigate the Indianisation of Islam which was happening through the confluence of Sufism with the practices of India's non-Muslims. Both the above books are taught today in not only the Salafi curriculums of the Ahle Hadis but also in most madrasas affiliated to Darul Uloom Deoband for at least 150 years.
Both Rai-Barelwi and Islami 'Shaheed' declared all mystically inclined Indian Muslims 'polytheists' (mushrik) with their beliefs and practices as antithetical to the pristine Islam. But deplorably, let alone the Wahhabised Indian madrasas, even the Islamic studies departments of a great many central and state universities in India portray Rai Barelvi and Ismail 'Shaheed' as the 'leading figures of Islam in India'. This is being taught in their text books and the syllabi under the subjects of "Islamic movements" (Islami Tahrikaat) and "Islamic doctrines" (Islami Aqaid). For instance, the department of Islamic studies in Jamia Millia Islamia, a central university recommends the book written by Sheikh Muhammad Ikram, himself inspired by Rai-Barelvi, "Mauj-e-Kausar, Musalmanon Ki Mazhabi Aur Ilmi Tarikh Ka Daur-e-Jadid' (a history text book also included in many Wahhabi-Deobandi madrassas) as classical reference for India's Islamic history. This book includes the texts written in glorification of the two jihadist ideologues— Syed Ahmed Rai Barelvi Maulana Ismail Dehlawi.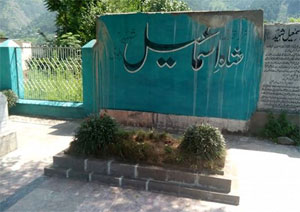 Beside the systematic bid to purge Indian Muslims of the inclusive, pluralistic and composite ethos, Rai-Barelwi the most conspicuous job in his 'Mujahidin movement' against the Sikhs of Punjab. Sheikh Muhammad Ikram writes about the tahrik-e-jihad launched by Rai-Barelvi under the sub-title in his book "Jihad", in a detailed and descriptive manner. He notes: "Having reached his hometown, he [Rai Barelvi] began his full preparation for the jihad against the Sikh community and sent Maulana Ismail Shaheed and Maulana Abdul Hayy across the country to preach the cause of this jihad"… "On 17th January (1826), Maulana left Rai Bareli for his trip to Jihad. At that time, he had 5-7 thousand Indians with him, who were fully prepared for the jihad for the religious freedom of the Muslims in Punjab. They were well-determined to lay down their lives for this cause. Passing through Gawaliyar, Tonk, Ajmer, Marwar, Hyderabad, Sindh, Shikar Pur and Qandhar, the Maulana reached Kabul, from where he ventured into Peshawar via Khaibar". (Mauj-e-Kausar, by Sheikh Muhammad Ikram, pp. 24-25, published by Adabi Duniya, Matia Mahal, Delhi).
Throughout his entire life, Rai-Barelwi remained active in his call for the religious puritanism in the entire subcontinent of India, Pakistan and Bangladesh. In fact, he is an apt example of how many Sufi Sunni scholars, who were at some time essentially inclusive because of their adherence to the Sufi orders, drastically changed their worldview and espoused exclusivist religious ideas. More astonishingly, this group of Islamist scholars in India left more active, impacting and prevailing ideology in the subcontinent than even the inclusivist Sufis who had originally introduced Islam to its people. Their adherents are far more energetic and practical than those who make tall claims to uphold the all-embracing cause of Indian Sufi saints.
Apparently, Syed Ahmad's Mujahidin movement is now an age-old history for Indian Muslims, but many still get influenced by his religious exhortations for jihad as "an act of worship greater than spiritual prayer in merit and rewards". Therefore, a movement of revival of Rai Barelvi's Mujahidin movement is on the rails in the subcontinent as proclaimed by a number of extremist jihadist outfits.
For instance, in February 2011, the emir of the Jamiat Ulema-e-Islam (JUI-S) party Maulvi Samiul Haq stressed 'the need for revival of the Mujahidin movement of Syed Ahmed Shaheed Rai Barelvi' against a religious minority in Pakistan, the Sikh community. Maulvi Samiul Haq argued that "the objectives of the jihad launched by our Islamic leader Syed Ahmed Shaheed against the British rule and the Sikhs in the 19th century have yet to be achieved".
Today, the biggest irony is that the common perception among the Islamic studies students is that Rai-Barelwi was a freedom fighter. But the irrefutable historical accounts state that Rai Barelvi fought against the Sikhs rather than the British. In fact, Rai Barelvi's armed disciples did not even declare Jihad against the British. The 'Mujahidin movement' was not the struggle against British imperialism. It was rather a religiously and politically motivated militancy against the Indian Sikh rulers.But with a willful ignorance of the ideological implications of the Mujahidin movement in the Islamic studies curriculums, students are not asked to study it in an objective and critical manner and, therefore, they end up glorifying the so-called "Shaheed" scholar of Islam.
Only a few Islamic scholars did a critical analysis of this first jihadist movement in India. A remarkable research work in this direction was produced by a contemporary classical Islamic scholar, Maulana Dr. Khushtar Noorani who authored a highly cited research work titled, "Tahreek-e-Jihad Aur British Government: Ek Tahqeeqi Mutala" (The jihad movement and the British government: A research study). This book came up with an entirely different perspective on the Mujahidin movement of Rai-Barelvi. Much against the sweeping statements and writings of the Wahhabi-Deobandi historians, he arrives at the conclusion that Rai Barelvi's movement was not aimed at challenging the British imperialism; rather it was an armed militancy against the Sikh community of Punjab. He clearly states in this book that Syed Ahmad or his jihadi faction did not contribute to the freedom movement of India at all.
According to the Pakistani Studies text book which is taught in Class Nine, Rai Barelvi's Mujahidin movement was started against the Sikh community. He came to Sindh in 1826 and sought to help Syed Sibghatullah Shah who sent a strong contingent of staunch followers called "Hurs".The book continues: "Syed Ahmed Shaheed left his family under the protection of Pir Pagara and proceeded towards Jihad without any worry about his family. He reached Nowshehra after passing through Afghanistan, the Khyber Pass and Peshawar in December 1826 and made it his headquarter. The first battle against the Sikhs was fought on December 21, 1826 near Akora. The Sikhs were defeated. The second battle was fought at Hazro. It was also won by the Muslims. These victories inspired a number of Pathan tribes to join Jihad Movement. The number of Mujahideen rose to 80,000. Syed Ahmed Shaheed Barelvi was given the status of 'Amir-ul-Momineen'. Islamic laws were enforced in the area which was controlled by Syed Ahmed Shaheed Rai Barelvi".
The epithet of "Rai-Barelvi" denotes that Ismail Ahmad belonged to the northern Indian town of Rai Bareilly, not to be confused with the current headquarters of the Barelvi school of thought propounded by Maulana Ahmed Raza Khan Barelvi, also known as Ala Hazrat(1856-1921).
An article on the similar subject with historical evidences and more nuanced arguments has earlier been produced on New Age Islam as cited below:
Syed Ahmed 'Shaheed' Rai Barelwi's Tehrik-e-Jihad in India, Was It to Fight British Imperialism or Establish an Islamic State?
http://www.newageislam.com/islam-and-politics/ghulam-rasool-dehlvi,-new-age-islam/syed-ahmed-'shaheed'-rai-bareli's-tehrik-e-jihad-in-india,-was-it-to-fight-british-imperialism-or-establish-an-islamic-state?/d/107256
URL: http://www.newageislam.com/radical-islamism-and-jihad/new-age-islam-special-correspondent/time-to-recall-and-refute-the-tahrik-e-balakot,-the-first-jihadist-movement-in-the-indian-subcontinent/d/117882
New Age Islam, Islam Online, Islamic Website, African Muslim News, Arab World News, South Asia News, Indian Muslim News, World Muslim News, Women in Islam, Islamic Feminism, Arab Women, Women In Arab, Islamophobia in America, Muslim Women in West, Islam Women and Feminism